Atal Bihari Vajpayee
Political Career | Retirement | Awards | Death
Atal Bihari Vajpayee is the former Prime Minister of India. He was in the office thrice, first for 13 days in 1996, then for 13 months in 1998–1999 and thereafter from 1999 to 2004. Atal Bihari Vajpayee began his political career in the parliament as an MP of Bharatiya Jana Sangh and later worked as the Minister of External Affairs in the Janata government under Morarji Desai. When the Janata government collapsed, he along with the other members of Bharatiya Jana Sangh formed a new political party called Bharatiya Janata Party (BJP). In the next decade and half, he was instrumental in the expansion of BJP all over India. As a result, BJP emerged as the single largest party in the 1996, 1998 and 1999 general election and he became the Prime Minister. Over the course of his career, Atal Bihari Vajpayee was elected 10 times to the Lok Sabha and twice to the Rajya Sabha.
Early Life
Atal Bihari Vajpayee was born on 25 December 1924 in Gwalior to Krishna Devi and Krishna Bihari Vajpayee. His father was a poet and school teacher. Atal Bihari Vajpayee completed his schooling from Saraswati Shishu Mandir in Gwalior. Thereafter, he completed his graduation from Gwalior's Victoria College. He completed his postgraduation with M.A Political Science from DAV College in Kanpur.
An activist at heart, he joined the youth wing of Arya Samaj called Arya Kumar Sabha and become its general secretary in 1944. Atal Bihari Vajpayee also participated in the Quit India Movement along with his brother Prem in 1942.
Atal Bihari Vajpayee had joined the Rashtriya Swayamsevak Sangh (RSS) as a swayamsevak in 1939. He enrolled in the Officers' Training Camp from 1940 to 1944 and became a full-time member, also called a pracharak, in 1947.
In the meanwhile, he enrolled to study law but gave it up during the turmoil caused by the partition of India. Atal Bihari Vajpayee was then sent as a vistarak Uttar Pradesh where he was employed for various newspapers, including Rashtradharama, Panchjanya, Swadesh, and Veer Arjun.
Political Career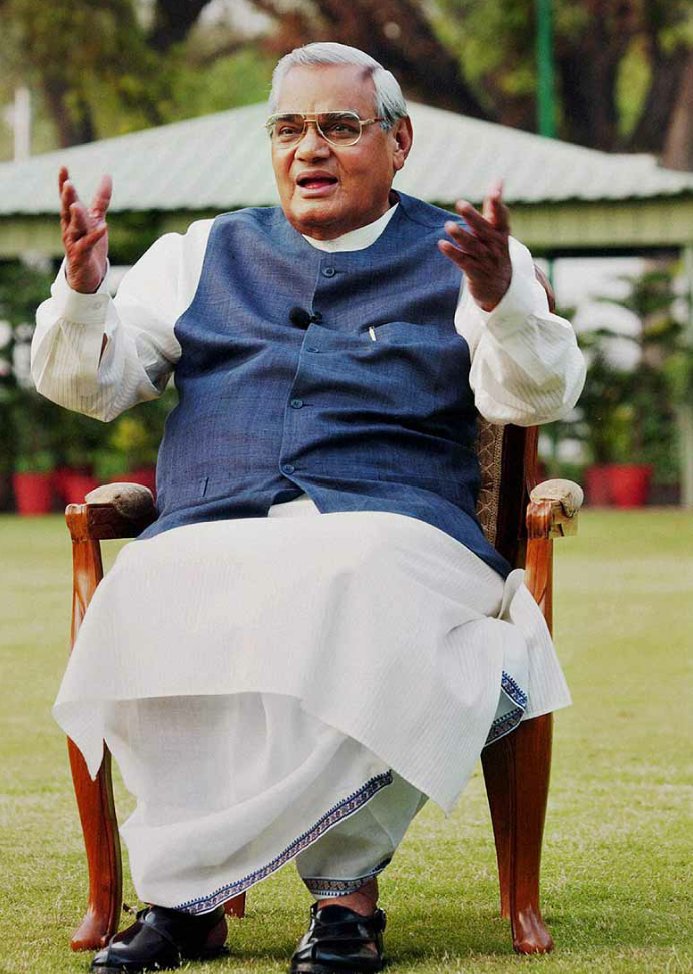 Atal Bihari Vajpayee began his formal political career when he started working for the newly formed political party, Bharatiya Jana Sangh in 1951. He was appointed as a nation secretary of the party for the Northern Region. Over the years, he was frequently seen alongside the party leader Syama Prasad Mukherjee.
In 1954, Vajpayee along with Mukherjee went on a fast-unto-death in Kashmir to protest against the perceived discriminatory treatment of the non-Kashmiri Indian visitors to the state. Syama Prasad Mukherjee was arrested and died in the prison during strike.
Atal Bihari Vajpayee was first elected to Lok Sabha in 1957 from Balrampur constituency. He instantly made his mark in parliament by his brilliant oratory and articulation. His oratorical skills won the hearts of many including the then prime minister Jawaharlal Nehru. Atal Bihari  went on to become the face of the Jana Sangh and became the national president of Jana Sangh, in 1968, after the death of Pandit Deendayal Upadhyaya. Atal Bihari Vajpayee along with other leaders of the party, such as L.K Advani and Bhairon Singh Shekhawat worked tirelessly to expand the party.
During the Emergency enforced by Indira Gandhi in 1975, Atal Bihari Vajpayee was arrested and jailed along with other opposition members. When emergency was lifted in 1977, all the opposition parties united together to contest elections against Indira Gandhi led Congress Party. At this time Vajpayee's party, Bharatiya Jana Sangh, was merged into the newly formed Janata Party, which went on to win the general elections in 1977. Atal Bihari Vajpayee was appointed the Minister of External Affairs in Morarji Desai's cabinet. The Janata Party government was shortlived and fell in 1980. Vajpayee, along with members from Bharatiya Jana Sangh and the RSS, formed the Bharatiya Janata Party (BJP) in 1980. He became the first president of the BJP.
Career as the Prime Minister
The BJP emerged the single largest party in Lok Sabha in the 1996 general elections. Atal Bihari Vajpayee was sworn in as the Prime Minister in May 1996. However, he resigned after 13 days since BJP could not obtain a majority.
Atal Bihari was again sworn in as the Prime Minister in 1998 after BJP emerged as the single largest party and formed the National Democratic Alliance (NDA) with other political parties. This government lasted for a little over a year when fresh elections were held.
It was during his tenure that India conducted underground nuclear tests in Pokhran in May 1998, just a month after the government came into power. These tests were regarded a national milestone.
The Kargil War between India and Pakistan took place between May and July 1999. By the end of the war, the Indian Army and Air force had recaptured the areas infiltrated by the Pakistani militants. The Kargil victory cemented the reputation of Atal Bihari Vajpayee as a strong and able leader of the nation.
The BJP-led NDA again emerged as the largest political alliance in the 1999 general elections in the wake of the Kargil War victory. Vajpayee was made the Prime Minister for the third time in October 1999.
Atal Bihari Vajpayee introduced many economic and infrastructural reforms like strengthening of private sectors, encouraging private research and development, bringing about privatization of certain government owned corporations, etc. His major projects were National Highway Development Project and Pradhan Mantri Gram Sadak Yojana.
S. President Bill Clinton paid a state visit to India in March 2000. Clinton's visit to India was viewed as very significant in improving the foreign trade and economic relations between the two nations.
Atal Bihari privatization campaigns were criticized by trade unions and government employees as excessive privatization was not in their favour.
In year 2001, he invited the Pakistani President Pervez Musharraf to India with a view to improve Indo-Pak relations. However, this attempt could not achieve much success for India.
Atal Bihari Vajpayee launched the Sarva Shiksha Abhiyan in 2001, with the aim of universalization of elementary education.
The Parliament House in New Delhi was attacked in December 2001 by Pakistan trained terrorists. Investigations pointed to a conspiracy hatched in Pakistan. For a long time the threat of a full-fledged war between the two nations loomed. The Prevention of Terrorism Act, 2002 (POTA) was enacted in the aftermath of the attack.
The Atal Bihari Vajpayee government implemented several economic reforms during 2002-03 which resulted in a record growth rate of 6-7% in the GDP. The international image of India also improving due to the rapid developments that took place in the country during this perios.
Atal Bihari resigned as Prime Minister in 2004 after Congress emerged as the single largest party in the general elections.
Atal Bihari Vajpayee announced his retirement from active politics in 2005 and didn't contest the 2009 parliamentary election.
Retirement
Upon his resignation as Prime minister, Atal Bihari Vajpayee decided not to hold the position of the Opposition Leader. However, he remain the chairman of the NDA. In December 2005, Atal Bihari announced his retirement from active politics and announced that he would not contest in next general elections.
Personal Life
Atal Bihari Vajpayee is a bachelor. He has an adopted daughter named Namita Bhattacharya. He was rumored to have found a companion in Rajkumari Kaul, but they never defined their relationship. Vajpayee is fond of Indian classical music and dance. Atal Bihari  also is an admirer of poetry and has written many collections of poetry himself.
In year 2009, Atal Bihari Vajpayee suffered a stroke which severely impacted his speech and cognitive abilities. Due to his adverse health, he is not seen in public these days.
Awards Won by Atal Bihari Vajpayee
These are various Awards won by Atal Bihari. Here is Follows –
He received the Padma Vibhushan in 1992.
In year 1993, Kanpur University honoured him with D.Litt.
He was bestowed with the Bharat Ratna Pandit Govind Ballabh Pant Award in 1994.
He received the Best Parliamentarian Award in 1994.
He was given the Lokmanya Tilak Award in 1994.
He was honoured with India's highest civilian award – the Bharat Ratna – in 2015.
He was conferred the Bangladesh's Liberation War Honour on 7 June 2015 by the Government of Bangladesh.
Books written by Atal Bihari Vajpayee
These are various interesting Books which are written by Atal Bihari. Here is Follows –
National Integration (1961)
Dynamics of an Open Society(1977)
New Dimensions of India's Foreign Policy (1979)
Heal the Wounds: Vajpayee's appeal on Assam tragedy to the Parliament (1983)
Kucha Lekha, Kucha Bhashana (1996)
Bindu-Bindu Vicara (1997)
Rajaniti ki Rapatili Rahem(1997)
Back to Square One(1998)
Decisive Days (1999)
Sakti Se Santi(1999)
Vicara-Bindu (Hindi Edition, 2000)
Nayi Chunauti, Naya Avasara (Hindi Edition, 2002)
Source : Youtube
Interesting Facts
These are various interesting Facts About Atal Bihari Vajpayee. Here is Follows –
He was a bright student and obtained his graduate degree with distinction and post graduate with 1st class.
Former Prime Minister Dr. Manmohan Singh called him Bhishma Pitamah of Indian Politics.
He is the only parliamentarian who has been elected from 4 different states in his political career.
He has written various poems in the Hindi Language.
Atal Bihari Vajpayee Quotes
These are various Quotes by  Atal Bihari Vajpayee. Here is Follows –
No guns but only brotherhood 
can resolve the problems.
If India is not secular, 
then India is not India at all.
Let no one challenge India's secularism.
You can change friends but not neighbours.
For me, power was never an attraction.
Atal Bihari Vajpayee Death
Atal Bihari face knee replacement surgery at Breach Candy Hospital in Mumbai in 2001. Atal Bihari Vajpayee suffered a stroke in 2009 which impaired his speech. His health has been a major source of the concern and those in the know say he is often confined to a wheelchair and fails to recognize people. Atal Bihari is said to be suffering from dementia and long-term diabaetes. He is not known to have attended any public event in recent years. Atal Bihari Vajpayee rarely ventures out of the house, except for checkups at the All India Institutes of Medical Sciences.
On 11 June 2018, Atal Bihari Vajpayee was admitted to a hospital in critical condition.
Atal Bihari Vajpayee died on 16 August 2018 at AIIMS hospital due to age related illness.
Atal Bihari Vajpayee funeral ceremony was held on Samriti sathal near Rajghat at 5 PM on 17 Augest 2018.
Also Read
Mahatma Jyotiba Phule : Life | Career | Works | Legacy | Death
Charlie Chaplin Biography : Life | Spouse | Movies | Quotes | Death