What is so special about Ledger Nano X ?
Are you serious about cryptocurrency ? If the answer is yes, then you must have a hardware cryptocurrency wallet. Let me talk about one of the latest and best hardware cryptocurrency wallet available in the market now, Ledger Nano X …
Nano X is the hardware cryptocurrency wallet introduced by Ledger in January 2019. it is considered as the successor of Ledger Nano s. Nano s is a very popular model of the ledger but it has some demerits like only works with a couple (usually 3) of different cryptocurrencies at the same time. Ledger Nano X fixes all the issues that its predecessor had. It's faster, wireless has a bigger screen and it can support coins up to 100 at the same time. Before going to detailing about Ledger Nano X we want to answer the question
What are hardware cryptocurrency wallets?
Cryptocurrency wallets are hardware devices which store your crypto private keys and let you access securely your crypto coins with a password. It never exposes your crypto private keys outside of the device, that the device is always kept offline, it is known as cold storage.  The transaction is happened only on the device itself and not on the computer it's connected. Because of that, we can safely connect Cryptocurrency wallets with any compromised computer. They have more security than software wallets. There are many Cryptocurrency wallets, but what makes Ledger Nano X special.
All about Ledger
Ledger was founded in 2014 and today is one among the two biggest hardware wallet companies in the world. There are over 130 professionals works in Ledger.  This company is a leader in security and infrastructure solutions for blockchain applications and cryptocurrencies. They provide varies products and services for safeguard cryptocurrency assets. Their most popular products are Ledger Nano s and Ledger Nano x.
What is special about Ledger Nano x ?
The Ledger Nano X has some extended features than the previous mode Nano S. Ledger Nano X has a built-in battery, Bluetooth connectivity, and additional space for more apps. Like any other ledger hardware wallets, it is highly secure and the perfect choice for Cryptocurrency transaction and to store private keys.
It supports more than 1,100 assets, and supporting assets number is increasing day by day. It is able to install as many as 100 applications on one device simultaneously, so no need for pick and chooses.
The Ledger Nano X uses Ledger live app which works on almost all operating systems that means we can use it in android, Mac OS, windows etc.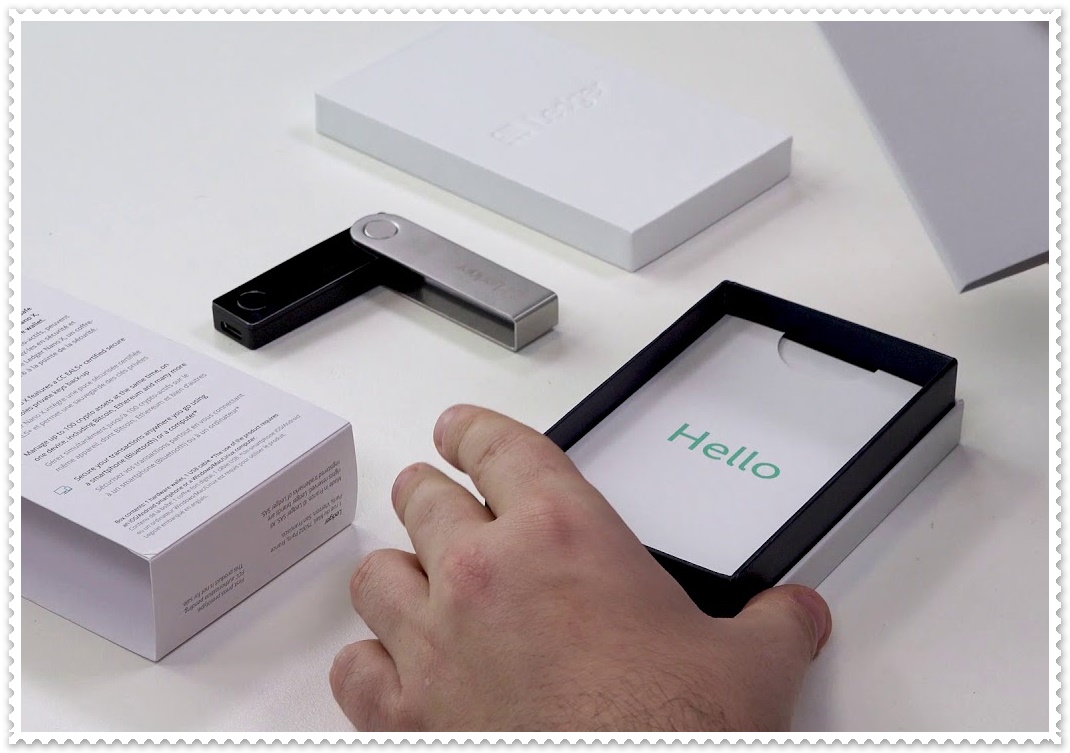 What's in the box of The Ledger Nano X ?
The Nano X comes in a box which is beautifully and well packaged with ..
The Ledger Nano X
A USB-C cable
instructions
Recovery seed cards.
Design of Ledger Nano X
Ledger Nano X is, in USB thumb-like size, though it is a little bigger than the Nano S. which comes with a short set of instructions, three seed phrase cards, and a USB-C to USB-A cable.
How to set up Ledger Nano X
There are various stages for setting up of ledger Nano X, they are.
Steps 1 – Setting a PIN code
When you first start the device it will ask you to choose a PIN code with a 4-8 digit. You can select numbers using the buttons in the device.
Step 2 – Seed Phrase
When initializing the device you will receive 24 words which you should write down and store. In case your device gets lost, broken or stolen then you can recover your cryptocurrency using seed phrase. It is like the password to your wallet. Which you should keep safe and hidden.
Step 3 – Pairing the Nano X with mobile
Nano S and other previous Ledger product can only able to controlled using the desktop software known as "Ledger Live" but Nano X can even be controlled using the Ledger Live mobile app.
Step 4 – Installing apps
After pairing the device we can install different apps depending on the coins you want to use.
Step 5 – Adding accounts
Ledger Nano X supported coins
Over 1000 coins and tokens are supported The Ledger Nano X. Here's a list of the top supported coins ..
Ethereum (ETH)
Ripple (XRP)
Zcash (ZEX)
Dash (DASH)
Ethereum Classic (ETC)
Bitcoin (BTC)
Litecoin (LTC)
Dogecoin (DOGE)
Bitcoin Cash (BCH)
Bitcoin Gold (BTG)
Stellar (XLM)
Some merits of Ledger Nano x
Support more apps: One app is needed for each crypto coin transaction .you know, The Nano X can work with up to 100 crypto coins at the same time and it supports a hundred apps simultaneously.
Nano X is faster Nano S. the device was snappy no matter what you are doing.
Nano X also has a larger display.
Its buttons are bigger and easier to press.
The most important feature of Ledger Nano x is wireless operation.
Security: Ledger Nano X is one of the most secure hardware wallets in the world. The Nano X has a slightly different architecture from the Nano S. it has two chips, the new Secure Element which is state of the art and a dual-core MCUs with their wireless support. MCU takes charge of the connection with the desktop or smartphone and the Secure Element acts as a proxy, it also drives the screen displaying critical information and getting user input.  Ledger Nano X also takes care of security using storing private keys and the seed
Bluetooth Capabilities
The Ledger Nano X is truly mobile compared to other similar hardware wallets for crypto keys. Using it you can manage cryptocurrency no matter where you are.
100 mAh battery which lasts several hours when in use or several months when idling and fully charged. It can easily recharge using the USB-C port and included cable.
How much does That Nano X Cost ?
The Nano X costs twice the cost of the Nano S But this very big price leap is worth for the added functionality.
Is the Ledger Nano X worth it ?
If you are going to purchase a hardware wallet then ledger Nano is the best choice because it is fast, support more coin, easy to use and secure.
How to buy ?
Buy : https://shop.ledger.com/products/ledger-nano-x
Also Read