The Legend Bhagat Singh Biography
Life | Activities | Quotes | Death
Bhagat Singh is the one of the well-known Indian Freedom Fighter whose contribution in getting freedom for India against British Rule was significant. Bhagat Singh is also known as Shaheed  Bhagat Singh which means martyr, Bhagat Singh. Shaheed  Bhagat Singh was imbued from childhood with the family's spirit of patriotism.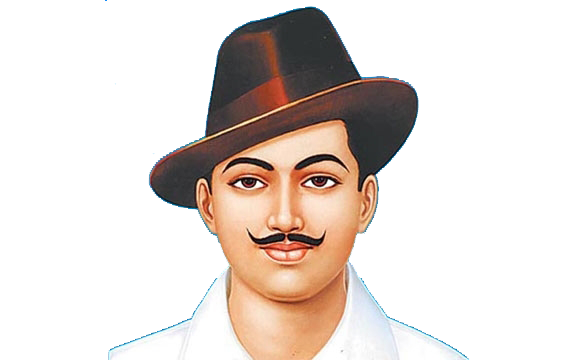 Early life of Bhagat Singh
Bhagat Singh was born on 27 September 1907 in Jatt Sikh Family at Banga in Lyallpur district. This place is in Pakistan now. His father name was  Kishan Singh and mother was Vidya Vati. When Bhagat Singh was born, his father Kishan Singh was in jail. His uncle, Sardar Ajit Singh, established the Indian Patriots' Association. Ajit Singh had 22 cases against him and was forced to flee to Iran. Shaheed  Bhagat Singh was considered to be one of the most influential revolutionaries of Indian Nationalist Movement. He became involved with numerous revolutionary organizations.
During Childhood, Shaheed Bhagat Singh was a great follower of Mahatma Gandhi. He  started following Non-Cooperation Movement called by Mahatma Gandhi. Bhagat Singh had openly defied the British and had followed Gandhi's wishes by burning the government-sponsored books. Due to  violent incidents of "Chauri Chaura", Gandhi called for the withdrawal of the Non-Cooperation movement. But Bhagat Singh was unhappy with his decision. So, Bhagat Singh isolated himself from Gandhi's nonviolent action and joined the Young Revolutionary Movement.
Source : Youtube
Rejection to Marriage
His parents planned to get him married when he was pursuing B.A. examination. But he rejected the suggestion and said that if his marriage was to take place in Slave India then my bride shall be only death. Shaheed Bhagat Singh later joined the Hindustan Republican Association, a radical group, later known as the Hindustan Socialist Republican Association. He returned to his home in Lahore after assurances from his parents that he would not be compelled to get married.
Later Revolutionary Activities
These are various revolutionary activities of "The Legend Bhagat Singh". Here is Follows –
On 30 October 1928, an all parties procession, led by Lala Lajpat Rai, marched towards the Lahore railway station to protest against the arrival of the Simon Commission. To stop the procession, police made a lathi charge (hitting with the police stick) at the activists. The confrontation left Lala Lajpat Rai with severe injuries which  led to his death. As revenge to the death of Lala Lajpat Rai, Bhagat Singh and his associates plotted the assassination of Scott, the Superintendent of Police, believed to have ordered the lathi charge.
The revolutionaries, mistaking J.P. Saunders, an Assistant Superintendent of Police, as Scott, killed him instead. Bhagat Singh quickly left Lahore to escape his arrest. To avoid recognition, he shaved his beard and cut his hair, a violation of the sacred tenets of Sikhism.
Influences on Bhagat Singh
Bhagat was greatly attracted towards socialism. Believed to be one of India's earliest Marxists, Bhagat Singh was one of the leaders and founders of the Hindustan Socialist Republican Association (HSRA).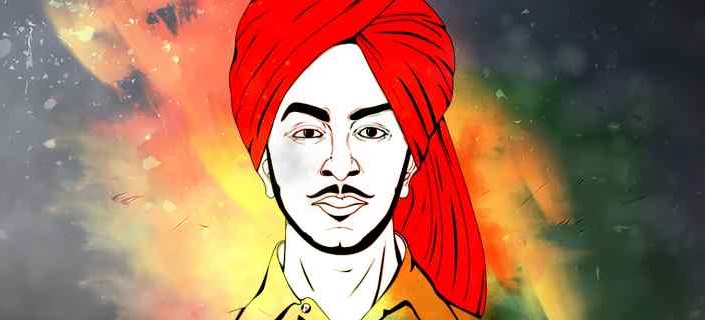 Bhagat was deeply saddened by the Jallianwala Bagh massacre of 1919. Though he participated in the non-cooperation movement, he was disappointed when Gandhi called off the agitation after the Chauri Chaura incident. Bhagat studied at the National College in Lahore where he came into contact with other revolutionaries such as Bhagwati Charan, Sukhdev and others. He fled from home to escape early marriage and became a member of the organisation Naujawan Bharat Sabha.
Bomb explosion at assembly
In response to the formulation of Defence of India Act, the Hindustan Socialist Republican Association planned to explode a bomb inside the assembly premises, where the ordinance was going to be passed.
On 8 April 1929, Bhagat and Batukeshwar Dutt threw a bomb onto the corridors of the assembly and shouted 'Inquilab Zindabad' The bomb was not meant to kill or injure anyone and, therefore, it was thrown away from the crowded place. Following the blasts both Bhagat and Batukeshwar Dutt courted arrest.
Bhagat Singh Quotes
These are various Quotes of "Shaheed Bhagat Singh". Here is Follows –
"It is easy to kill individuals but you cannot kill the ideas."
"If the deaf are to hear the sound has to be very loud"
"They may kill me, but they cannot kill my ideas. 
They can crush my body, 
but they will not be able to crush my spirit."
"I never had any desire to defend myself, 
and never did I seriously think about it."
"Lovers, Lunatics and poets are made of same stuff."
"Love always elevates the character of man. 
It never lowers him, provided love be love."
"Revolution did not necessarily involve sanguinary strife. 
It was not a cult of bomb and pistol."
But man's duty is to try and endeavour, 
success depends upon chance and environments.
Source : Youtube
Facts about Shaheed Bhagat Singh
These are vaeious Facts About Shaheed Bhagat. Here is Follows –
Bhagat Singh's name came from the word "bhagwala"
This name was suggested by his grandmother because on his birth his father was released from Nepal Jail and two of his uncle Swarn Singh and Ajit Singh was released from the jail.
At the age of 8 he thought of releasing India from Britishers and had left the home at age of 15.
Bhagat Singh left home for Kanpur when his parents tried to get him married. He said, "My bride shall only be death" if he had to marry in slave India. He joined the Hindustan Socialist Republican Association.
He also worked for the newspaper "Pratap" while he was in Kanpur
He worked under the guidance of 'Ganesh Shankar Vidhyarthi.' He was also the regular writer of the magazine "Kirti" in Urdu and Gurumukhi language.
Bhagat Singh requested not to be hanged.
Bhagat Singh asked that instead of hanging him he must be shot dead, but it was not considered by the Britishers at all.
He considered Kartar Singh Sarabha as his path-maker
The death of his guru had changed Bhagat Singh's life totally.
While he was in the jail he had written the theme of the book "Dreamland"
The book was written by Ramsaran. The content of the book include violence, non-violence, religion, etc.
  Shaheed Bhagat was multi-lingual
He was an expert in reading and writing Hindi, Urdu, English, Punjabi and Gurumukhi at a very early age.
He moved the world with his fasting
He kept fasting for 116 days even though he used to do his all the work regularly such as singing, reading books, writing, visiting court, etc
He raised the word Political prisoner
He was hanged in Central jail of Lahore on 23 March 1931 and he was only 23 years old.
Legacy
Shaheed Bhagat Singh, his intense patriotism coupled with cultivated idealism, made him an ideal icon for the youth of his generation. Through his written and vocal admonition of the British Imperial Government, Bhagat became the voice of his generation. His vehement departure from the Gandhian non-violent route to Swaraj has often been criticized by many, yet through the fearless embracing of martyrdom he inspired hundreds of teens and youths to join the freedom struggle wholeheartedly. His eminence in current times is evident from the fact that Shaheed Bhagat was voted as the Greatest Indian, ahead of Subhash Chandra Bose and Mahatma Gandhi, in a poll conducted by India Today in 2008.
Bhagat Singh in Popular Culture
The inspiration that Bhagat Singh still ignites within the soul of Indians can be felt in the popularity of the films and theatrical adaptations on his life. Several films like "Shaheed" (1965) and "The Legend of Bhagat Singh" (2002) were made on the life of 23-year old revolutionary. Popular songs like the "Mohe rang de basanti chola" and "Sarfaroshiki Tamanna" associated with Bhagat Singh are still relevant in inspiring patriotic emotions in the Indians. Numerous books, articles and papers have been written about his life, ideologies and legacy.
Source : Youtube
Bhagat Singh Death
Bhagat Singh was known for his appreciation of martyrdom. His mentor as a young boy was Kartar Singh Sarabha. Bhagat Singh is himself considered a martyr for acting to avenge the death of Lala Lajpat Rai. In the leaflet he threw in the Central Assembly on 9 April 1929, Bhagat stated that It is easy to kill individuals but you cannot kill the ideas. Great empires crumbled while the ideas survived. After engaging in studies on the Russian Revolution, he wanted to die so that his death would inspire the youth of India which in turn will unite them to fight the British Empire.
Bhagat Singh along with other revolutionaries found responsible for the Assembly bombing and murder of Saunders. On March 23, 1931, Bhagat Singh was hanged in Lahore with his fellow comrades Rajguru and Sukhdev. Bhagat was cremated at Hussainiwala on banks of Sutlej river.
Conclusion
Shaheed Bhagat Singh was all of 23 when he gladly martyred for the country and became an inspiration for the youth. His heroic acts inspire the youth even today.
Also Read
Swami Vivekananda : Education | Wandering Monk | Death