Rabindranath Tagore
Childhood | Early Life | Awards | Death
Rabindranath Tagore (also known as Rabindranath Thakur) was a prominent Indian poet and author who is one of the most celebrated literary figures of 20th century. His excellence in literature made Rabindranath Tagore become the first Asian to win the Nobel Prize in Literature in 1913. He also made a great contribution to Indian Independence struggle. Rabindranath Tagore also wrote Jana Gana Mana, the National Anthem of  India.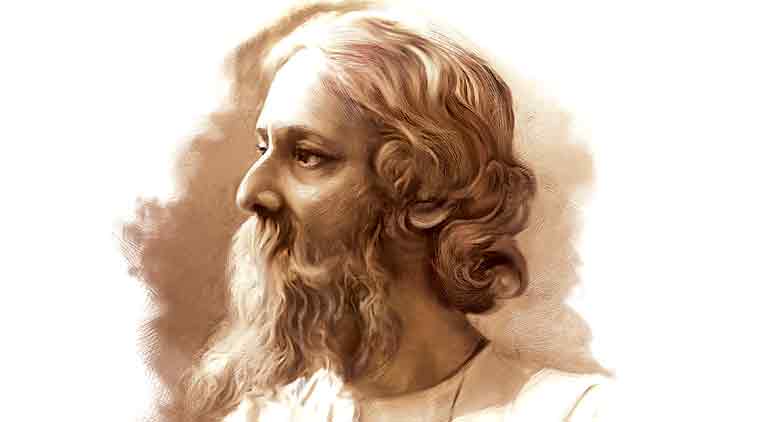 Rabindranath Tagore  was a great poet, philosopher, music composer and a leader of Brahma Samaj, who took the India culture and tradition to the whole world and became a voice of the Indian heritage.
Childhood & Education
Rabindranath Tagore  was Born on 7 May 1861 in a wealthy and prominent Brahmin family of Bengal (Calcutta), Rabindranath Tagore  was the youngest of thirteen children of his father Debendranath Tagore  and Sarada Devi. The Rabindranath Tagore  family was a leading follower of Brahma Samaj, a new religious sector in the 19th century. Rabindranath Tagore  develop an early love for literature, and had begun reading biographies, poems, history, Sanskrit and several others by the age of 12. He also studies the classical poetry of Kalidasa, the father of poetry in India. In 1877, he wrote his first poem, which was composed in a Maithili style. His early works include Bhikharani (The beggar woman) – the first short story in Bengali, Sandhya Sangit which he wrote in 1882 and a poem Nirjharer Swapnabhanga. Nirjharer Swapnabhanga was his first poem which gained him a remarkable success and established him as a poet.
 Early Life & Work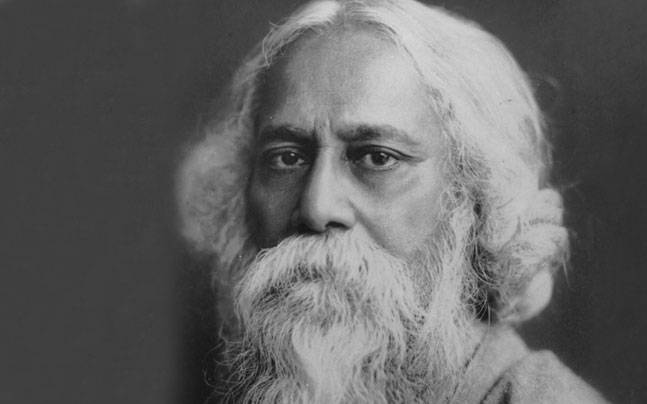 Rabindranath Tagore  moved to Santi Niketan, at West Bengal in 1901 and set up an ashram there which included an experimental school, garden and a library. His wife Mrinalini and his two children succumbed to death during this period. After his father's death in 1905, he became heir to his large estates which made him financially sound and stable. He also received income from the sale of his family's jewelry and royalties from his works. By this time, Rabindranath Tagore had written more than thirty poems, drama and fictions, including his major works such as Manasi (1890), Gitanjali (1910), Gitimalya (1914) and many English and Bengali playa. Gitanjli was his most acclaimed work.
In year 1913, Rabindranath Tagore   was awarded the Nobel Prize in literature for his exceptional contribution to the Indian and world literature. Further, he received the title Knighthood from the British government in 1915, which he abandoned aftermath of the Jallianwala Bagh massacre in 1919 as a protest against the British rule in India.
In 1921, Rabindranath Tagore  founded an Institute for Rural Reconstruction- which he later renamed as Shriniketan and appointed scholars from many places to share their knowledge with the students. As education reformer, he introduced Upanishad ideals of education and widely contributed towards uplifting the  'untouchables'.
Music and Artworks
Rabindranath Tagore was also an outstanding artist and musician. He composed more than 2000 songs and numerous paintings. His songs are referred as Rabindra Sangeet and became an integral part of the Bengali music culture. His songs and music cover many aspects of human emotion, from devotional hymns to songs of love.
Rabindranath Tagore was also a good artist. He started to learn painting at the age of 60. He drew more than 2000 pictures, which were exhibited in many countries.
 Notable Work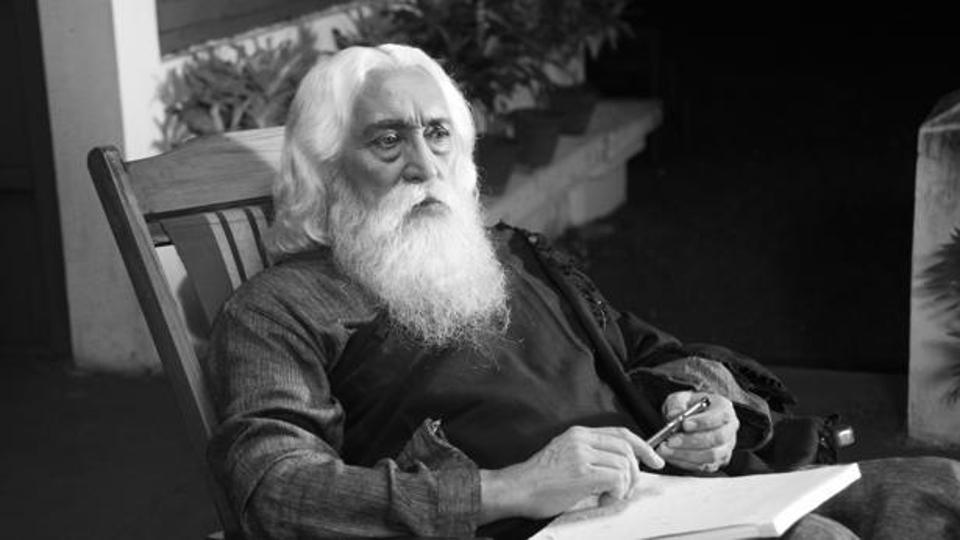 Rabindranath Tagore  wrote eight novels and a number of poems and most of his creations are in the Bangla language. His most acclaimed works in novel genre are Ghare Baire, Shesher Kobita,Char Odhay, Gora, Jogajog, and Dak Ghar. Aside from fictions and autobiographical works, he also wrote essays, lectures and short stories on various topics ranging from history to science and arts. As a prolific musician, Rabindranath Tagore  influenced the style of such musician such as Amjad Ali Khan and Vilayat Khan. He composed the words and music of the Indian national anthem Jana Gana Mana, which was accepted as the national anthem in 1950.
His song has been accepted as the national anthem of Bangladesh as well, thus making him the first ever person to have written the national anthems of two countries. Rabindranath Tagore  discovered his talent as a painter in his early sixties, when his first exhibition was held in Paris. Rabindranath Tagore  was credited with the culmination of writing short stories as an art, especially in Bengali. "The fruit seller from Kabul" is considered one of the best creations among at least eighty four stories written by him. Based upon his early experience with villagers, he wrote stories which give a glimpse of the life most Bengali live. Though Rabindranath Tagore  wrote vividly in every genre of literature, he was a poet first of all. His poets are an inseparable part of every Bengali family where his poems are recited on all important occasions. His best collection of poems is Gitanjali, which gained him the Nobel Prize in literature in 1913.
Noble prize given to Rabindranath Tagore
Rabindranath Tagore was awarded the Noble Prize in the year 1913. The reason for awarding him the noble prize was "because of his profoundly sensitive, fresh and beautiful verse, with consummate skill, he has made his poetic thought, expressed in his own English words, a part of the literature of the West". The noble prize has  given to Rabindranath Tagore was not only a matter of pride for Rabindranath Tagore but to all the Indians and specially to the Bengalis.
Political Views
Rabindranath Tagore's political views were somehow at odds with that of Mahatma Gandhi, though the two shared a good rapport and a moderate friendship. However, Tagore denounce the Swadeshi Movement in his acerbic essay The Cult of the Charka in 1925, he continued to support Indian nationalist movement in his own non-sentimental and visionary way. He wrote songs and poems galvanizing the Indian Independence movement. After the Jallianwala Bagh Massacre in 1919,he renounced the nighthood awarded by the British government as a protest against it. His most acclaimed work Jana Gana Mana became the national anthem of India after its declaration as a Republic in 1950.
Quotes By Rabindranath Tagore
These are some quotes which are saying by the Rabindranath Tagore. Here is follows  –
"You can't cross the sea merely by standing and staring at the water."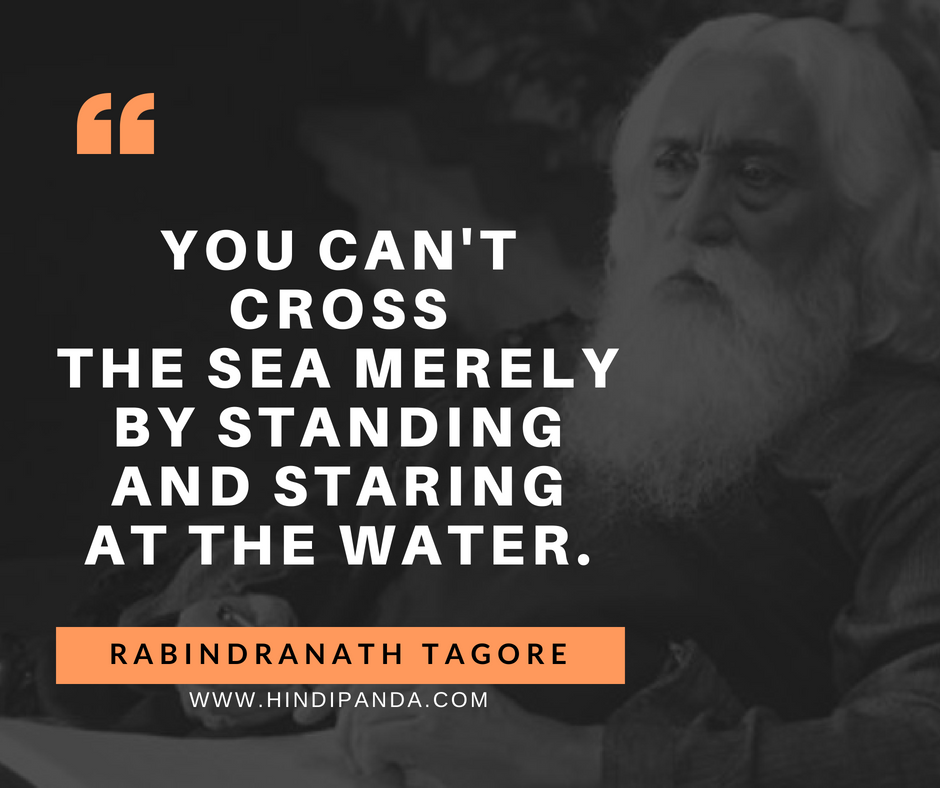 "Faith is the bird that feels the light when the dawn is still dark."
"The butterfly counts not months but moments, and has time enough."
"Everything comes to us that belongs to us if we create the capacity to receive it."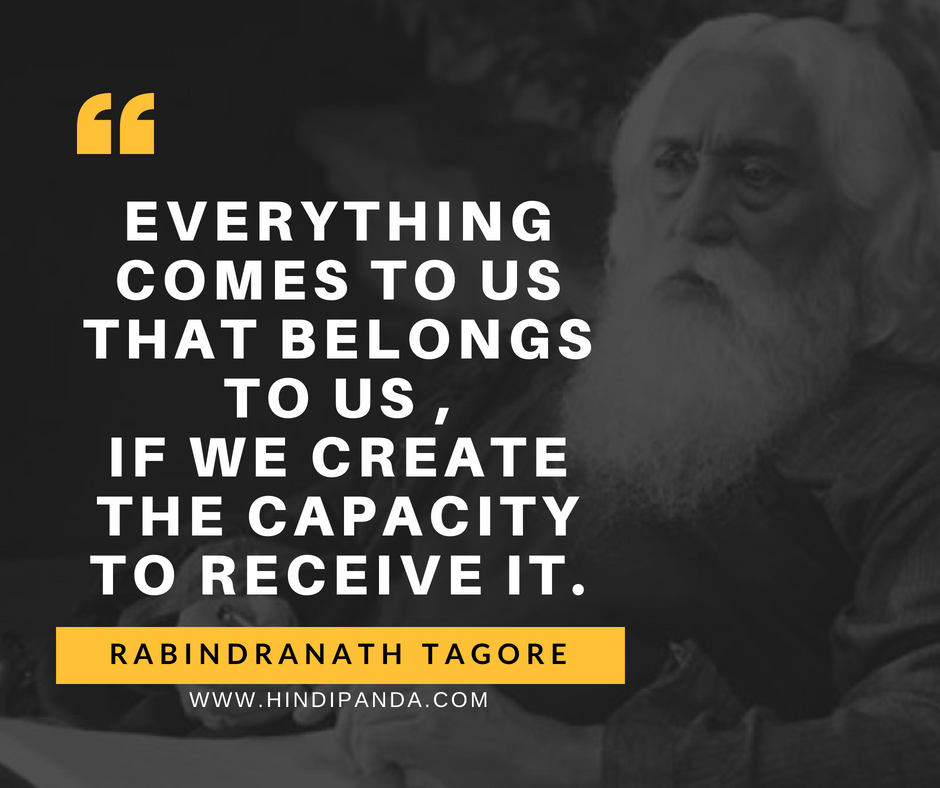 "Life is given to us, we earn it by giving it."
Facts about Rabindranath Tagore
 1.) The nickname
Tagore was often called as the Bard of Bengal. It was believed that Tagore began to write poetry at the age of eight.
2.) The real name
He began to use his real name to publish the dramas and short stories in 1877.
3.)  Independence from Britain
Tagore called for independence of India from Britain since he was known as ardent anti-nationalist, Universalist internationalist and humanist.
4.) The works of Tagore
Tagore created various works of literature, music and art in the forms of texts, doodles, sketches, painting, and songs.  The Visva-Bharati University established by Tagore houses his legacy.
5.) National Anthem of Sri Lanka
The work of Tagore inspired the national anthem of Sri Lanka.
Death
Rabindranath Tagore's extensive travel and increasingly hectic work began to take its toll in his later years and he suffered from relentless pain and two long periods of illness. The second phase of illness proved to be fatal as he never recovered from that. He first lost his consciousness in 1937 and had the same experience for the second and last time in late 1940, and died after soon on 7 August 1941. The day is mourned upon across his native Bengal, India and Bengali-speaking world for which he still remains alive  in his poems and songs.
CONCLUSION
 Rabindnathra Tagore, by his efforts and achievements, is part of a global network of pioneering educators such as Rousseau, Pestalozzi, Frobel, Montessori, Dewey and in the contemporary context, Malcolm Knowles. Although Rabindnathra Tagore is a superb representative of his country the man who wrote its national anthem, he is truly a man of the whole earth, a product of the best of both traditionals Indian and modern western cultures. The core of Rabindnathra Tagore educational philosophy was learning from nature, music and life. He created Sanhiniketan to realize his educational ideals. This is the reason why his education is easily acceptable by human mind. Rabindnathra Tagore extended the meaning and functional importance of certain aspects of personality as nobody else had done before him. The ideal educator must combine in himself the gifts of a philosopher, a poet, a mystic, a social reformer, a scientist and a veritable man of action  can he has to take into account all types of men  and their aspirations ,all facets of the human personality, all levels man's experience, all fields of endeavor and achievement.
Source : Youtube
Also Read