Sandeep Maheshwari
Biography | Career | Love Story | Quotes
Sandeep Maheshwari is one of the fastest growing entrepreneurs of India. He is the founder and CEO of Images bazaar which is contains the largest collection of Indian images. Sandeep Maheshwari is a name among millions who struggled, failed and surged ahead in search of success, happiness and contentment.
Sandeep Maheshwari is a renowned inspirational speaker, author and entrepreneur who has inspired countless people from all walks of life to discover their true potential. Sandeep Maheshwari was adjudged as one of the most promising young entrepreneurs of India by the Business World magazine and has received many awards and accolades in recognition of his work, among them, Star Youth Achiever Award, Young Creative Entrepreneur Award, Pioneer of Tomorrow Award and World Record in the Limca Book of Records.
Source : Youtube
Sandeep Maheshwari is Very Famous for his Motivational videos and his Never Give up Attitude towards Life. He is inspiring the Youth by His Knowledge and Videos. His very Best Video is "Last Life-Changing Seminar" which is a Big Success. People usually Give up when they Fail in Life but Sandeep Maheshwari by his Inspiring Videos saw them the Way to Keep Moving.
So, We dedicate this Post to this Great Personality who are Changing Thousands –
Source : Youtube
Personal & Early Life
Sandeep Maheshwari was born on 28th September 1980 in New Delhi. He belongs to a middle-class family whose family was into an Aluminium business. His father was Roop Kishore Maheswari and His mother name was Shakuntala Maheshwari. His father was running an Aluminium business but it has collapsed and the onus was on to him to bring his family out from this critical situation. As expected he left no stone unturned. As a young boy, he has done all things from his end to support his family. From joining a multi-level marketing company to manufacturing and marketing household products. It was at this point in time when this guy realized his interest and a crucial need beyond his formal education. Thus from being a brilliant student, he opted to drop out from kirorimal college. He had chosen entrepreneurship both by choice and to fulfil his need. That is the reason why he embarked on a new journey of study called life.
Love Story Of Sandeep Maheshwari
Sandeep Maheshwari, a motivational speaker has given lots and lots of performances on stage to motivate people. But who is the motivation behind his success ? The lady behind Sandeep Maheshwari's success is his teenage love Priya Maheshwari. Read more about Sandeep Maheshwari love story below –
The First Meet of Priya and Sandeep Maheshwari
It was in Class 11 when Sandeep felt the need to change his school for a better environment and studies. It was at that time when he entered the school and was fixing work at the school counter. That was when Priya saw him and got attracted to him at first sight. At first day of school, when Sandeep saw Priya he too got attracted towards her and their love story started.The first meeting blossomed the attraction in their hearts.
How Sandeep Maheshwari fall in love
Every love story starts with a beautiful seed of Friendship and same happened in Sandeep's case.
It was on one day when Sandeep asked Priya to bunk school and the next day Priya bunked the school but Sandeep came and attended his classes.
It was then when he realised his friendship could turn into a cute love affair and soon the attraction from both sides turned into love and they started dating. Their love affair was a popular one and known to everyone in school.
The Marriage of Priya and Sandeep Maheshwari
Sandeep Maheshwari faced a lot of failures in his life. He wanted to stabilize himself in career first. Sandeep Maheshwari struggled a lot and his struggle saw success. When he was economically stabilized he married Neha. They have two kids-son and a daughter.
Career
Mr. Sandeep Maheshwari also started His family was into the Aluminum business, which collapsed and in the early stage of his life he took the responsibility of his family.
Sandeep Maheshwari started his career as joining a multi-level marketing company to manufacturing & marketing household products.
At the age of 19, Sandeep Maheshwari had entered the modelling world. On watching the harassment and exploitation of models it had moved him. From that time onwards he had decided to help countless struggling models. So he had to pursue a two-week course on photography and started a new company with a mission to change his modeling world with a name called Mash audiovisuals private ltd. Then Sandeep started making portfolios of those models.
In the year 2002, Sandeep had started a new venture with his three friends but it had closed down within a period of six months. He had summed up all his bitter experience in a reverse marketing book at the age of 21.
In 2003, Sandeep Maheshwari has created a world record by clicking 10000 shots of 122 models in just 10 hours and 45 minutes.
In the year of 2006 was the year for a great challenge for him when he set up images bazaar by doing all multitasking all by himself. Some of them are like telecaller, counsellor, and a photographer all by himself. That is the reason why Images Bazaar today has 7000 clients across 45 countries with a net worth of 10.2 crore turnover.
Source : Youtube
Birth of Images Bazaar
Sandeep Maheshwari use to keep the photograph or portfolio which turned his life.
One AD agency approached him for the photograph for the advertisement, he Sandeep Maheshwari was surprised because he never thought the portfolio he capture and paid for the picture they have taken.
From their he started clicking photograph and but still the demand of the customer was different only few pic got selected.
Then Sandeep Maheshwari decided to take picture as per customer demands.
In February 2006 with around 8000 images, finally he launched Image Bazaar.
At one time have the largest collection of Indian Photography with close to around 900,000 images.
Even 3D image are also available now. At present, over 7000 clients in more than 45 countries are using images from Images Bazaar for their advertising and marketing communication.
Images Bazaar is  ISO 9001:2000 certify Company.
About Images Bazaar

Images Bazaar have the collection of over 90000 pictures only Indians.
Any company who want to do an advertisement but their budget is low then they can approach Images Bazaar, will provide the image to the company and will charged them accordingly.
If any customization need to be done they'll do the same, the only purpose is attract the company and save their money.
The last life changing experience
After Sandeep Maheshwari tasted the sweetness of success he took an initiative to change the life of the people and motivate them with the help of the workshop. The interesting fact "it is free of cost".  Sandeep shares his experience with the audience and motivates them by giving them example of his life.
Sandeep Maheshwari Recognition & Awards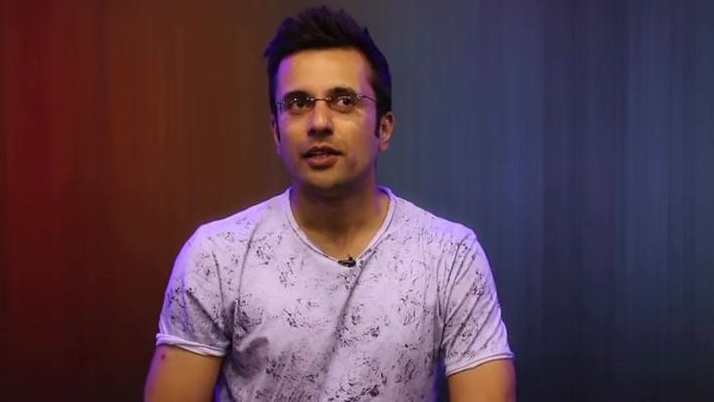 Sandeep Maheshwari got an award of 'Creative Entrepreneur' by Entrepreneur India Summit in2013.
Business World magazine selects him as One of India's Most Promising Entrepreneurs.
Global Youth Marketing Forum honored him with 'Star Youth Achiever Award'.
British Council, a division of the British High Commission also awarded him with 'Young Creative Entrepreneur' Award.
Sandeep Maheshwari was also featured in the top magazines, newspapers and television channels such as IBN7, ET Now, The Economic Times, India Today, CNBC-TV18, NewsX and more.
Best Inspirational & Motivational Books 
by Sandeep Maheshwari
Life Without Limits: Inspiration for a Ridiculously Good Life.
Forge Your Future by A.P.J Abdul Kalam.
Think & Grow Rich.
The Goal A Process Of Ongoing Improvement.
Motivation and Personality 3rd Edition.
Sandeep Maheshwari Quotes
There are some Motivaltional and "Never Give Up" Quotes which are says by the Sandeep Maheshwari. Here is follows –
"Learn From Everyone, Follow No One."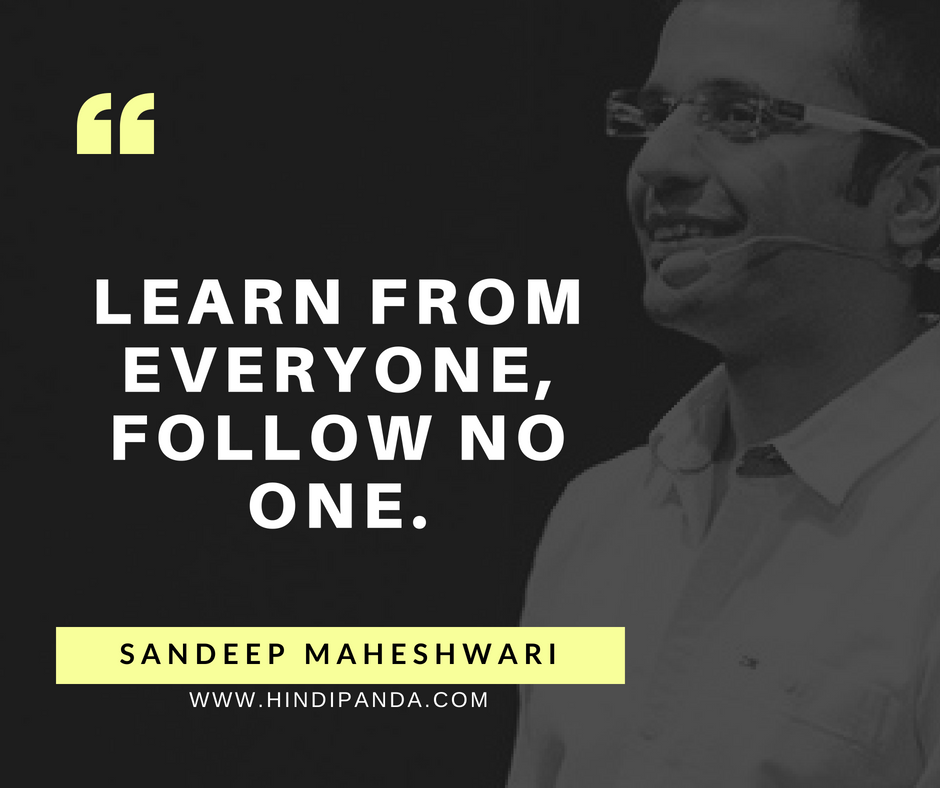 "Any work you put in 100%, then you'll be successful."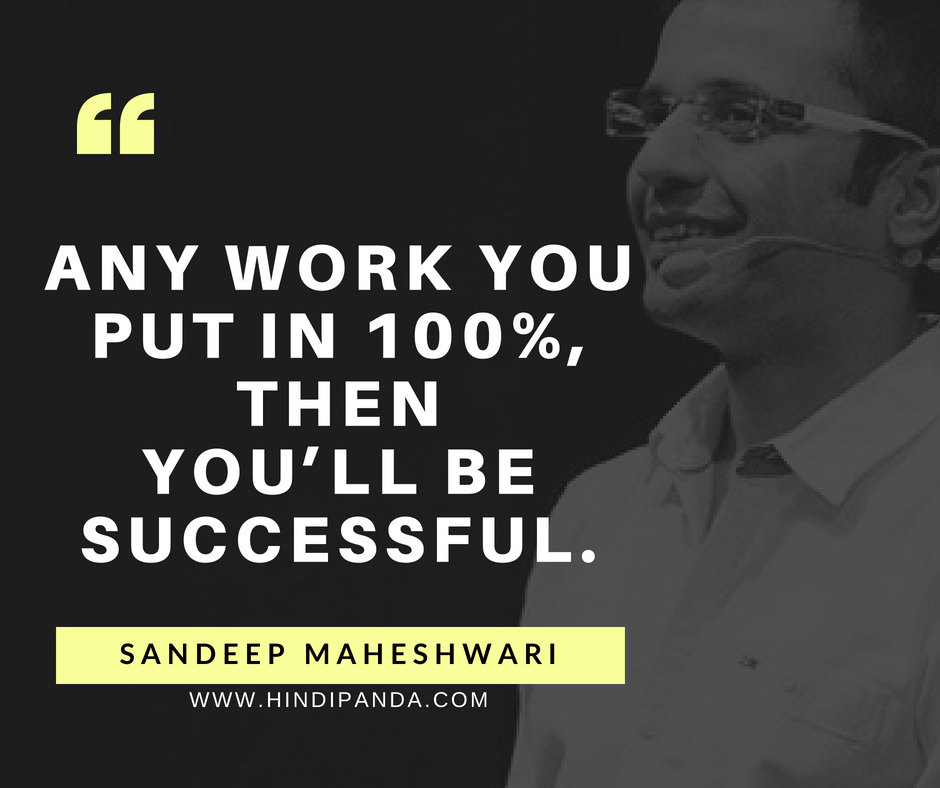 "No hill is tough to climb, see you at the top."
"If you have more than you need, simply share it with those who need it the most."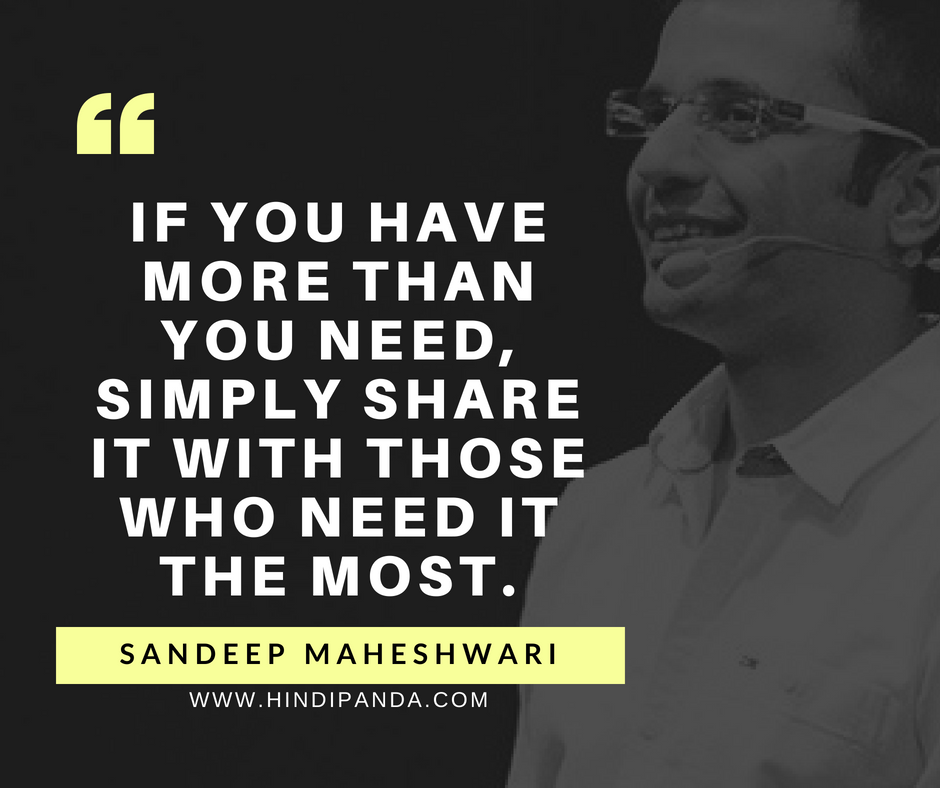 "Money is as much important, as is petrol in a car, not more, not less."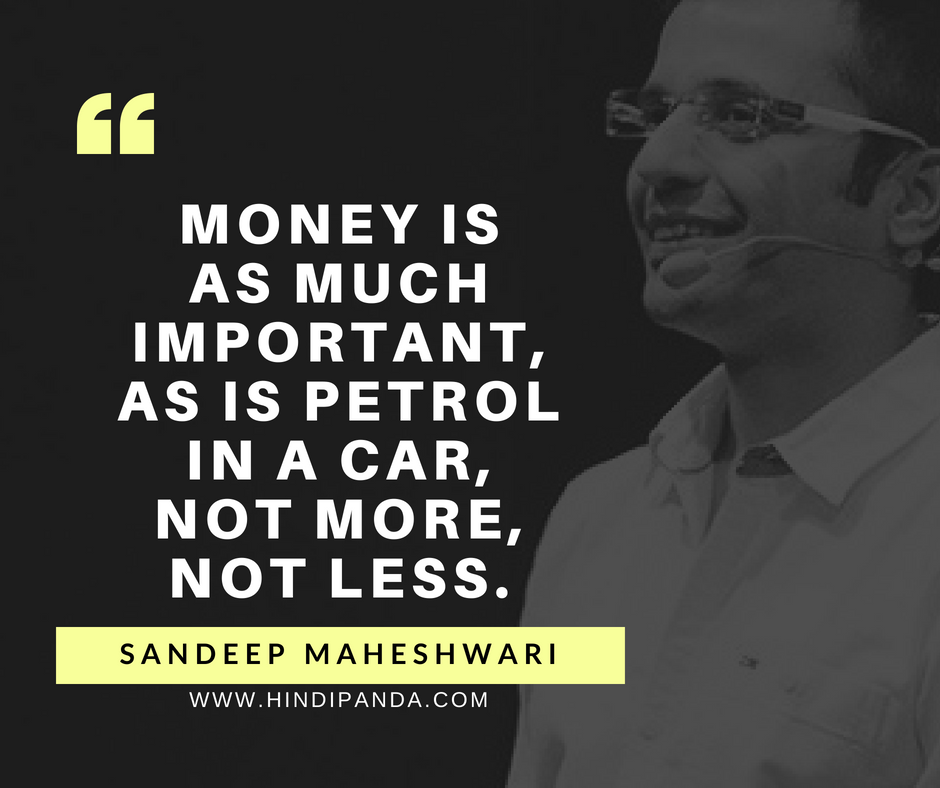 "Success always hugs you in private..! But failure always slaps you in the public..! That's Life."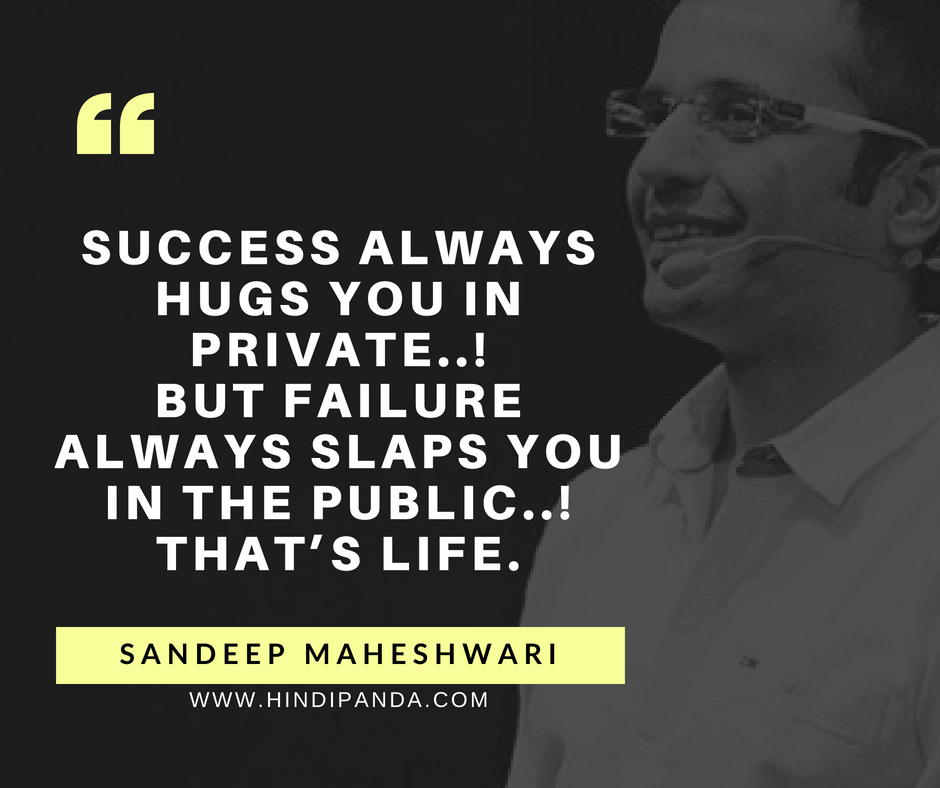 * Last Seminar of Sandeep *
Conclusion
Sandeep is a contributor because he is one of the best inspiritional personalty and photographer of India.
Sandeep Maheshwari work and devotion to our country is really appreciable.
Sandeep  is a good speaker and motivator.
Sandeep Maheshwari is also a role model and inspiriration for young Indians.
Sandeep is a self made man,who has proved to the world that one can achieve any thing in his life if you want to achieve.
One of the success full manager of todays time.
Sandeep belief " if you have more than you need,simply share it with those who need it more ".
Sandeep Maheshwari thinking contradicts with old myth "life is tough " with mantra "aasaan hai ". It means that to say is easy,to do is easier.
Also Read
महाभारत काल से मृत्यु के लिये आज भी भटक रहा है Ashwathama