Sardar Vallabhbhai Patel Biography
The Iron Man of India
Sardar Vallabhbhai Patel popularly known as the "Iron Man Of India" was one of the most influential leaders who had played a very important role in country's struggle for independence. His contributions in leading India are countless. He will always be remembered for his wisdom and diplomatic skills. He was not only a great freedom fighter but a motivational speaker whose slogans have inspired millions. He was a man of creeds who always believed that nation was his priority. He was an ardent follower of Gandhi ji. After Independence, he became the first Home Minister and Deputy Prime Minister of independent India.
Birth of Sardar Vallabhbhai Patel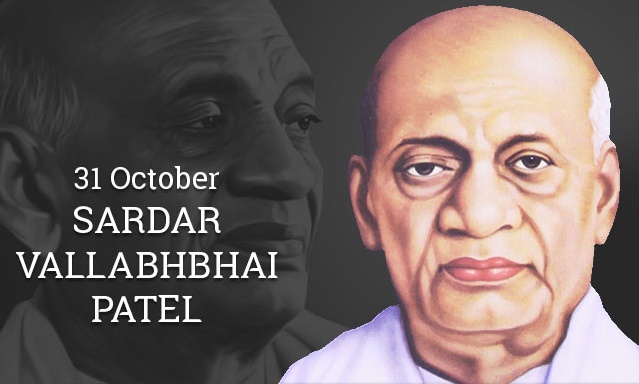 Sardar Vallabhbhai Patel known as the 'Iron man of India' was born on 31-10-1875 in Nadiad in the state of Gujarat, India. His full name was 'Sardar Vallabhbhai Jhaverbhai Patel'. Sardar Vallabhbhai Patel was an Indian Politician, Lawyer & Activist. His father's name was Jhaverbhai  Patel, who was a farmer. His mother's name was Laad, who was a normal housewife.
Early life
Sardar Vallabhbhai Patel was born on October 31, 1875, in a prosperous landowner family of Lata Patidar, his Nanihal Karamdesh village, which was in Gujarat. He was the fourth child of his parents. He was the great Somabhai, Narasibhai and Vittalbhai. Among them, Vithalbhai and Vallabhbhai participated in the national movement and achieved a significant place in Indian history. He also had a sister named Dabihah and she was the youngest. His Father Zaverbhai Patel was an ordinary farmer and Mother Ladba Devi was a housewife. Since childhood, he used to work hard and hard-working and used to distribute his father in farming.
His Education
Sardar Vallabhbhai Patel travelled to attend schools in Nadiad, Petlad and Borsad. He passed his matriculation at a relatively late age of 22 years and thus was considered un-ambitious by his family.
Sardar Vallabhbhai Patel planned to study to become a lawyer. For this he planned to work and save funds, travel to England and study to become a barrister.
Thus, Sardar Vallabhbhai Patel spent many years away from his family. He studied on his own with books borrowed from other lawyers and passed his examinations within two years.
Social Work
Sardar Vallabhbhai Patel started his practice in Ahmedabad and soon he became aware of local life, activities and people's problems. He became an extremely popular person and he got elected in Municipal Corporation in 1917. Around 1915, he came across Mahatama Gandhi. The Swadeshi Movement was at its peak.
Congress leader
Sardar  Patel, as Vallabhbhai was also known, remained one of the best known and respected Congress leaders of the country, but most of his activities from then on until the transfer of power were either as Gandhi's chief lieutenant in national campaigns against British rule or as the principal party and electoral organizer and fund-raiser for the Indian National Congress. Throughout the remainder of his political career, though he was considered one of the four or five topmost Congress leaders of the country, he remained subordinate first to Gandhi and, after Gandhi's death, to Nehru as prime minister. He was proposed for president of the Indian National Congress after the Bardoli satyagraha, he gave place in 1929 to Jawaharlal Nehru, and did not receive this high honour until 1931. During the nationalist movement, beginning with his first arrest during Gandhi's salt satyagraha of 1930, Patel spent many years in gaol. The longest periods were for sixteen months, which he spent with Gandhi, in 1932–4 nine months in 1940–41 and nearly three years from 1942 to 1945.
The role of Sardar Vallabhbhai Patel in free India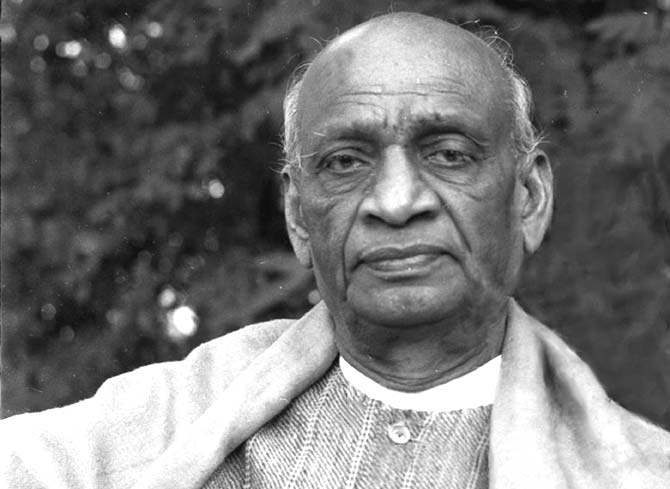 Sardar Vallabhbhai Patel was the 1st Deputy Prime Minister and Home Minister of India. Due to request of Gandhi ji, Sardar stepped down so that Jawaharlal Nehru could become the PM of India. Sardar Vallabhbhai Patel refused to become the PM of India only for Mahatma Gandhi. Recently, Narendra Modi stated that if Sardar Vallabhbhai Patel had become the 1st PM of India, then the condition of India would have been great and different. Narendra Modi said this while addressing the opening ceremony of Smruti Smarak of Shri Sardar. He also said that Sardar was a secular and liberal leader respected for his effective and different ideology.
Consolidation of the states
The most historic and commendable achievement of Vallabhbhai was the integration of Five hundred sixty two princely states under the Indian union. Due to his powerful personality, princes were drawn towards Sardar Vallabhbhai Patel for this Indian union. Sardar played a vital role in freedom of India. He was awarded with Bharat Ratna which is India's highest civilian posthumously, honor. In India, His birthday is celebrated on 31October as Sardar Jayanti. Today various monuments and institutes have been named after him to honor this amazing iron man of India.
Fighting For Independence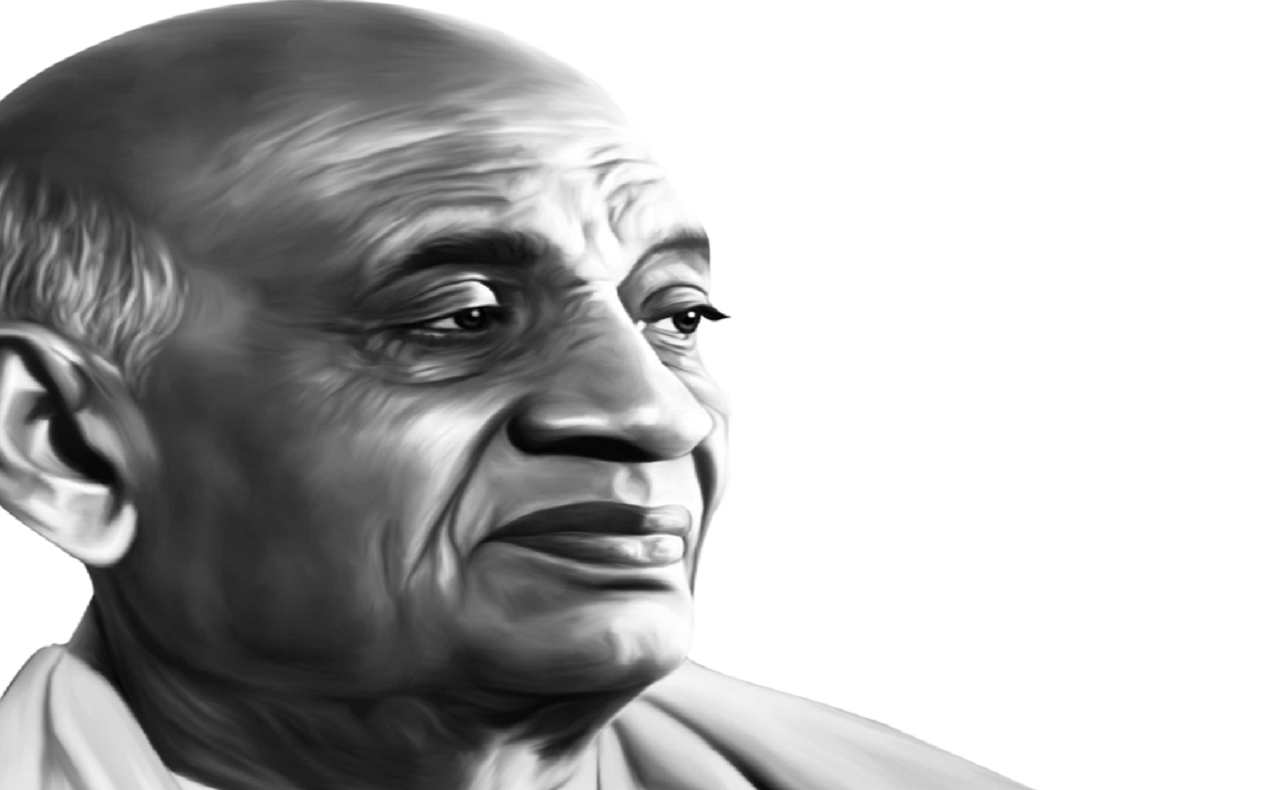 Sardar Vallabhbhai Patel won an election to become the saniation Commisioner of Ahmedabad in 1917. Patel gave a speech in Borsad in September 1917, encouraging Indians nationwide to sign Gandhi's petition demanding Swaraj Independence from the British. Meeting Gandhi a month later at the Gujrat Political Conference in Godhra, Patel become the secretary of the Gujrat Sabha a public body which would become the Gujrati arm of the Indian National Congress at Gandhi's encouragement.
Satyagraha in Gujarat
Sardar Vallabhbhai Patel was Supported by Congress volunteers Narhari Parikh, Mohanlal Pandya and Abbas Tyabji, Vallabhbhai Patel began a village-to-village tour in the Kheda district, documenting grievances and asking villagers for their support for a statewide revolt by refusing the payment of taxes. Patel emphasised potential hardships with the need for complete unity and non-violence despite any provocation. He received enthusiastic responses from virtually every village.
Leadership Qualities of Sardar Vallabhbhai Patel

Honesty
Empathy
Forward – looking
Fair minded
Motivating
Intelligent
Never Ends Winning Spirit
Courage
Inspirational Quotes of Sardar Vallabhbhai Patel

"Every citizen of India must remember that he is an Indian and he has every right in this country but with certain duties."
"It is the prime responsibility of every citizen to feel that his country is free and to defend its freedom is his duty."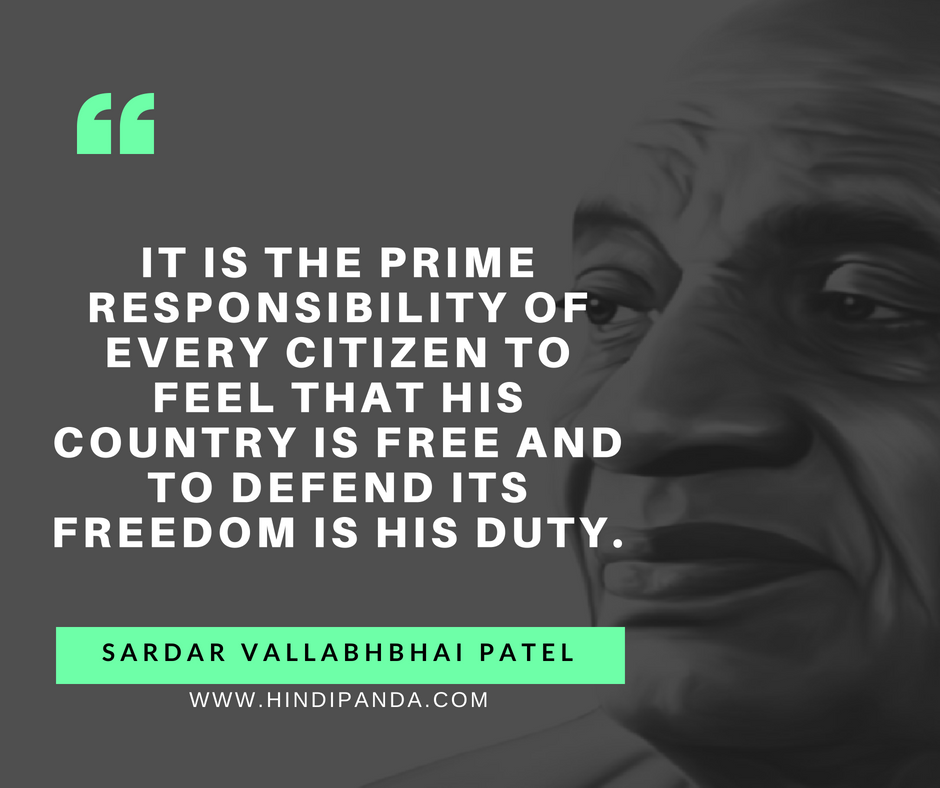 "Even if we lose the wealth of thousands, and our life is sacrificed, we should keep smiling and be cheerful keeping our faith in God and Truth."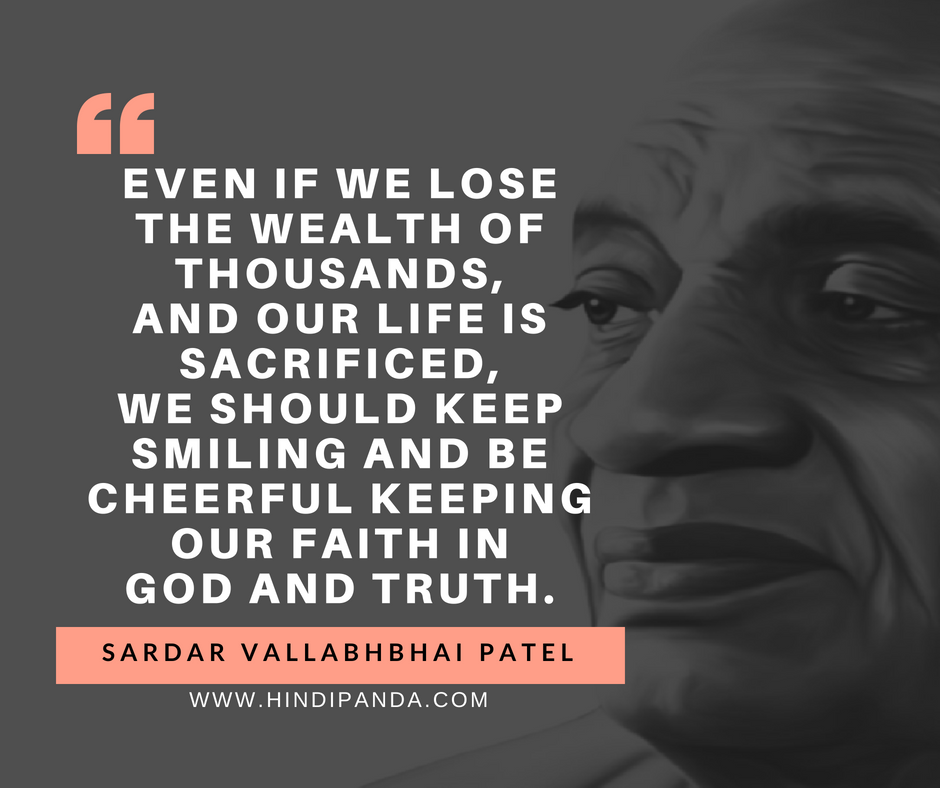 "Manpower without Unity is not a strength unless it is harmonized and united properly, then it becomes a spiritual power."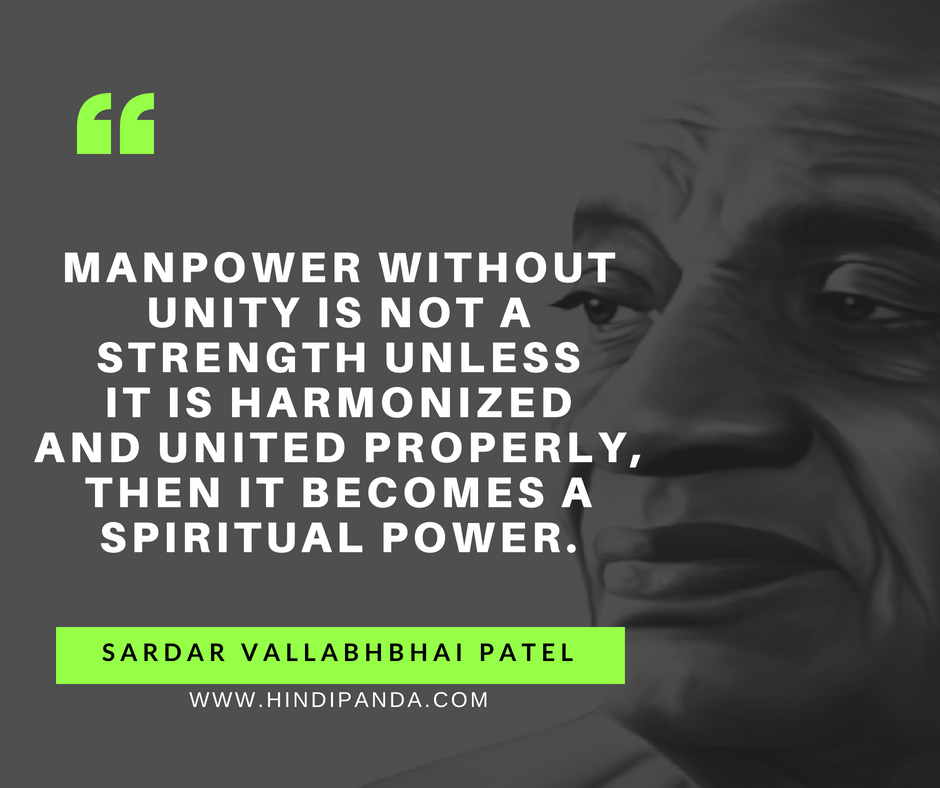 "My only desire is that India should be a good producer and no one should be hungry, shedding tears for food in the country."
"There is something unique in this soil, which despite many obstacles has always remained the abode of great souls."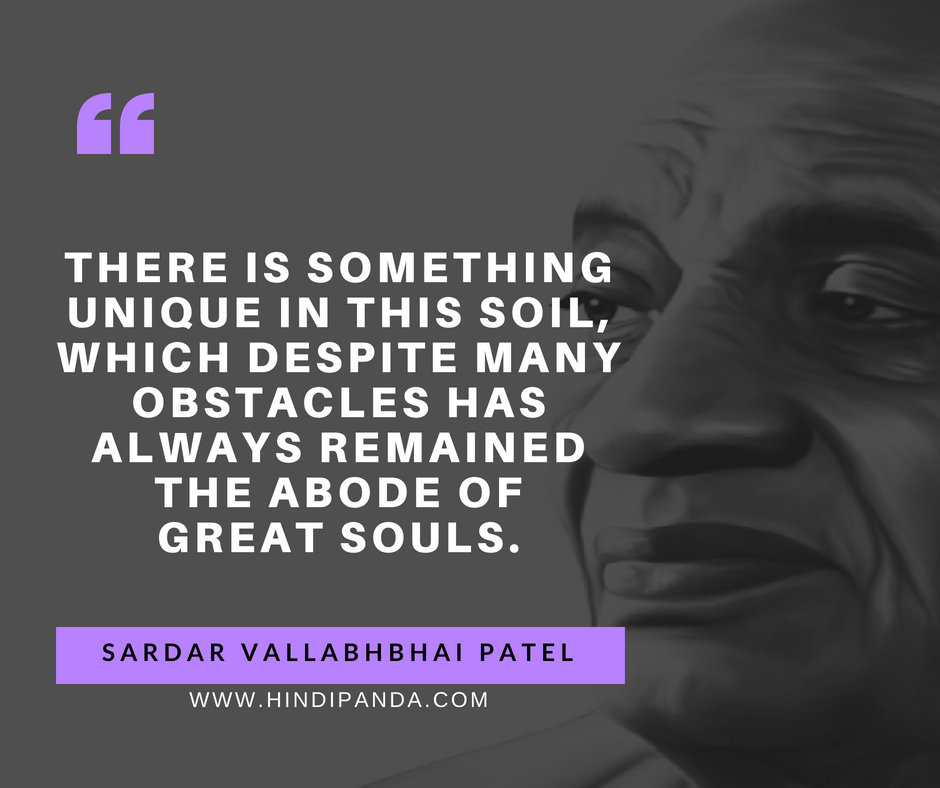 Monuments and statues
Sardar Patel Memorial Trust
Sardar Vallabhbhai Patel National Memorial, Ahmedabad
Sardar Sarovar Dam, Gujarat
Sardar Vallabhbhai Patel International Airport, Ahmedabad
Sardar Vallabhbhai Patel Stadium, Ahmedabad
Facts About Sardar Vallabhbhai Patel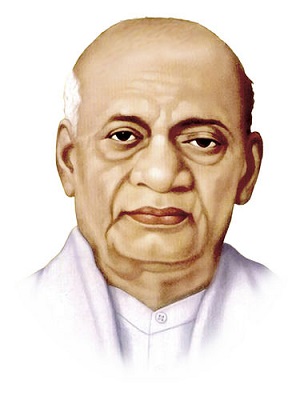 No official record of Date of Birth
There is no official record or document of Date of Birth of Sardar Vallabhbhai Patel. The date of birth generally referring was the basis on the date which was mentioned in his examination papers of metric. But his place of birth is confirmed as the small village in Gujarat named Nadiad.
Supporter of India Civil Servants
Sardar Vallabhbhai Patel believed that due to our nation diverse culture, we need a strong bureaucratic structure to run the country. He played a major role in the construction of Indian Administrative Services (IAS).
Deep attachment with Father of Nation i.e. Mahatma Gandhi
It was well known at that time the close relationship of Sardar Patel with Mahatma Gandhi. He was so much inspired by Father of Nation that he did not bear his loss. When Gandhi ji was assassinated then, Sardar Patel was shocked and broke from inside and his health declined continuously. Within next two months, he suffered from the major heart attack which he could not bear.
Ground level person – Not forgot his roots
Sardar Vallabhbhai Patel belonged from a poor family and worked with his father in the fields during his childhood days. He saw the tough situation at her home. This makes him a ground level person who do not forget his roots. Due to his bringing in such kind of poor family, he always had a soft corner in her heart for poor people of the nation.
Farsighted Person
Sardar Vallabhbhai Patel was farsighted persona and warned Nehru in 1950 against the China ambition in the northeast region. Nehru did not take this seriously at that time and we got a humiliating defeat from China in 1962 war.
Sardar Patel Death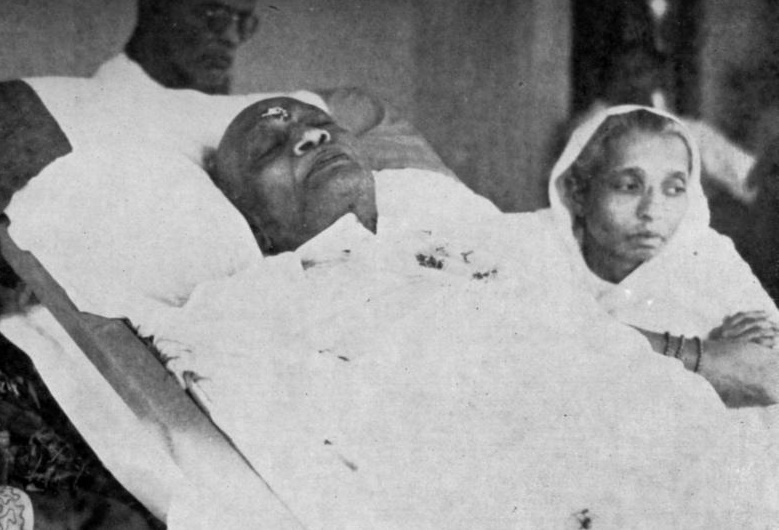 Sardar Vallabhbhai Patel's health declined rapidly through the summer of 1950. He later began coughing blood, whereupon began imiting his meetings and working hours and arranged for a personalized medical staff to begin attending to Patel. He was flown to Mumbai on 12th December to recuperate at his son Ahyabhai's flat his condition deemed critical, Nehru and Rajagopalachari came to the airport to see him off. After suffering a massive heart attack (his second), he died on 15th December 1950.
Source : Youtube
Also Read