Slip Ring Motor & What it Includes
Have you ever noticed the small fundamental part present in all the motors that make them rotating all the time?
It is a slip ring that makes it happen easier. Slip rings are present in multiple names in the marketplace. Collector rings, electric swivels, and rotary electrical joints are few of them. We are going to discuss in detail about the slip ring motors here in the content. Now coming forward with the question, what slip ring motor exactly is, it is the asynchronous motor that keeps on rotating all the time without having synchronous speed with the stator poles.
These devices are designed to transmit various forms of energy from stationary components to the rotating parts. Whether it is power, electrical signals or data, everything can be sent here through this small component.
When it comes to the design portion, it depends upon the application on which we are going to use it, however the basic design remains the same always. So let's begin with the basic slip ring motor plan and discuss various aspects of it here in this content. Before if you are looking for the best slip ring manufacture, and then go with at any time.
What is the basic construction of Slip Ring Motor?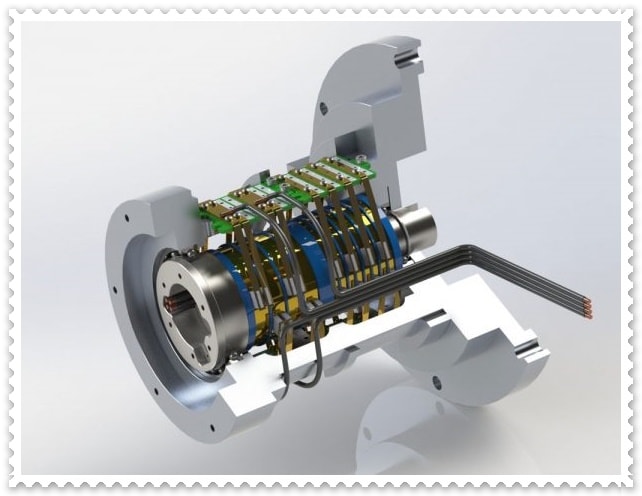 A slip ring is a smaller component of every motor whose basic structure always remains the same even though on what application it is going to be used on. This minor component is further comprised of various essential components like:
Stator in slip ring is much similar to the squirrel cage; the only difference here is between its usages. The stator motor present in the slip ring controls the supply of the slave motor.
A slip ring motor includes a Phase-Wound rotor that comprises of three different phases. The rotor present in the slip ring is usually double layered and comprises distributed winding of coils used in alternators. The rotor core is generally made up of steel laminations that offer three single-phase windings. Each of the terminal ends of the rotor is being connected to the carbon brushes that make the electrical slip ring motor assembly complete.
What are the benefits of slip ring motors?
One question that comes to our mind especially when we talk about the usage of slip ring motors in any project is why to use it. What are the advantages of slip ring motors that make slip ring motors happening? So the answers are:
Slip ring induction motors offer you the freedom of controlling the speed of any motor conveniently.
You are free to enjoy Pull-out torque from zero RPM to multiples in just a few seconds. You can even achieve the tag of having approximately 200 to 250% full loaded torque in few seconds only.
The usage of full loaded current is also quite lower than that of the squirrel cage. A slip ring motor only requires about 250% to 350% of total load current in the starting phase that gradually rises with time.
The overloading capacity of slip ring motors is quite higher than that of the squirrel cage. It offers you smooth acceleration even under hefty loads as well without getting moflon abnormally heated during the starting phase.
What are the drawbacks of slip ring motors?
Not even a single thing here is perfect. Everything that has some pros always includes some cons as well. Where slip ring motors are an essential part of almost every electromagnetic devices it also has some drawbacks as well that pushes the users to think a while before starting working on it and that are:
Affordability is one of the essential parts of almost every project. Everyone wants to have a setup that requires low initial and maintenance cost. But if we talk about slip ring motors, the rates are quite higher than that of the squirrel cage motors. The reasons are multiple such as involvement of slip rings, brushes, short-circuiting devices and much more.
The efficiency and the power factor in slip ring motors are also lower by its side.
The slip ring motors are highly sensitive to the supply voltage fluctuations. It means that even a smaller variation can alter the working of a slip ring in the worst way.
The periodic maintenance of brushes, slip rings, and external rotor motor is quite higher than that of the squirrel cage.
Slip ring motor is quite more substantial in size than that of the squirrel cage and hence requires more space for storing and working.
If we use the slip ring motor with resistance in the rotor circuit, it offers poor speed regulation often.
What are the typical market applications
where slip ring motors are being used?
Slip ring motors are an essential part of almost every electromagnetic device. From wind turbines to various medical applications, there are a lot of projects where slip rings are being used as an undetectable component. Some of its most common forms are:
A slip ring is an essential part of closed-circuit security cameras.
Slip rings are used in various medical applications such as MRI and CT scan etc.
Slip rings are being used in amusement park rides such as moving sections of carousels, vertical fall rides, Ferris wheel and much more.
Slip ring motors are being used in wind turbines for the generation of electricity.
Slip rings are being used in aerospace, defense, and marine services to check out the movement of the enemy beyond the borderline. These are an essential part of armored vehicle turrets that helps in eliminating the gunner station batteries through it.
Slip rings support the packaging industry especially the pharmaceutical, food, and beverages in a better way.
Slip ring motors are an essential part of synchronous electric motors. Slip ring motors are used for transmitting power, electrical signals, and data but here in case these are being used as a source of resistance into rotor windings.
Not a single electromagnetic device is complete without the involvement of slip ring motor in it. These are the basic units that make every electric motor work properly throughout and consistently.
Also Read