Top 5 MBA colleges in India to secure a high paying job
An MBA degree seems a lucrative choice when compared to any other professional degrees. People who seek an MBA degree not only see it as a chance to ingrain leadership and managerial skills in them but also look forward to harvesting the golden crop of high paying jobs at the completion of their degrees. In India, the colleges that raised the bar of an MBA degree are the prestigious IIMs.
Every Indian student who aspires to do an MBA dreams of getting into one the IIMs and why not, the unparalleled position of IIM Ahmedabad as the top-B school in India is well-known. Despite the brand that IIMs have become, there are a few private MBA colleges that are determined to change the whole scenario. These schools are becoming popular choices for the students because of the high placement rate and an increase in the number of high paying jobs. Students have now started exploring their options beyond the IIMs as well.
If you are also an aspiring MBA student, take a look at these top-10 MBA colleges that will help you secure a high paying job.
Freshersfind.com is best online web portal for candidates who are searching for jobs after completion of MBA. Also, you can get more information about latest jobs for MBA Students in private sector as well government sectors.
IIM Ahmedabad
It is the first Indian business school to be awarded EQUIS accreditation and has been constantly ranked number 1 by NIRF, Business Today and The Week. It has a unique process of admission that encourages people from diverse background to join this reputed school even with a low CAT score.
Admission process It involves a two-stage selection. The first stage is the mandatory CAT exam, on the basis of performance in this exam, some candidates are shortlisted and called for  WAT (Written Ability Test) and PI ( Personal Interview).
But the catch here is the admission process of IIM-Ahmedabad is based on several factors that include your academic and professional background and great importance is given to the extracurricular activities in which you have participated, any community work you were involved in, etc.
Program fee It is around 22,00,00 for the Post graduation program but for the 2019-20 batch, the fee could see a rise of up to 5% after adjusting the inflation.
Top recruiters from the campus according to IPRS audit 2018 report:The companies that made the most of the offers include Accenture strategy, Boston consulting group and Amazon
Salary data
Highest Salary (Domestic):  Rs.50.00 Lakhs
Highest Salary (International): $89,172
IIM Lucknow
It has been awarded accreditation by AMBA the association of MBA'S. It is the fourth institute to be established in the chain of prestigious IIMs. It is also the first IIM to set up a satellite campus exclusively for Executive Education at NOIDA in Delhi NCR region.
Admission process: It involves mandatory CAT exam followed by a personal interview and WAT and the maximum weight is given to the PI, so if you score low in the PI despite scoring well in the other sections, you might not make it to the merit list.
 Programme fee– Approx 16,00,000
Top recruiters– Aditya Birla Group, Amazon,  Accenture, Citi,  Deloitte,  Everest Group,  Flipkart,
Placement rate-  98% of students got placed in on –campus recruitment process.
XLRI Jamshedpur

It is an AACSB and AMBA Accreditated B-school and is also one of the oldest business schools in India.
Admission process- It is based on the XAT score for the domestic students and on GMAT for the NRI or international students. Then the shortlisted candidates are called for a personal interview round.
Programme fee– Rs. 23,00,000
Placement rate- It claims a 100% placement rate in 2018
Salary data- The average salary for 2018 placements is 20.10 lakhs
SPJIMR Mumbai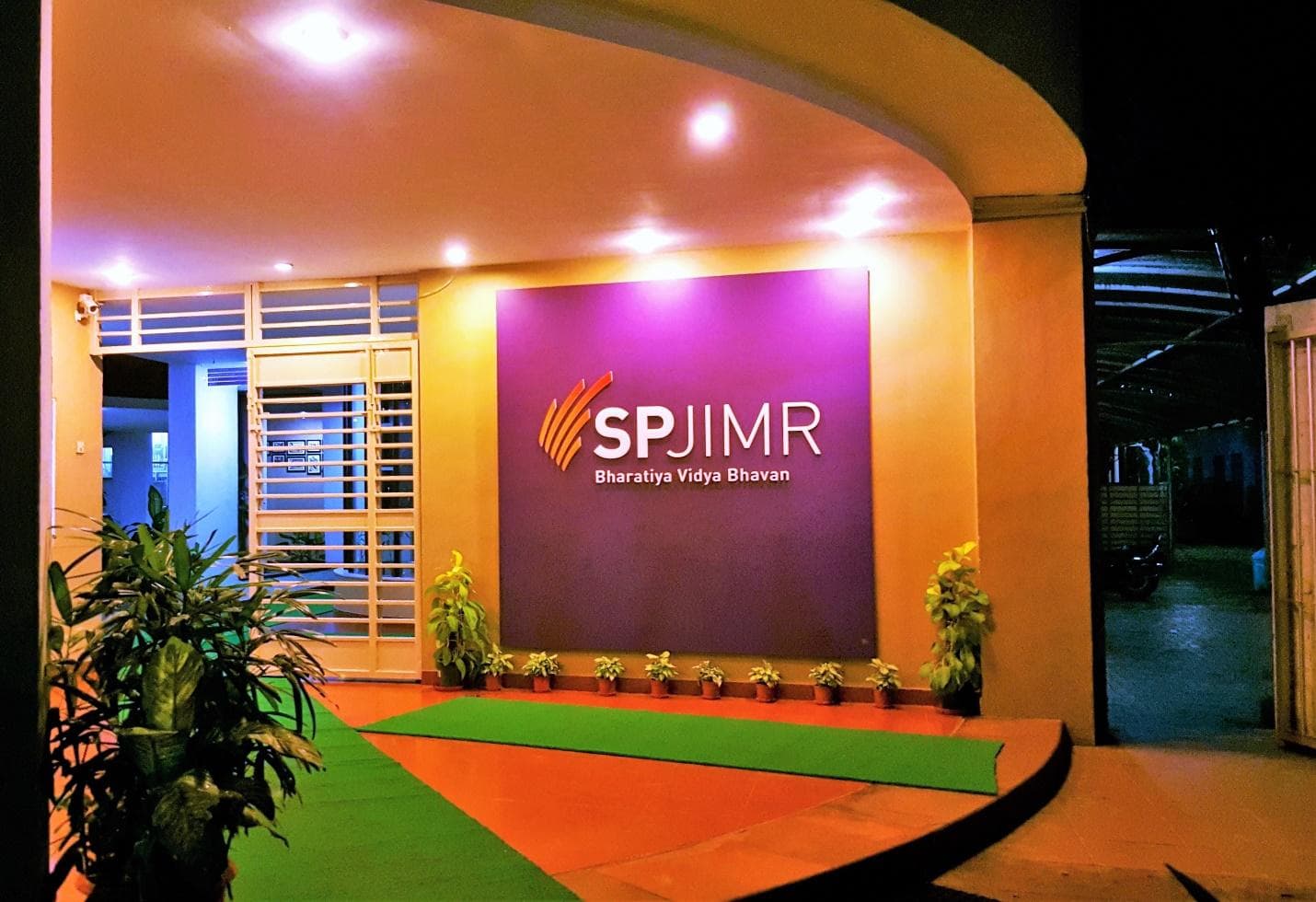 SPJIMR Mumbai: SP Jain Institute of Management & Research
Located in Mumbai, MHR, this B-school has accreditation from AMBA  and its PGDM program is approved by AICTE. Its specializations in Operations Management, Finance, Marketing, Entrepreneurship program stands at 50 in the QS rankings.
Admission process– The admission criteria of accepts CAT, XAT or the GMAT score. A shortlisting is done based on the score of the entrance exam and your profile and then the shortlisted candidates are called for an interview round. Taking into account your academic record, professional experience(if any), extracurricular participation, a final merit list is prepared.
Programme fee– Rs.16,25,000
Placement data– A consistent 100% placement rate.
Salary data– An average salary of 22.84 lakhs for the 2018 placements.
ISB Hyderabad
It has accreditations from Advance Collegiate Schools of Business (AACSB) and the EFMD Quality Improvement System (EQUIS).
Admission process– Its admission process involves mandatory GMAT score followed by a personal interview and a profile evaluation to get selected in the final merit.
Programme fee-Rs. 32,89,073 (for PGP)
Top recruiters- Accenture, Amazon, Axis Bank, Aditya Birla group.
Salary data- Average domestic salary INR 22,14,684.
For detailed information on the various aspects of admission and eligibility criteria, you can refer to this link here, ISB Hyderabad.
Although school rankings and data based on several other factors could affect the mind of an aspirant this does not mean that ranking is everything, a high paying job is more or less is the result of your hard work and initiative in the class. If you are able to make it to the top-B schools, congrats! But, let's just say it's a winding road and you could make it to your destination only if you are if you do not give up on driving.
Author Bio : Abhyank Srinet is a passionate digital entrepreneur who holds a Masters in Management degree from ESCP Europe. He started his first company while he was still studying at ESCP, and managed to scale it up by 400% in just 2 years.
Being a B-School Alumni, he recognized the need for a one-stop solution for B-School to get in touch with schools and get their application queries resolved. This prompted him to create MiM-Essay,one-of-a-kind portal with cutting edge profile evaluation and school selection algorithms, along with several avenues to stay informed about the latest B-School Updates.
Also Read