Ustad Bismillah Khan :
Life | Family | Awards | Death  
Ustad Bismillah Khan was an Indian musician who single-handedly brought the Shehnai into prominence as a musical instrument all over the world. Shehnai is a small wind pipe like musical instrument of the oboe class which is blown from one end. It was folk instrument and had been used for centuries in traditional ceremonies, especially in marriages. Ustad Bismillah Khan brought respectability to the Shehnai and raised it to concert level. He is credited with a virtual monopoly on Shehnai and his name is synonymous with Shehnai.
Birth of Ustad Bismillah Khan
Ustad Bismillah Khan was Born on 21st March 1916 in Dumroan, in the state of Bihar, India. He was the second son of Mitthan and Paigambar Khan. He was born in a family which had a musical background and his forefathers were musicians in the princely states of Bhojpur.
Brief History and Background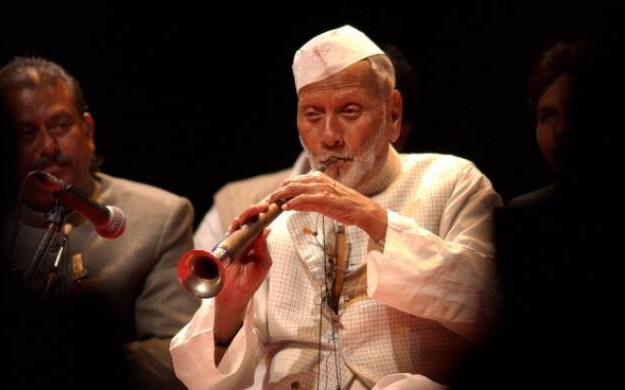 Ustad Bismillah Khan was born in the bihari Muslim family at the Bhirung Raut Ki Galim, Dumraon, Bihar at 21st March in 1916. He was the second son of the Paigambar Khan and Mitthan, named as Qamaruddin in order to rhyme with his brother Shamsuddin. It is considered that his grandfather, Rasool Baksh Khan called him as a Bismillah after caring him as a newborn. It is considered that the predecessors of the Bismillah Khan were court musicians and they accustomed to perform in the Naqqar khana at the princely states of Bhojpur (Currently Bihar). Bismillah Khan's father was used to performing shehnai at the Maharaja Keshav Prasad Singh court of the Dumraon Estate, Bihar.
It is believed that when he was just six, he went to the Varanasi and completed his training under the guidance of his uncle, the Ali Baksh Vilayatu. His uncle was playing shehnai at the Kashi Vishwanath Temple in Varanasi.
Religious History
Ustad Bismillah Khan was the great follower of the Saraswati (the Hindu Goddess of wisdom and arts) even he was from Muslim religion. He was also fan of the many Indian musicians and played shehnai at the Hindu temples including the renowned Vishwanath Temple at the banks of the river Ganga in Varanasi. He had performed for divine master the Prem Rawat.
Filmy History
Ustad Bismillah Khan had a brief history in the Indian movies. He has played his shehnai for the role of Rajkumar in the Kannada movie Sanaadi Appanna. He acted in Jalsaghar (movie by Satyajit Ray) and played shehnai in Goonj Uthi Shehnai in 1959. Film director the Goutam Ghose has directed the Sange Meel Se Mulaqat upon the life of Bismillah Khan.
Student Life
He rarely accepted students. He met with the Satguru Jagjit Singh Ji (present master of Namdhari Sikhs) and saw the very brilliant youngster, Baljit Singh Namdhari, playing the tarshenai. Bismillah Khan welcomed Baljit Singh Namdhari as a student. He accepted two more students, Kirpal Singh and Gurbaksh Singh Namdhari playing tarshenai in 1999. His another student is Usthad Hassan Bhai (at present in Kasaragod).
Career History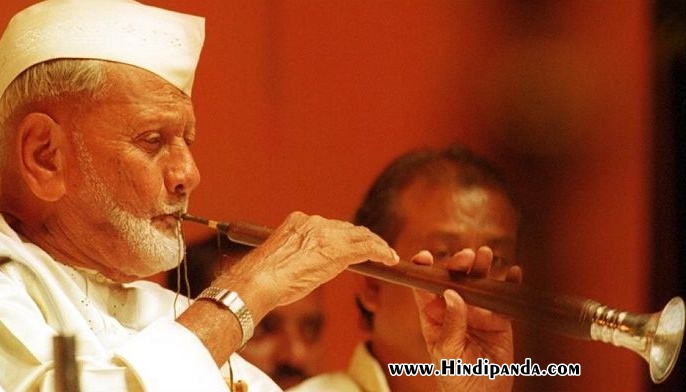 Ustad Bismillah Khan uncle Ali Baksh, a noted shehnai player introduced him to Shehnai and became his mentor and teacher. Bismillah Khan worked in and out to practice the shehnai and didn't stop until he attained perfection, which he did in a very brief time. He was duly credited with making the shehnai as one of the most popular classical music instruments.
He had the exceptional honour of playing his instrument (Shehnai) on the eve of India's independence in 1947. He was invited to perform at the Red Fort in Delhi and has always played his Shehnai on 15th August right after the Prime Minister delivered his speech. Bismillah Khan was immensely popular in not just India but across the globe and has played in many countries and has a massive fan following globally.
Ustad Bismillah Khan was a gem of a person that India will always be proud of. This Shehnai Shining Star of India was awarded Bharat Ratna for his contribution to Indian classical music. He shared a special coalition with his shehnai and referred it as "Begum" after his wife died. 21st August 2006, was the day when this gem left the world after having suffered a cardiac arrest at the age of 90 in Varanasi. His shehnai too was buried with him in his grave.
Ustad Bismillah Khan Legacy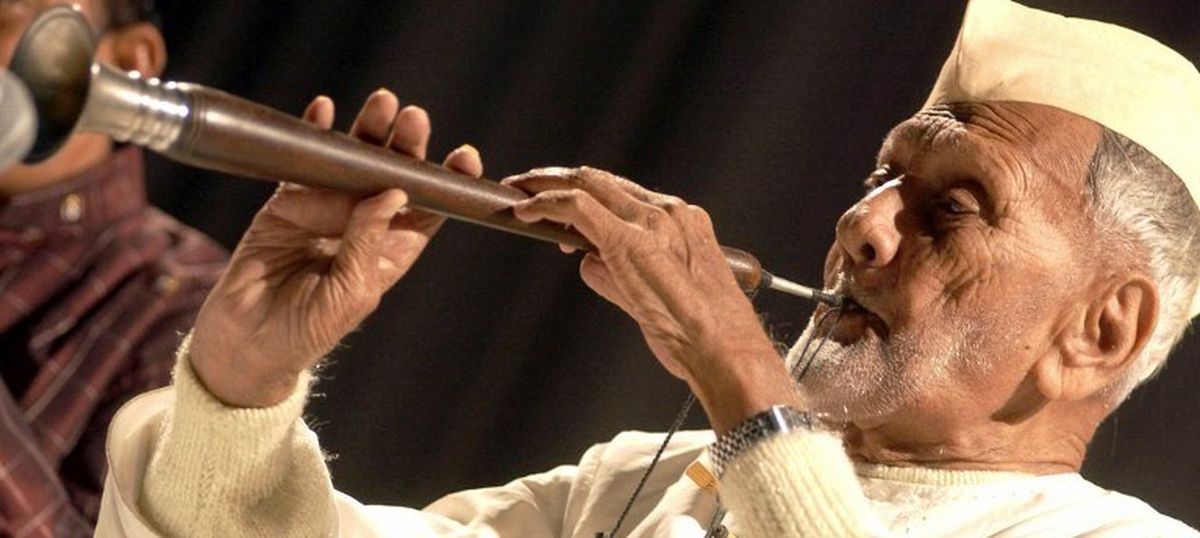 Ustad Bismillah Khan rarely had students as he felt that sharing his own knowledge would restrict their creativity and propensity to experiment and learn new thing. Despite this view, he had a large number of followers. Some of his prominent followers were S. Ballesh, and his sons, Nazim and Nayyar Hussain.
In 2007, a year after his death, Sangeet Natak Akademi, the most respected and authoritative cultural body instituted the Ustad Bismillah Khan Yuva Puraskar in his memory. This award is given in the field of music, theatre and dance, to young artists in recognition of their talent.
On 21 August 2008, his second death anniversary, India Post issued a commemorative postage stamp.
Awards and Recognitions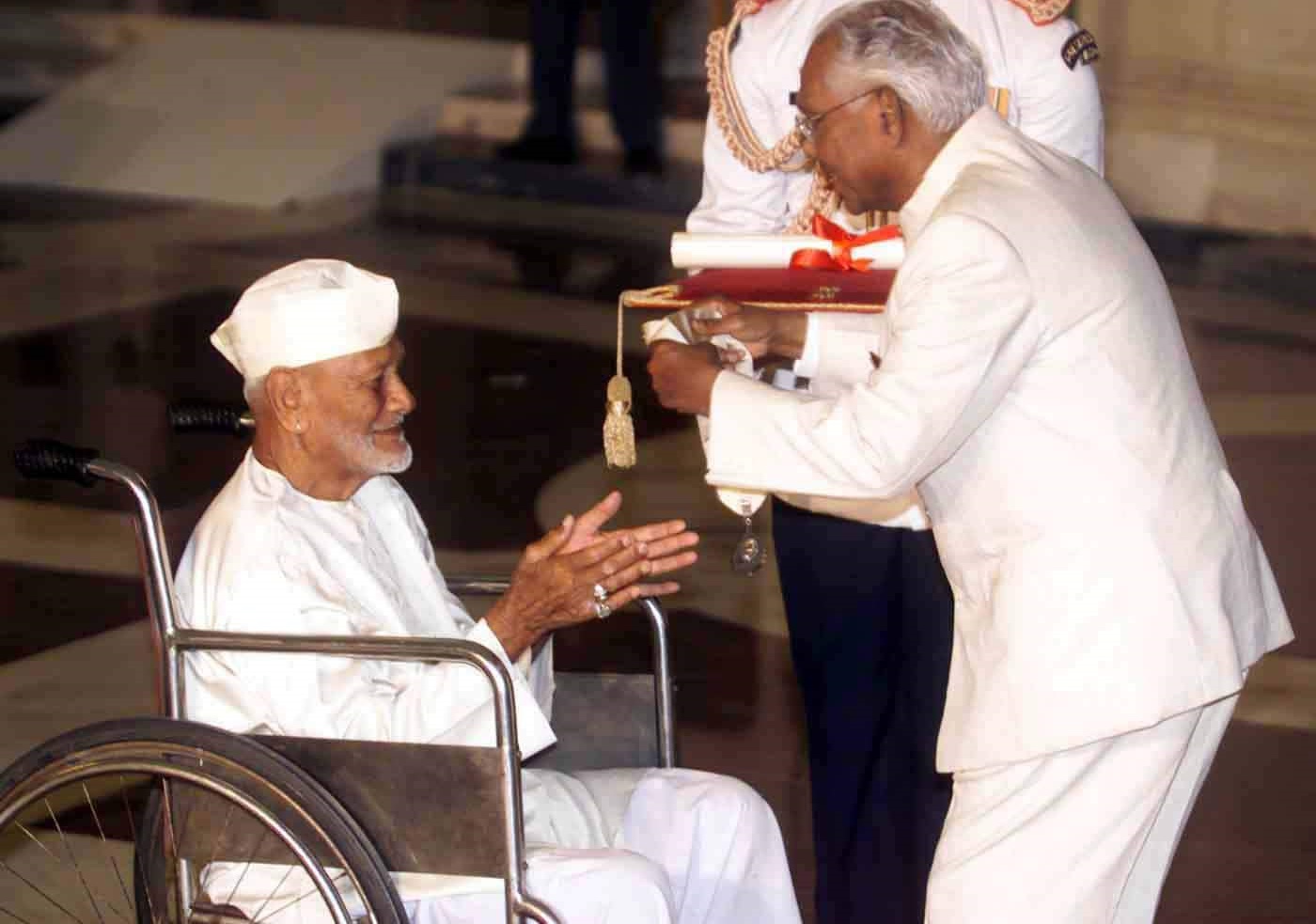 Awarded with the Bharat Ratna in 2001.
Become fellow of Sangeet Natak Akademi in 1994.
Got Talar Mausiquee from Republic of Iran in 1992.
Awarded with the Padma Vibhushan in 1980.
Awarded with the Padma Bhushan in 1968.
Awarded with the Padma Shri in 1961.
He got Sangeet Natak Akademi Award in 1956.
He got Tansen Award by the Government of Madhya Pradesh.
He got three medals in the All India Music Conference in Calcutta in 1937.
He got the Honour of Best Performer in All India Music Conference in the Allahabad in 1930.
Bismillah Khan had honorary doctorates from Banaras Hindu University, Visva Bharati University and Santiniketan.
He was requested to come to play shehnai at the first Independence on 15th August, 1947 in Delhi Red Fort by the Indian Prime Minister Pandit Jawaharlal Nehru.
He had participated in the World exhibition in Montreal.
He had participated in the Cannes Art Festival.
He had participated in Osaka Trade Fair.
He got his 80th birthday celebrated by the World Music Institute in the New York.
His Performances at the Red Fort
Ustad Bismillah Khan had won the rarest rare honor of performing at the Red Fort in Delhi on the evening of the Independence Day of India in 1947. He also had performed the raga Kafi at the eve of first Republic Day ritual on 26 January in 1950 from the Red Fort. This performance of him is added as a cultural part of the Independence Day celebrations of India and his show is telecast every year on the 15th August on Doordarshan channel. Doordarshan channel broadcast the live performance of shehnai maestro just after the prime minister's speech at Lal Qila in Old Delhi. This custom is followed from the period of Pandit Nehru.
Stamp on Ustad Bismillah Khan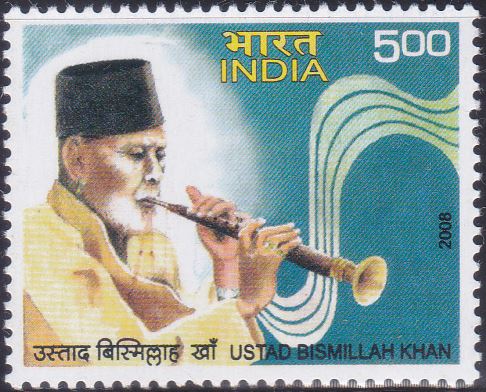 The Department of Posts issued a five-rupee commemorative stamp on Bismillah Khan on 21st August 2008, on the occasion of his second death anniversary. The multi-coloured stamp was printed by wet-offset process on un-watermarked, adhesive stamp paper at Security Printing Press, Hyderabad.
The stamp was released by Prime Minister Dr. Manmohan Singh at his residence. He termed it a token of our nation's and government's respect for him.
The stamp and the First Day Cover portray the Ustad Bismillah Khan playing the shehnai, and the cancellation has a drawing of the instrument. In the background of his picture on the cover is a typical bathing ghat in Varanasi, hometown of Bismillah Khan.
Quotes By Ustad Bismillah Khan
There are following some quotes which are saying by the Ustad Bismillah Khan. These are as Follows –
 " Even if the world ends, the Music will still survive "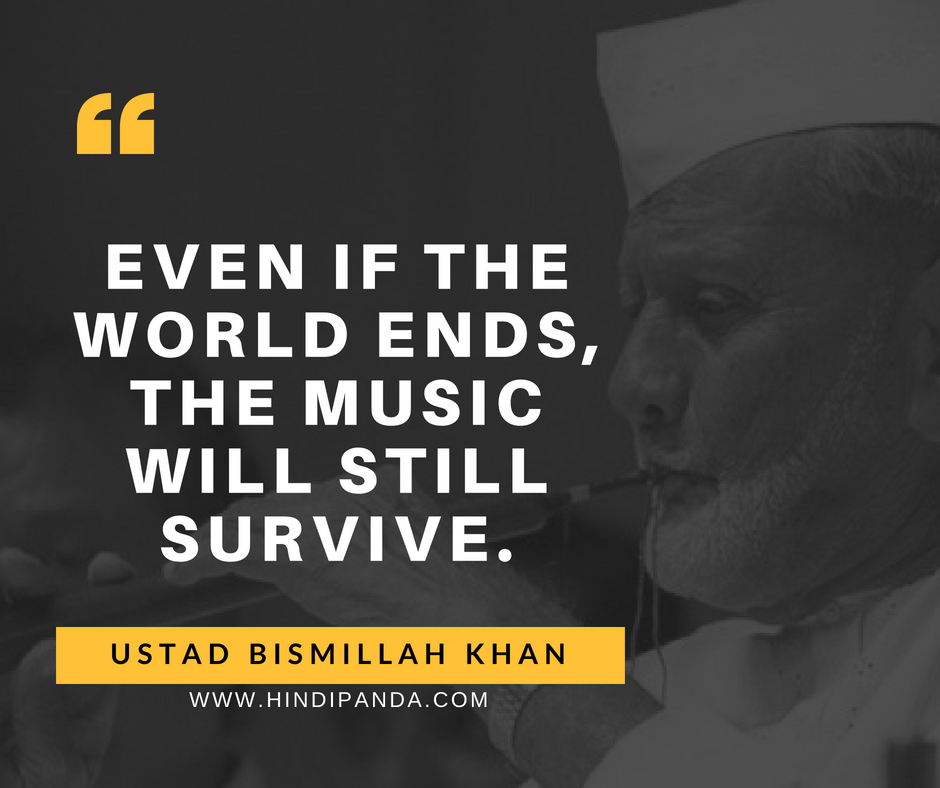 "Music lets me Forget bad experience. You cannot keep ragas and regrets in your mind together "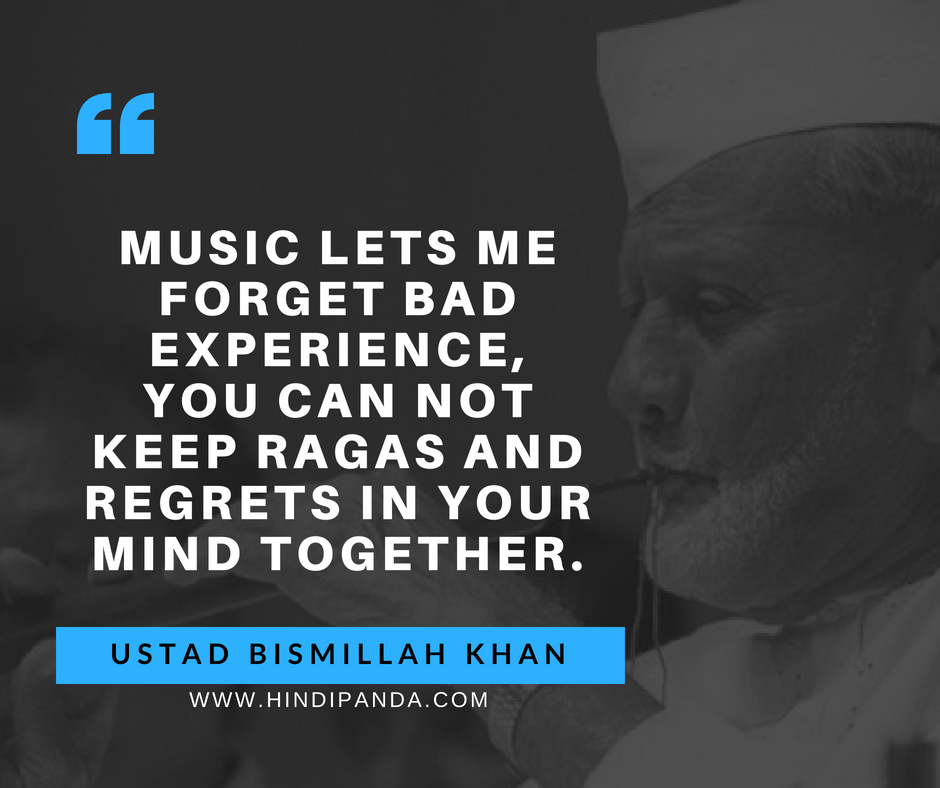 " Music has no Caste "
 " God knows no religion. God belongs to mankind. I realized this while playing at the Balaji temple "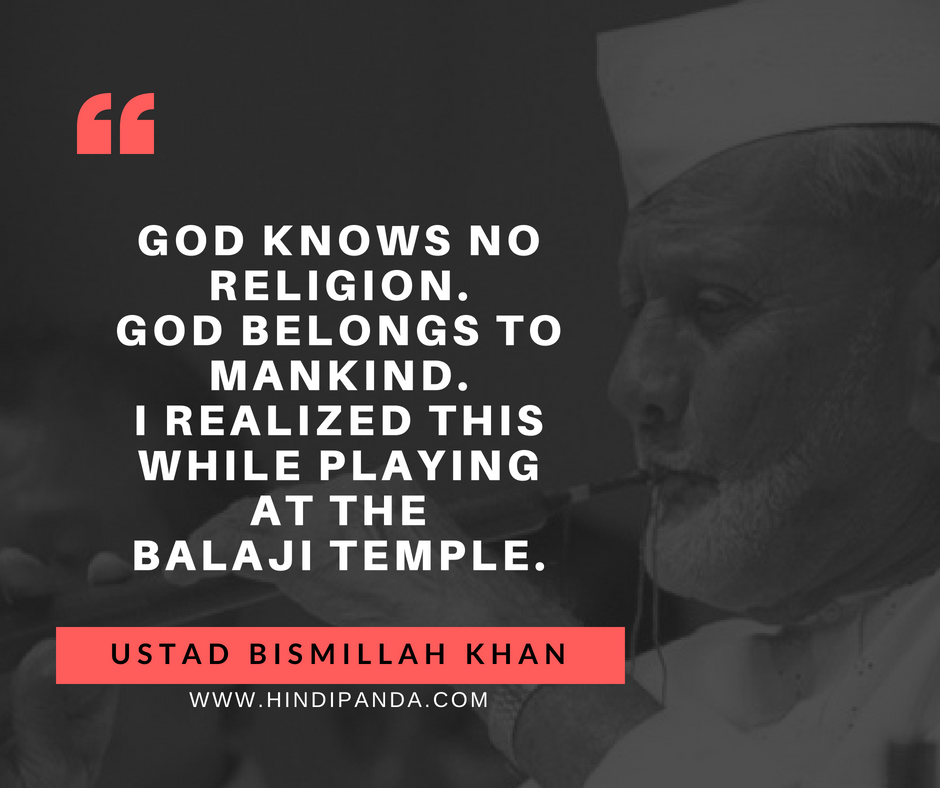 Interesting Facts About Ustaad Bismillah Khan
He was respected by the most astounding regular citizen honor of the Republic of India "BHARAT RATNA".
On 15-08-1947 the day of first Independence day of India, the executive Shri Jawaharlal Nehru welcomed him at Red Fort, Delhi to play Shehnai.
The World Music Institute was commended his 80th birthday celebration in New York.
On his second demise commemoration i.e. 21-08-2008, a stamp of Rs.5.00 has been issued by India Post, Govt. of India.
Google respected him by doodle on his 102nd birthday i.e. 21-03-2018.
Death Info
In 2006, Ustad Bismillah Khan was unwell & admitted to hospital on 17 August. But, his condition did not improve. A few days later on 21-08-2006,  he found dead due to cardiac arrest at the age of 90.
A day of national mourning was announced by the Government of India on his death. He was buried, along with a Shehnai, at Fatermain burial ground, Old Varanasi with a 21-gun salute from the Indian Army. He is survived by five sons, three daughters, and several grandchildren and great grandchildren.
Source : Youtube
Also Read