Shree-Lipi
India's Most Popular Multilingual Software
If you have a little culture about multilingual softwares, you should know about the Modular Infotech Pvt. Ltd. This is a company which was founded in 1983 and has contributed to Indian languages for over 30 years, now which is definitely a long period of time. In fact, this company is the leader when it comes to creating Indian language fonts and the development of multilingual software. Promoting Indian languages for computers is not a very easy job but this company has received a lot of awards over the years for doing the same. As a matter of fact, there are many Indian languages and development of them, according to the new words and the newest trends is absolutely necessary. 22 major languages are spoken in India which are written in 13 different scripts and has over 720 dialects. This is the versatility that Indians show when it comes to languages.
Modular Infotech Pvt. Ltd. is said to have the largest library of Indic fonts of the major Indian languages globally. The company is bent on OpenType fonts development and they have not disappointed at all. It is a conscious organization which always knew that adword specialize in this kind of Unicode development. What are the accolades of this company includes having provided services to Fortune 100 companies?
Computer and Technology is one sector which undergoes major changes very often. This is the reason why keeping up with the changing times and the changing demands of the consumer is absolutely the most important thing. This company has been working hard and doing useful changes to Shree-Lipi with the changing times.
The Silver Jubilee Year Of ShreeLipi
For the last 25 years, Shree-Lipi has been leading the multilingual software in the printing and publishing industry. 2019 is the silver jubilee year of this software and it is definitely still relevant and used by many people around the world. Modular Infotech launched a new version of Shree-Lipi which is called the Shree-Lipi nxt and it is already out in the market. Not only that but also it is also being loved by all the people who have been using the generic version of Shree-Lipi for a long time. It was launched in May 2019 and has taken the market by storm ever since.
Main Features Of Shree-Lipi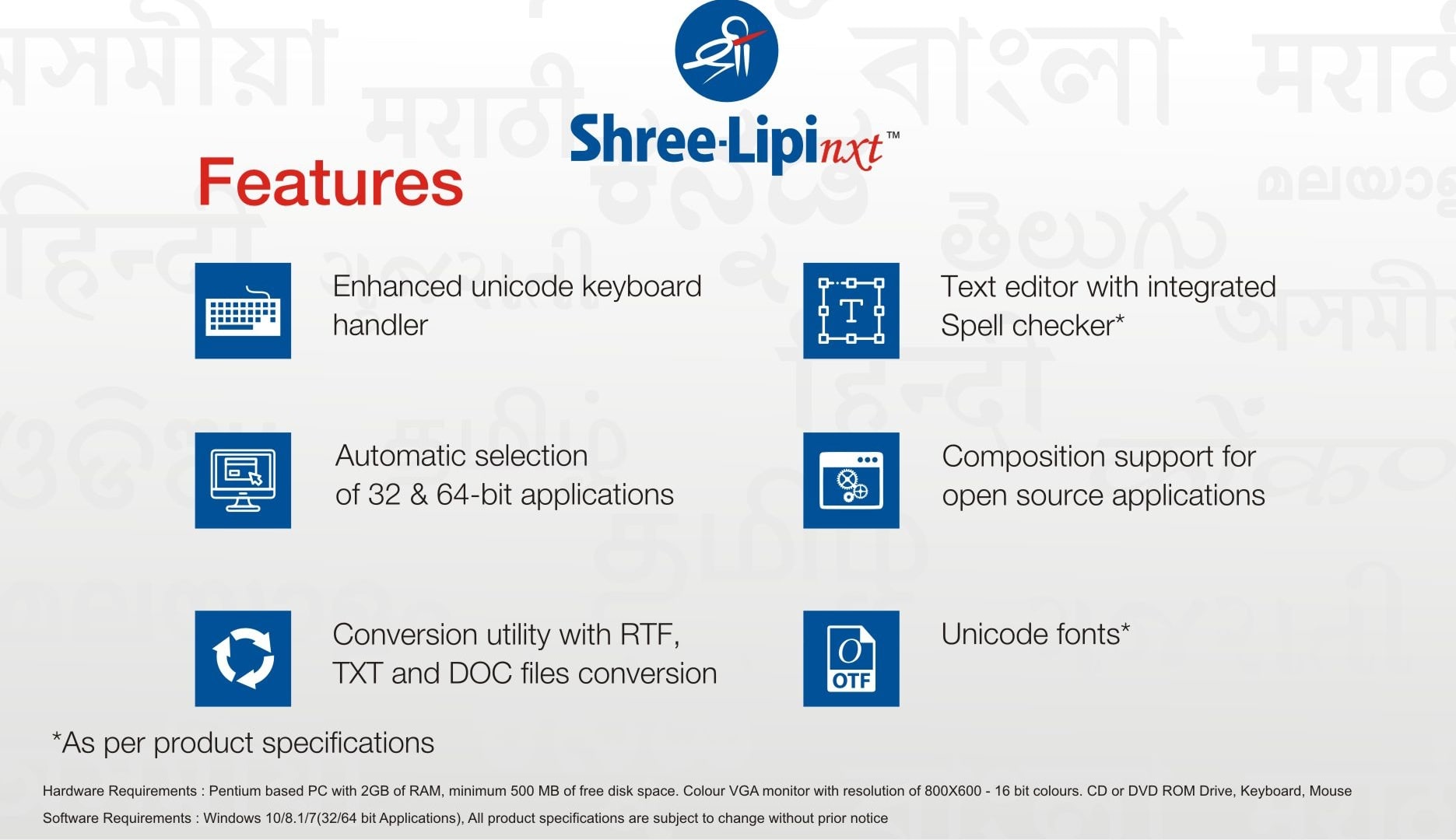 1. There are many attractive fonts for you to choose among and a number of utilities which are very useful.
2. Spell-checker is also available in this application and an editor which is customized for Indian languages specifically.
3. A number of Unicode fonts are included.
4. The software packages include Vedic-Sanskrit which is the language from the past.
5. An attractive graphical user interface and simple typing methods make it very easy.
6. Shree-Lipi also provides typing support for open source applications.
Advantages Shree-Lipi Give To Book Maker / Printers
Shree-Lipi is a completely powerful package for all the bookmakers and printers. There are some of the advantages that it gives to all those bookmakers and printers :
Good looking pages can be made very easily, courtesy for which goes to the high-quality fonts.

The variety of text fonts available on Shree-Lipi is huge.

There are a lot of extra bold fonts also which are necessary for making book covers and advertisements.

Complete character sets are available including a large number of conjuncts in Devnagari and Gujarati, conjunct status in Kannada and so on.

Numerals are also available in the local language.

Fonts can also be installed in a family which includes normal, bold, demibold, heavy, black and so on.

The Spell checker facility works beautifully and proof-reading is much easier because of that.

There is a feature called as Matra validation which avoids the repetition of Matras (vowel signs) on single characters.

A lot of Windows applications such as MS Word, Indesign, Octopus and so on are supported by this program.

The most popular keyboard layouts are supported.

One can toggle between English and Indian language very easily.

When the script is changed, automatically the font also gets changed.

The text that you write can also be saved in Unicode which is very useful for
a lot of writers around the world.

Sorting of language text is also available for better user experience.

For the South Indian languages, there is a facility of hyphenating the text at proper locations and then saving. It is very useful for every South Indian language writer.

The conversion utility is very usefull and can import jobs created using other layout fonts as well.

The exchange utility again is very supportive of direct conversions of text, RTF and doc files.

A user can define and use various keyboard shortcuts for various selected applications and also select the font layouts.

Shree-Lipi symbol fonts are useful for many people to find out the required symbol.
What's New With Shree-Lipi nxt ?
The new Shree-Lipi nxt is something that is taking the market by the storm and the main reason behind it is the enhanced and user-friendly experience that it provides. The conversion utility is much better along with the spell check which can now support two-byte font layout. The font installation is also available along with additional fonts in each available language (without installing).
The symbol font previewer is much better this time along with Unicode typing help. 9 pairs of Unicode fonts for each selected language is something that the new version offers. Smart Matra and Validate Matra for Indian languages are also available in this Shree-Lipi nxt.
There is also no need to select a specific application while typing in any application 32 bit or 64 bit. Shree-Lipi is supported by a lot of other source applications such as Inscape, Gimp, Scribus. Overall, this is a perfect feature-packed solution for all the new-age users and it is definitely worth it, without any hint of doubt.
The catchy effects for your advertisements as well as titles are what Avishkar Plus for SLX font layout gives. It increases productivity overall and saves a lot of time for a lot of people. The new version is definitely a must-have.
Also Read