Top 10 places to visit in Nainital
Nainital is one of the famous tourist spots in India. It is a hill station located among the alluring Kumaon Hill's. Nainital was named so because of the famous lake present there is shaped like an eye. There are seven lakes in total in the hills of Nainital. These lakes are called as " Tals ". Nainital is commonly known as the lake district of India because of its beautiful lakes that lie in the mountains. The other lakes present there are named as Bhimtal, Khurpatal, Sattal, Sukhatal, Sariyatal and Naukuchia Tal. It is a nice spot for a trip as it drives away the mind from the daily hustle-bustle and gives a refreshing outing. It has breathtaking views and mesmerising sightseeing locations that make it a desirable and great location for honeymooners.
Some of the best places to visit in Nainital are as follows :
Naina Devi Temple : If you are visiting Nainital, one of the first places to visit is this devotional place for Hindu devotees. This temple located in the hills of Nainital is a part of one of the famous Hindu mythological story concerning God Shiva and Goddess Sati. It is believed that this temple was formed exactly at the place where the eyes of Sati fell. This is one of the fifty-one shakti peeth that are present in different locations of India. The temple worships goddess Sati. This place is also full of great sightseeing experience. If you are a trek lover, this will be a delightful experience. This place was reconstructed later as it was devastated in an earthquake which nearly destroyed it.
Naini Lake : This beautiful lake is situated between the peaks of seven hills, in the centre of the city. It provides one of the most alluring views. The lake has an opportunity like paddling, boating etc. This lake is eyes shaped hence the name Naini. The northern end of the lake is called as Mallital whereas the southern end of the lake is called as Tallital. The lake gives a beautiful sunset view that can stay in minds and hearts for life long. The lake has mesmerising views which makes it a hotspot for family picnics and hangouts. This lake is not just wonderful because of its location but also because of what it offers. It provides a soothing serene vibe to the visitors. This is one of the active tourist attractions.
Naina Peak : This is a Mountain peak which is located in the north of mallital. This peak is 2165 meters above the sea. This is the highest peak in Nainital also commonly known as china peak. It is a beautiful trek of 4 km. This peak is a beautiful point which shows the breathtaking views of the whole Nainital city and the Naini lake. It's a must-visit for honeymooners and lovers because it is famous for its wonderful sunrise and sunset views. The mountains are covered with a layer of trees which make it look all the more greener and masterpiece like. This peak is also a good attraction for trekkers, mountaineers and adventurous people. The view of the city with city lights at nights fills with optimistic insights and glow.
Tiffin Top :  Tiffin top is also known as Dorothy's seat. It is a sign of love and romance situated at the top of Ayarpatta hilltop. This is a rocky mountain with a great landscape view. This was built by British Army Officer Col J.P. Kellett DSO MC in memory of his wife Dorothy who died from septicaemia on board a ship and was buried at sea. This is a trek of 4 km from the city centre. This is a place loved by photographers and nature lovers. It is irresistible to go there to not have pictures clicked. This place becomes famous as people started having lunch at this spot. This location is covered by trees in the proximity. The view of Nanda Devi is also visible from tiffin top.
Mall Road :  This is the road that lies in the side of Naina lake. This is the food, cultural and shopping hub. For any visitors, it is important to have good food and cultural value stuff of the place they are visiting. There is a beautiful shop on mall road known as stones and pots. This is an authentic shop for beautiful products and food all in one. Mall road is famous for pined goods, candles and puppets and sticks. There are small houses with sloping tops. There are candle making and authentic leather shoes designing. The road is full of traditional and beautiful stuff that can be great for house decorations. This place is originally named as Govind Ballabh Pant Marg. This is a wonderful experience for people who are inclined towards traditions along with sightseeing and trekking.
Snow Viewpoint :  This is a magical place. You can completely fall in love with this place. As the name suggests it is the top of a mountain that is 2270 meters above the sea level. From this peak, the mighty Himalayan range is visibly covered in milky white glowing snow. This is such a breathtaking view. The peak is installed with large binoculars from which the Himalayas are even more clearly visible. All the other important peaks such as Naina Devi, Trishula and Nanda Knots are also visible clearly. Not only this, but the snow viewpoint also depicts a range where the carved images of Shiva, Hanuman, Parvati etc are visible. All these are of mythological importance. There is a cable cart that moves from snow viewpoint to the mall road. This cable gives a clear view of the city from the top.
Eco Cave Garden :  The identification of this garden can be done by it's beautiful rocky, interlinked caves. It is also famous for a hanging garden and musical fountain. Eco cave garden is a spot to allure the visitors towards the natural habitat of Himalaya. An eco cave garden is a group of 6 caves that appear like the shapes of animals. There is a delightful musical fountain show in the evening. The caves are connected in such a way that you have to crawl your way inside. These caves are a beautiful display of nature, habitat and a message for its protection. Eco garden is not recommended for old people and toddlers. This place is lit by petroleum lamps giving a beautiful ancient look to it. The bat and fox caves are the most famous caves.
Kainchi Dham :  Neem Karori ashram is located on the road from Nainital to Almora. This. The ashram is popular among people as Kanchi Dham. This is a place with a small statue of hanuman. This is 1400 meters above sea level. Kainchi Dham is a traditional temple which is built in the memory of a Hindi guru Neem Karori Baba. The ashram is under the care of Shri Maa. It is open to visitors only in her presence. This place has morning and evening prayers going on there which provide a beautiful soulful experience.
Jeolikot :  This is also known as the gateway to the main lake. Jeolikot is located on the Nainital- Haldwani highway. This town is famous for its nature, colour and butterflies. This place has a wide population of butterflies in it. The place is Beautiful due to its floriculture. The flowers attract people and give the place an amazing and vibrant look. It's placed among the distant views of Himalayas and is full of greenery. This hill station is peaceful. It is good for people who are inclined towards meditation and prayers. This is a simple town which provides a soothing and healing vibe to individuals.
Gurney House :  Gruney house is the former residence of Jim Corbett. This house was sold when he left for Kenya. Gurney House is a beautiful house in the mountains covered with greenery. It is so serene and peaceful monumental structure. This place is open to public display. This house is popular among people for its beautiful location and eight sees. The history of this house also attract some people. Gurney house is definitely on the list of 10 must-visit places in Nainital.
Famous things in Nainital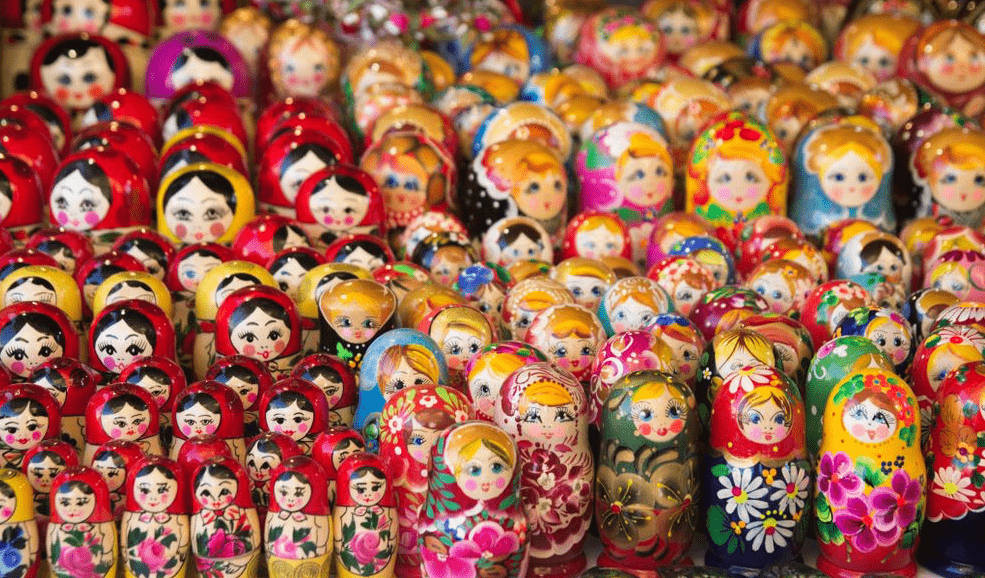 Nainital is famous for many different kinds of artefacts and other authentic products that attract the tourist's gaze leaving them splendid. Some of the famous items include:
Pined products : Pined products are one of the specialities of this place. They are beautifully crafted in various mesmerising designs. These products are beautiful for house decoration. For gifting purposes as well, they are an amazing option.
Wax candles : If you are interested in craft, this place will take your soul. The wax candles here are so bright, colourful and beautifully crafted. There are aromatic candles, candles of different colours and candles which are shaped as different structures. These eye-catching waxworks are amazing. There are wax statues too, which are attractive.
Bamboo fibre clothes : If you want to have something which is specific only of Nainital, go for bamboo clothes. These clothing are found nowhere else. Beautifully crafted clothes stitched in the bamboo fibres keep the body odour free and fresh all the time. The bamboo fibre has a special quality of keeping warm in winter and cool in winters. This is why they are specific in their functions and amazing to use.
Bal Mithai : Bal mithai is a sweet which is very popular among the hills of Nainital. This sweet is made from condensed milk which is also known as khoya. This sweet is so delicious, for sweet tooth it's a must-try. The chocolatey appearance of sweet is covered with white sugar balls giving it a desirable look.
Fruits : As Nainital is a hill station, it is popular for it's fresh and tasty fruits. Not just fruit's but fruity products as well. Some of the popular fruit products are apple chutney, jams, juices and jellies. These natural products are not just tasty but healthy and organic too.
Best time to visit Nainital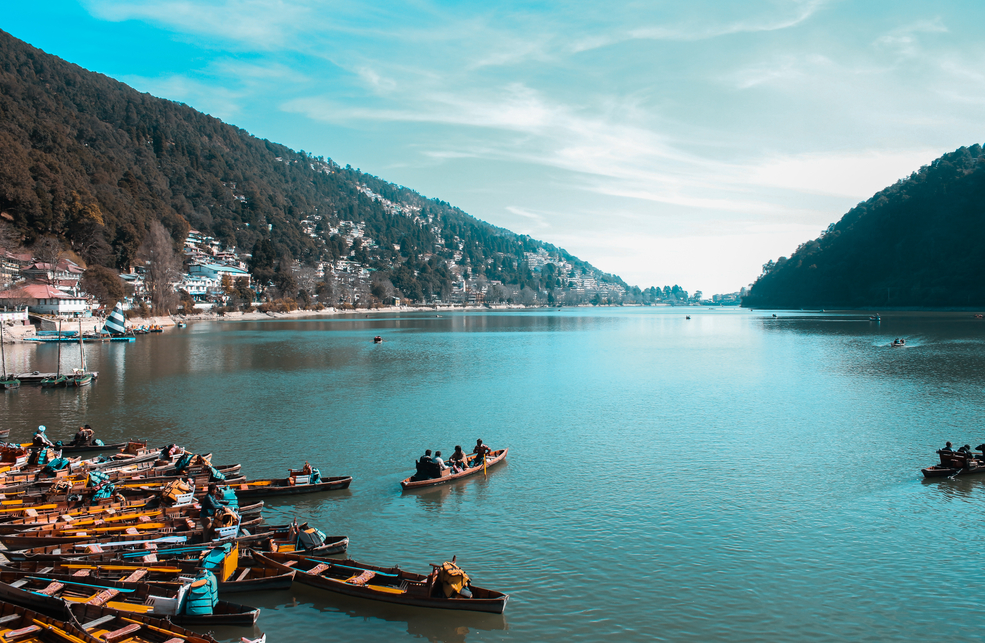 The best time to visit Nainital is usually the Summers i.e. from March to June. This is the time when the hill station is usually crowded as people from lower hotter plains visit it for it's cool and summery vibes. This season might not be suitable for couples who want to have a honeymoon because it's very crowded in summers.
The month of August is considered best for honeymooners because it is showering, romantic and beautiful. The crowd is limited. The sightseeing and city are beautiful. The hills are seen covered with clouds and the trees and hills are more romantic and beautiful during this weather.
July is generally an onset of heavy showers as monsoon reach there early. There are many cases of landslides and cloud bursts in Uttrakhand in this weather. These cases generally are limited to the other areas and don't really affect Nainital much, but for safety concerns, people may avoid going there in July.
Is a great wall of China visible from Nainital ?
The answer is Yes. There is a peak in Nainital known as China peak from where the great wall of china is visible. This peak also shows the serene, beautiful, widespread and milky white Himalayan range. The great wall of China is so amusing to people for its giant spread and monumental value. There are large binoculars installed at one of these peaks which helps in a clear view of the Himalayas as well as the Great wall of China. The view is breathtaking.
How far is Nainital from Auli ?
Auli is located in Haryana. It is approximately 7 hours drive from Auli to Nainital. Nainital is 281 km away from it. One disadvantage is that there is no station in Auli. The nearest railway station is the one of Haridwar. This is approximately 150 km away from Auli. Nainital can be reached via 2 routes, one that goes through Rishikesh and the other one that goes through Auli. The one that goes through Auli is the better and most preferred route.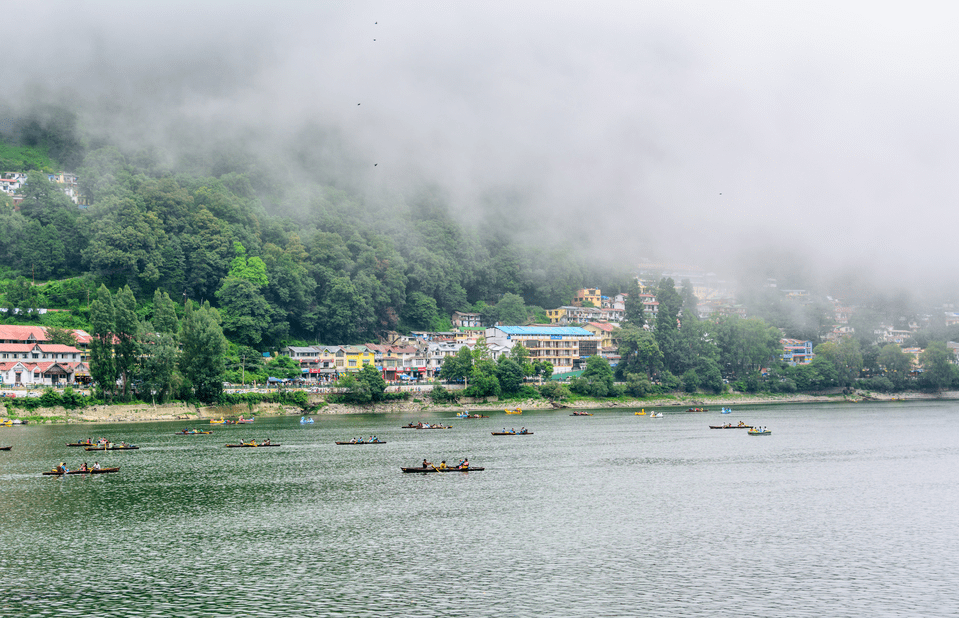 For Honeymooners
This is a breathtaking place and is highly recommended for honeymooners. This place is serene and has some of the most beautiful and romantic views. Along with that, there isa beautiful sightseeing experience there. The serenity of sunrise and sunsets are so marvellous. Couples can find it beautiful and amusing especially in August when the hills are frequently covered in clouds. The weather is so beautifully romantic that it's almost irresistible to fall in love with everything all over again.
Also Read
Top 10 places to visit in Jaipur | Best time to visit Jaipur