Top 10 places to visit in Jaipur
Jaipur is popular for it's mesmerizing architecture, forts, culture and sweets. Jaipur is the city of forts which are ancient in origin showing the lavish lifestyle of previously ruling kings in India. The city of Jaipur is one of the main attraction for tourists as it provides a wide variety options to visit and explore. Jaipur is not only rich in it's beauty but also in culture. The beautifully built fort's have attractions like puppet shows, different views and historical value that makes them separate from one another.
It's importance
Many students visit Jaipur as a part of their course tour to explore the wonderfully built structures that might help their studies such as students if architecture and fine arts. The beauty of Jaipur also lies in it's authentic ancient and unspoiled history. The traditional outfits, dance, and jewellery takes away breath of tourists. It is a hotspot for tourism.
There are many forts and places in Jaipur that are now open for stay by people as they are converted into beautiful resorts and hotels. These hotels gives the experience of a lavish lifestyle lived by the previous rulers. The historians are specially interested in such monuments. Jaipur is such a beautiful place for photographers as the views present there give some of the marvellous landscape.
Best Top 10 places to visit in Jaipur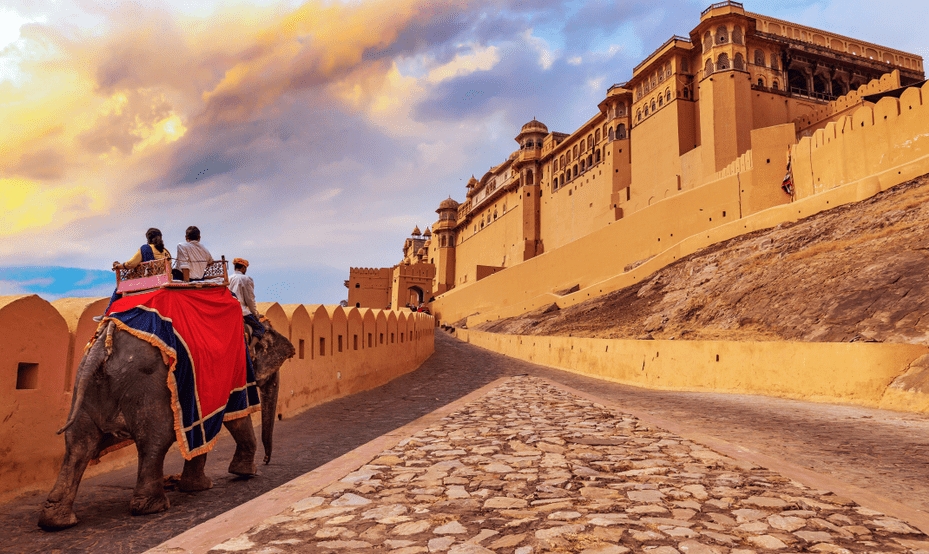 Hawa Mahal  
This is one of the most stagnant building standing in the main city if Jaipur famous for it's beautiful structure. Maharaja Sawai Pratap Singh is responsible for fort construction. This fort was built in 1799. The name of this fort is Hawa Mahal because it is built in such a way that it has multiple windows that act like a mesh circulating air inside the fort. The total number of windows is 953. This makes the fort breezy and cool. This windows of the fort are colourful giving it a beautiful appearance. It is said that the aim of the fort construction was to build it in such a way to provide the ladies of royal houses to observe the activities going on the streets while remaining unobserved by the people. The entry ticket of Hawa Mahal is 50 INR.
Amber Fort  
This is a fort built in yellow and red types of sandstones. This fort lies on the Aravalli hills range that is widespread in Rajasthan. Amber fort is only 10 km away from Jaipur. It is popular among people for it's magnificent construction that is like a maze some times and round serpent like stairs. This fort is located on the hill top. It has a fare of 25 INR.
Jal Mahal
This fort is different than other forts because it's specificity is that it is submerged in water. Only a portion of this old fort is visible on the surface. Boats in the rivers to take tourists to the fort. This fort has it's beautiful reflection in the water. At night when lights are on this fort looks extremely beautiful.
Choki Dhani  
Choki Dhani has been one of the main attraction for tourists for so many years. This is a cultural feast that celebrates traditional Rajasthani culture every day. There are camel ride, puppet shows and proper Rajasthani food that is served to the people visiting the place. The cost is 450 INR for Indians.
Johri Bazaar  
This market is famous for it's jewellery. As the name suggests "johri" means "jeweller". The market has the best kind of kundan, diamond and rubies. This market is the attraction for majorly the females. It is also famous for it's vibrant colours and delicious food.
Nahargarh Fort 
Nahargarh fort is one of the beautiful forts in Jaipur which has a really mesmerizing history like all other forts. This fort is located along with two other forts named as fort of Raigarh and Amber fort. This fort is constructed on the top of the hill and has to be reached by trekking. This fort has mesmerizing views it's signature feature is an extended construction of fort wall. This wall connects the Nahargarh fort to the fort of Raigarh. The wall looks so amazing and breathtaking. This fort also has a specialised area for a biological park which is a niche for many animals. This fort has a special area and was built for Royal women majorly.
Jaigarh Fort
This fort is placed on the topmost part of the cliff where it is connected to the Amber fort. This fort is the sign of protection and Victory. This fort is the only fort that remained unconquered throughout. This fort was historically constructed for the protection of the Amber fort. This fort has subterranean pathways or secret ways via which it is interconnected to the Amber fort solely for the protection of the fort. Jaigarh fort has one of the largest canons on wheels placed in the fort. This canon is a tourist attraction. This magnificent fort was built by a well-talented architect if the time called Vidhyasagar. This fort is considered to be one of the strongest construction of the Jaipur and faced the least disputes.
Jantar Mantar
Famous architecture of Jantar-Mantar is recognised by UNESCO as a historical heritage that needs to be preserved. This heritage is the world's largest structure that is able to read astronomical structures and their movements. Jantar- Mantar is such a vice construction that it was built only by stones and brass but still every installed system works magnificently. There were total nineteen structures that were installed to read the movement of heavenly bodies. There is no denying in the beautiful architecture of that place. It is a tourist attraction. The entry fees for Indian citizens is 15INR only. The construction of this building was as such that it can perfectly coordinate with the astronomical body and give details related to them. This building follows Egyptian Ptolemaic rules to study astronomy. The building follows three basic coordinate systems to follow the location of other astronomical bodies. These coordinates are the horizon zenith local system, the equatorial system and lastly the ecliptic system.
City Palace
The city palace in Jaipur is one of the lavish construction present In the walled Jaipur city. This palace is constructed upon approximately one-seventh of the total city area. It is believed that the palace was built for the sitting of Maharaja of Jaipur at that time. The throne is beautiful and integrates by beautiful designs. The palace is huge and has a museum present within to showcase the ancient Artefacts and other products used by the royal family at that time. The City place is full of mesmerizing views with its beautiful gardens and courtyards. There are courtyards namely Chandra Mahal and Mubarak Mahal. The entry fee of this palace is 100 INR.
Albert Museum Hall
Albert museum hall is one of the largest ancient museum located in the Ram Niwas Garden in Jaipur. This museum was anciently built to bring Queen Victoria's and other collections of Albert museum located in London to this place. Later it wasn't possible so the museum has royal ancient artefacts now. This is a large hall. This building is an Indo- Saracenic Architecture. The museum contains a huge number of artefacts that are collected from different parts of the world. These artefacts are displayed beautifully in 17 different galleries. It is an attraction for historians. This building glows in the night with a yellow light. This gives the Albert hall a mesmerizing appearance. The entry fees are 40 INR for Indian citizen.
What can we do in Jaipur at night ?
The city of Jaipur looks absolutely amazing at Night. The city lights are like a stargaze when watched from the hill tops of the fort. The vibrant colours of the city remains enlightened. There are many other forts in Jaipur that are of equal magnificence and tourist value such as Jaigarh fort, Najafgarh fort and Jantar mantar. The night life in jaipur is full of traditional exposure. The folk songs are heard in the lights and colours that are spread throughout representing the culture.
Why Jaipur is called pink city ?
Jaipur has been advanced with the name of Pink City on account of the shade of the stone solely utilized for the development of the considerable number of structures. Any individual who has seen the city can substantiate the way that every one of the structures of Jaipur is pink in shading.
The pink shading has its own history. In 1876, the Ruler of Grains and Ruler Victoria visited India on a visit. Since pink indicates the shade of neighbourliness, Maharaja Slam Singh of Jaipur painted the entire city pink in shading to respect the visitors. The custom has been genuinely trailed by the inhabitants who are present, by law, constrained to keep up the pink shading. Pink in shading and pink in dynamic quality, the city of Jaipur is one of the most delightful and attractive urban communities of India. One generally misses the mark regarding words while portraying the bounteous appeal that the city enamours the guest with.
The way of life, engineering, customs, craftsmanship, gems and materials of Jaipur have constantly enchanted the explorers. It is one city that, even after modernisation, still holds to its underlying foundations and qualities. Aside from being the capital of Rajasthan, Jaipur is likewise the biggest city in the state. The establishment of the city goes back to the eighteenth century, with credit to the incredible warrior and space expert Maharaja Sawai Jai Singh II. The wonderful past of Jaipur wakes up in the castles and fortifications in the city where once experienced the imperial factions. The lofty posts and Havelis, the wonderful sanctuaries, the quiet scenes, and the rich social legacy, have made Jaipur a perfect goal for vacationers. There is something in the air of Jaipur that brings euphoria and enjoyment when you set foot in the city. The pink shade of the city draws out a sentimental appeal that spellbinds each heart.
Which is the best time to visit Jaipur ?
Winters ( November – March ) is the best time to visit Jaipur and different pieces of Rajasthan as the climate runs between 8-degree during evenings to 32-degree Celsius in the day. Summers are incredibly sweltering, and touring isn't a cheerful encounter. Rainstorm, then again, is very hot and sticky which isn't a perfect time to visit as well. January is a magnificent time to visit Jaipur on account of the Kite Celebration and furthermore the Jaipur Writing Celebration that's held around this time. At some point in the period of Spring, Jaipur witnesses the Elephant celebration, only a day prior to Holi.
Which sweet is famous in Jaipur ?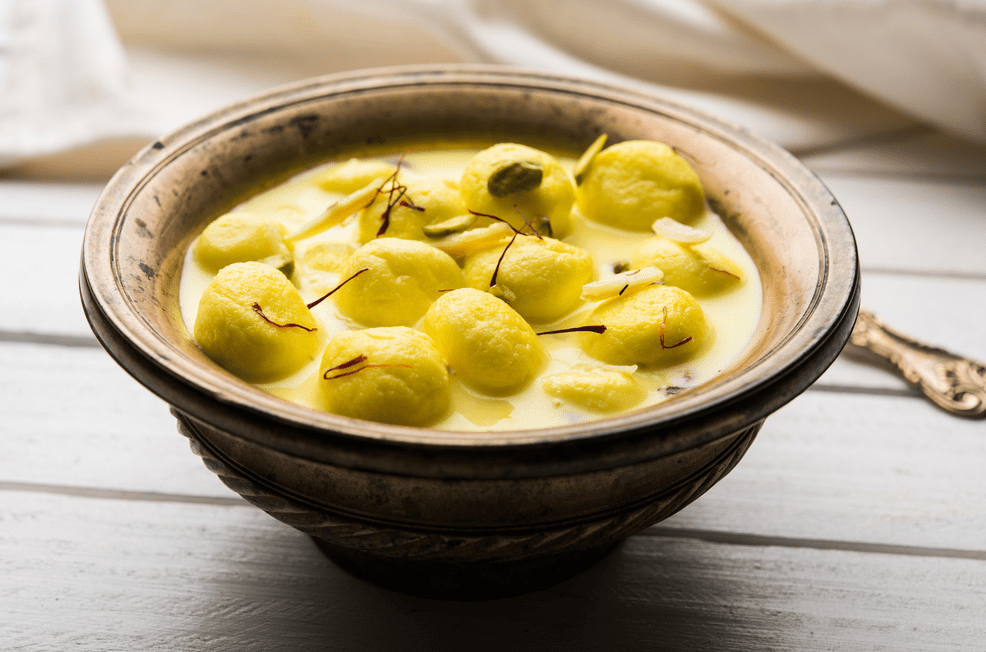 Some of the sweets famous in Jaipur are :
Ghevar
Ghevar is the ruler of Rajasthani sweets. It is the best sweet in each home and furthermor, there are various kinds of Ghevar. The mix of ghee, milk, and dunked into the sugar syrup put this delectable pastry on the map. Various sorts of Ghevar like Mava Ghevar, Plain Ghevar, Malai Ghevar, and Rabri Ghevar with fixings and different fixings. Among them, Rabri Ghevar is the most well-known one.
Dilkushar
This sweet is celebrated for events and celebrations in Rajasthan and furthermore known as Besan Ki Chakki or Mohanthal. This delectable sweet will be comprised of besan (gram flour) by simmering, mawa in a rich measure of ghee, cardamom powder, sugar, milk, and fixings like almonds and cleaving of ghee. You will overlook everything when the sweet contacts your taste buds.
Cheena Malpua
A new and dissolving sweet of Rajasthan is Chenna Malpua. It is typically arranged each day yet in celebrations, it is the sweetest. This divine sweet will be made of new paneer, sugar, ghee, and dried natural products for decorating. One nibble is sufficient to appreciate the delight of sweetness and delectability. Cheena Malpua is the most acclaimed sweet in Rajasthan.
Balushahi
North India's appreciated sweet is Balushahi, made of maida, yoghurt, milk, sugar, and heating pop. In the wake of dunking into the sweet sugar syrup, it is the most flavourful sweet. This delicate smooth pastry is the most favoured sweet in capacities and weddings. Balushahi is somewhat overwhelming in calories and you may stomach filled subsequent to eating this.
Imarti
Imarti is a typical treat of Rajasthan looks like pipe cake. It is exceptionally simple to set up this sweet by basically blending gram flour in round blossom like shapes and dunking into the sugar syrup. Imarti is the best-known sweet which takes less time and simpler as well. It will be dry outside yet succulent inside which will make you feel marvellous.
Mawa kachori
Mawa Kachori is the best-stuffed treat and popular one in Rajasthan states. The fundamental piece of this formula is the stuffing of mawa and nuts which gives a heavenly taste. The Kachoris are set up by maida, mawa, cardamom powder, and nuts lastly dunking into sugar syrup is sufficient. There is an enthusiasm to eat increasingly more Kachoris because they are so delicious.
Doodhiya kheech
Rajasthan's winter season well-known treatment is the Doodhiya Kheech which is said to be begun in Udaipur. This flavorful and scrumptious sweet is set up by hulled wheat, dried natural products, milk, sugar, and nuts. In reality, this pastry will be set up during winters as a conventional sweet on the celebration long stretches of Akshaya Tritiya.
Churma Ladoo
Churma Ladoo is a bubbly commended treat in Rajasthan and in all over India too. It tastes flavorful and marvellous to have it one more. This treat will be set up with besan, milk, jaggery, cardamom powder, and poppy seeds. It is a great pastry of Rajasthan and it is mostly consumed by people during fasting. And furthermore, any celebrations or capacities without Churma Ladoo are absolutely fragmented.
Methi Ladoo
Methi Ladoo is a type of an alternate pastry with a curious taste. When you take a chomp you will feel like zesty, harsh, and sweet. It was blended with all flavours yet it is a novel and elegant formula of Rajasthan's. As a matter of fact, this treat will be set up with a blend of ginger, methi, and sugar. That is the reason it tastes three fluctuated flavours. In any case, a great and scrumptious pastry.
Moong Dal
A joy formula with splashed moong dal and a great treat of Rajasthan's sweet menu is Moong Dal Halwa. This formula sets aside a long effort to get ready yet secure with the finger-licking taste The fixings required to make in your house are moong dal, ghee, sugar, milk, cardamom powder, and saffron. Essentially sprinkle the dry natural products on it and have it, you will be taken to paradise with its breath-taking taste.
What can I buy in Jaipur ?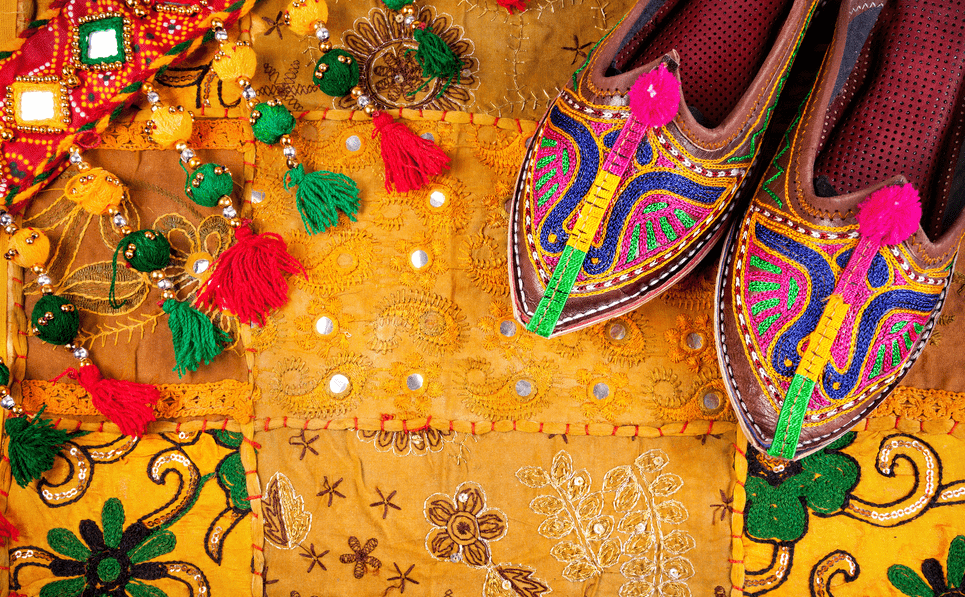 The famous things to buy in Jaipur are :
Jewellery 
The Johari market in Jaipur is famous for its magnificent jewels. It is famous specifically for it's Kundan jewellery that takes up the attention of people.
Lehariya Saree  
The design Quality and pattern of this kind of saree are one of the best in Jaipur. These sarees come in such attractive looks and patterns it's hard to say no too.
Bandhani Dupatta
Bandhani dupattas are pure Jaipuri work. It represents the Jaipur culture which has such a vibrant colour and looks. It's a must buy.
Meenakari Work  
It is a very attractive form of art done on various kind of products in Jaipur. This art makes the products look so attractive. Tthese are generally done in green and red colour. However, it is available in almost all colours now.
Jaipuri Handicrafts  
The handicrafts are so beautiful in Jaipur. Products like bags, bedsheets and mojris come under this. These handcrafted products have such nice finishing and look it takes away your attention.
Blue Pottery  
Blue pottery is a very rare kind of pottery products which are found in Jaipur. These products are available in many markets in Jaipur. Things like pots, ashtray and flower vessels come in blue pottery work.
How far is Jaipur from Delhi ?
To travel from Delhi to Jaipur the distance to travel is 263 km which takes approximately 5 hours. This distance can be covered via train, aeroplane or via car. By car, the distance is 5 hours. The distance when covered by plane it takes 55 minutes whereas by train it takes approximately 4 hours.
Also Read
Top 10 places to visit in Nainital | Best time to visit Nainital