Happy Krishna Janmashtami
Importance | Images | Songs | Facts
Sri Krishna Janmashtami ( Also Known As Krishnastami ) is one of the holiest festivals for the people belonging to Hindu religion. Janmashtami is celebrated as the birthday of Lord Krishna. This festival is observed on eighth day of Krishna Paksha in the month of Bhadrapad as per Hindu Calendar. Janmashtami is also known as Gokulashtami, Krishnasthami, Srijayanti. Janmashtami is famous for Dahi Handi in Maharashtra. This festival is very popular among kids.
Janmashtami is marked by grand celebrations at Krishna temples across India. The Janmashtami of Mathura and Vrindavan, the places where Lord Krishna had spent his childhood, are famous all over the world. The festival itself is preceded by a day-long fast that is broken at midnight, the time when Krishna is believed to have been born. Devotional songs and dances mark the celebration of this festive occasion all over Northern India.
Happy Janmashtami Images
if you are searching for Happy Janmashtami Images to send your friends or relatives, here we are with your best search result of Happy Janmashtami Images .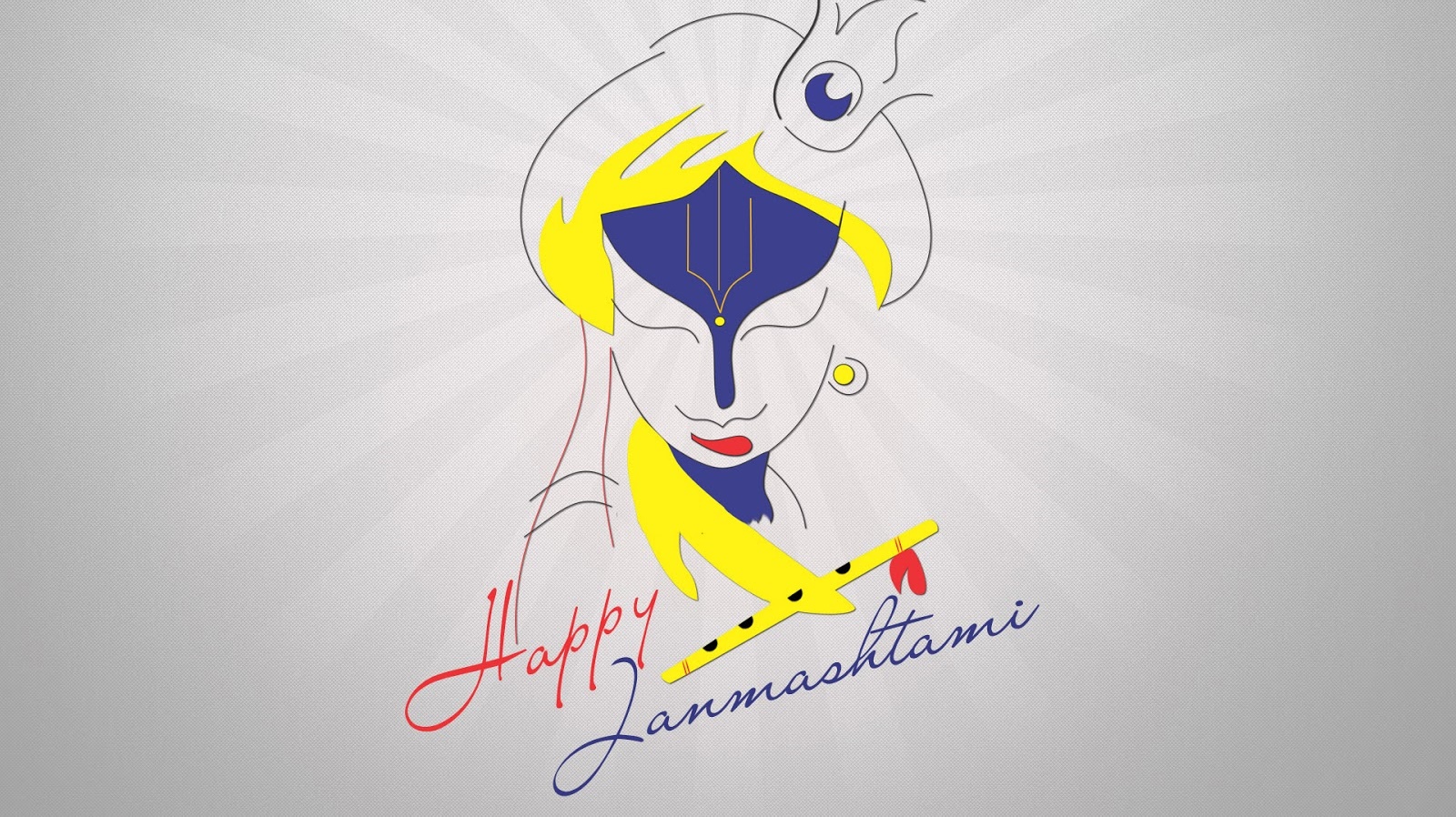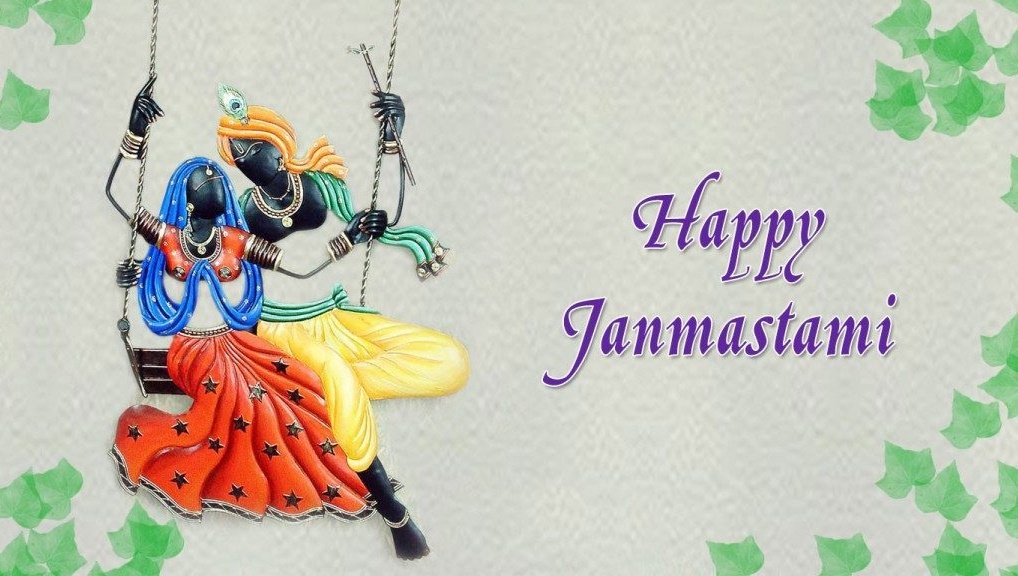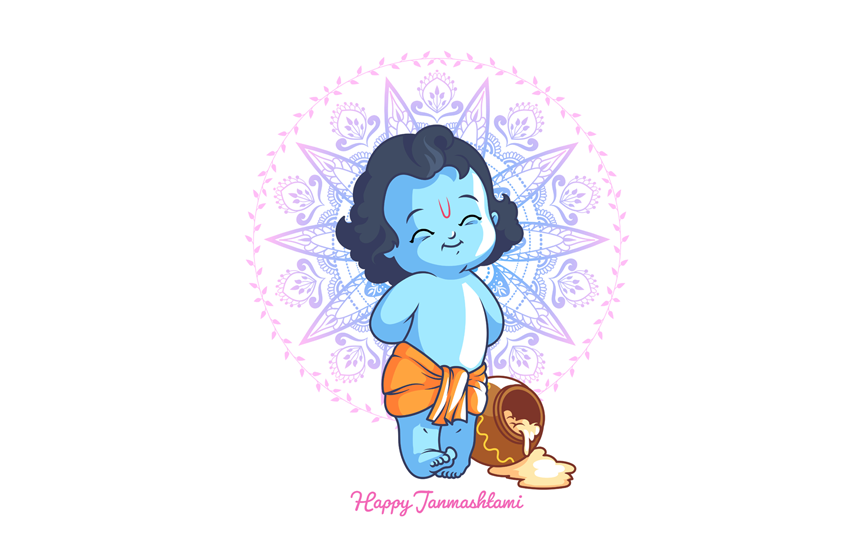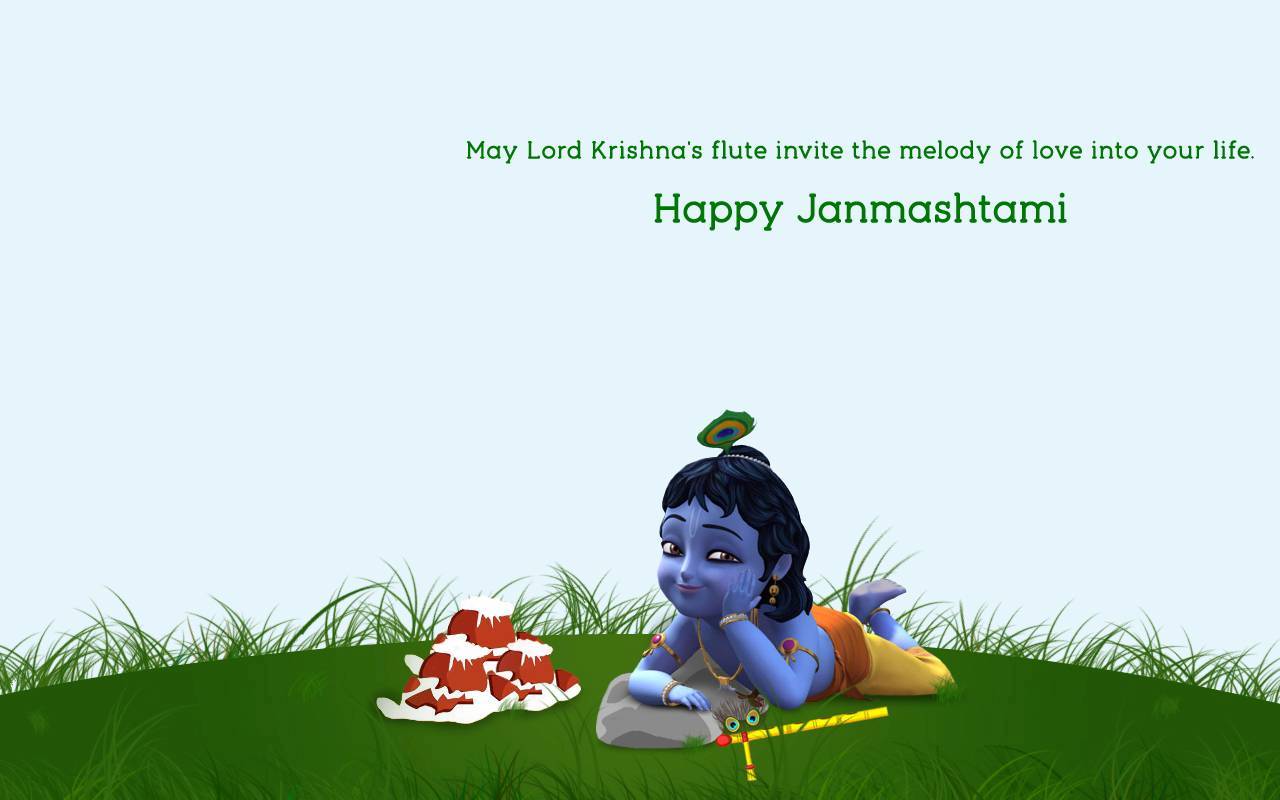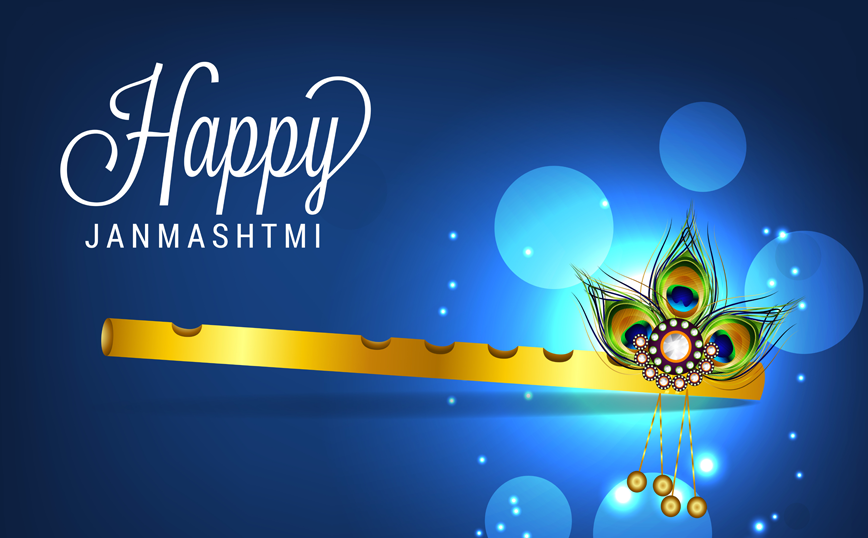 Krishna Janmashtami History
According to the Puranas Krishna took birth on the 8th lunar day (Ashtami) of the waning moon of the month of Smvana at midnight, upon the moon's entrance into Rohini asterism. This day is marked as "Janmashtami or Krishanastami".
Krishna is one of the most worshipped Gods in India and belongs to the Hindu Trinity. He is believed to be one of the eight incarnations of Lord Vishnu. The story of birth of Krishna is an intriguing one. The story goes like this: One day Mother Earth was appalled by the number of sins that were being committed on her surface. She went to Brahma that God of the Gods and appealed to him for help. Brahma, after listening to her, appealed to Lord Vishnu who said that He would take birth on earth and His avatar will destroy every kind of sin that was being committed on earth then.
During that time, Mathura was in miserable state as Kansa, brother of Devki, had put his father, King Ugrasen in prison and declared himself the new king. To put an end to his evil rule, Lord Vishnu decided to take birth in the human form. As such, at the wedding ceremony of Devki and Vasudev, there was a divine prophecy which proclaimed that Vasudeva's eighth son would kill Kansa. To protect himself, Kansa rushed to kill his sister but gave up the idea of killing after being assured by Vasudev that he will hand over all his children to Kansa. Kansa put his brother-in-law and sister in prison. Kansa killed all the six infants as soon as they were born. The seventh child (Balram) was saved due to divine intervention, when he was transferred from Devki's womb to that of Rohini's (other wife of Vasudev).
As Devki conceived the eighth child, everything around was imbued with benevolence and majestic beauty. Lord Krishna was born in the divine form with lotus like eyes, his palms bearing the signs of a lotus, while his sole has a swastika sign. He was adorned with jewels and was wearing a crown. Just as he was born at midnight, a chain of events astonished Vasudev, when he saw the gates of the cell flow open and all the guards fast asleep. He immediately thought of Nand, his close friend in Gokul and decided to hand over his child to him in order to save him from the clutch of Kansa. Crossing the River Yamuna, Vasudev reached Nand's residence and exchanged his son with Nand's daughter. Upon reaching the prison, the door got locked behind him and he was chained again as if nothing happened in between. The guards also woke up and after hearing the cry of the baby, informed Kansa about the birth of the eighth child. Just as Kansa rushed to kill the baby, it slipped out of his hand and flew towards the sky, proclaiming that the annihilator of Kansa was born and was safe.
Celebrations
Hindus all over India observe fast on this day and recite the life story and teachings of Sri Krishna noted in the form of 'shlokas' in Bhagwad Gita. Temples of Lord Krishna are decorated most beautifully and children are adorned as Lord Krishna and Radhika, his spiritual beloved. Krishna Leela or the plays depicting scenes from Krishna's life, especially childhood, are performed. At midnight, when Lord Krishna was believed to have taken birth, an 'aarti' is performed and people break their fasts by feasting on sweets and delicious dishes prepared especially for the occasion. In many parts, the idol of baby Krishna is installed in a swing and offered sumptuous food, especially 'Makkhan' (butter) and 'Mishri' (sugar cubes).
Tradition of Dahi Handi
A tradition of Dahi Handi is widely followed in many parts of India. Dahi Handi is an earthen pot filled with yogurt. On this day, young people form groups and tie the 'Dahi Handi' at a height. Then, they stand one over another forming a pyramid like structure to reach the 'Dahi Handi'. It is finally celebrated by breaking the 'Dahi Handi'.
Janmashtami Special Dishes
As Lord Krishna was very fond of sweets, milk and other milk products like butter and buttermilk, so his devotees make sweets of these products to commemorate the occasion.
Sweets like Doodhachi Kheer, Pedha, Gopalkala or Gulabjamun are the major dishes prepared on Krishnashtami. Besides, Shrikhand and Singhare ki Poori are also made in households. Eatables like Murukku and Seeddai are popular in the Southern State of Tamil Nadu
Janmashtami Fast
The word for fasting i.e. Upavasa, means to move near to the Supreme and to overcome helplessness. The practice of fasting, could have originated as part of the offering that one could give God for getting a boon fulfilled. The festival of Janmashtami is characterised with keeping fast by devotees.
Importance of Janmashtami / Krishnashtami
Happy Janmashtami has a significance of its own. Lord Vishnu in a sacred book of ancient times named Bhagavad Gita says that whenever there wil be any dominance of evil in the society and the decline of the religion, I will reincarnate in this world to kill and remove the evil and also to protect the good. The main significance of this festival lies in encouraging the goodwill and discouraging the bad will. Krishna Janmashtami is also celebrated for the togetherness. This holy festival brings all the people together. Hence Krishnashtami symbolises faith and unity.
Janmashtami Songs
if you are searching for Janmashtami Songs from bollywood, here you will get your best result for Janmashtami Songs with our Panda's list.
Yashomati maiya se bole Nandlala
Source : Youtube
Govinda re Gopala
Source : Youtube
Govinda aala re
Source : Youtube
Shor mach gya shor
Source : Youtube
Bada natkhat hai ye
Source : Youtube
Chandi ki daal par
Source : Youtube
Go Go Govinda
Source : Youtube
Govinda aaya dhoom machane
Source : Youtube
Makhan Chor
Source : Youtube
Happy Janamashtami Quotes
These are some Quotes about Happy Janamashtami. Here is Follows –
It is better to perform one's own duties imperfectly than to master the duties of another. By fulfilling the obligations he is born with, a person never comes to grief. – Bhaagvad Gita – Lord Krishna.
Be fearless and pure; never waver in your determination or your dedication to the spiritual life. Give freely. Be self-controlled, sincere, truthful, loving, and full of the desire to serve. Learn to be detached and to take joy in renunciation. Do not get angry or harm any living creature, but be compassionate and gentle; show good will to all. Cultivate vigor, patience, will, purity; avoid malice and pride. Then, you will achieve your destiny. – Bhaagvad Gita – Lord Krishna.
Experience cold or heat, pleasure or pain. These experiences are fleeting; they come and go. Bear them patiently. – Bhaagvad Gita – Lord Krishna
The mind acts like an enemy for those who do not control it. – Bhagavad Gita – Lord Krishna
Creation is only the projection into form of that which already exists. – Bhagavad Gita – Lord Krishna.
The mind is restless and difficult to restrain, but it is subdued by practice. – Bhagavad Gita – Lord Krishna
The soul can never be cut to pieces by any weapon, nor burned by fire, nor moistened by water, nor withered by the wind – Lord Krishna
As a human being puts on new garments, giving up old ones, the soul similarly accepts new material bodies, giving up the old and useless ones – Lord Krishna
Do everything you have to do, but not with greed, not with ego, not with lust, not with envy but with love, compassion, humility and devotion – Lord Krishna
Intelligence refers to the power to analyze things in their proper perspective, and knowledge refers to understanding what is spirit and what is matter. – Lord Krishna
Facts About Krishna Janmastham
These are some Facts  about Happy Janamashtami. Here is Follows –
Janmashtami is celebrated on ashtami of Krishna Paksh or the 8th day of the dark fortnight in the month of Bhadrapada. It is a celebration of the birth of Lord Krishna.
According to some scholars, Krishna was born on 19th July 3228 B.C.E to the clan of Yadava. The term Krishna in Sanskrit means 'black' as evident by the dark complexion of the Lord.
Janmashtami is celebrated around eight days after Raksha Bandhan. South India celebrates Gokulashtami with fruits, 'prasadam' and devotional songs. Maharashtra celebrates the festival by breaking of 'dahi handi'.
Janmashtami is also known as Gokulashtami and Krishnastami. Lord Krishna, Radha and Balaram is worshipped on this day.
Lord Krishna was born in Mathura but was brought up in Gokul. Mathura lies within Braj Bhoomi, the sacred land where Krishna was born, brought up and spent his teenage years. Janmasthami is celebrated in a grand manner not only in India but by Hindus all across the world.
Krishna Bhajan
Source : Youtube
Also Read
New Whatsapp Status in Hindi and English (2018)