What are Some Beautiful Designs of
Gold Bridal Jewellery

In Indian culture, weddings along with being auspicious occasion are also the ostentatious affair where along with the lavish menu and décor, there is a big display of designer clothes and gold jewellery. Since ages, gold has occupied a great cultural significance in India, and Indians have been emotionally attached to it. No matter what occasion, wearing and flaunting gold jewellery is an integral part of any celebration in Indian homes.
Hence, considering this, bridal jewellery is close to a woman's heart as it marks the beginning of her new life. Wedding or bridal engagement jewellery have witnessed a dramatic transformation from being just plain gold to adopting a modern approach. These days, intricate and royal gold jewellery designs are crafted with kundan stones, polki diamonds, rubies or other precious stones, keeping in mind the evolving tastes of the Indian brides.
Indian brides with their rich-hued fabrics and contemporary gold bridal jewellery, be it yellow, white or rose gold, brides look no less than a goddess. From maang tika, necklace, anklets, bangles, armlets to bridal engagement jewellery, everything comes with a touch of glamour and cultural essence. When a bride gets bejewelled with these gold ornaments, it is believed she brings in luck to her new home with her majestic aura.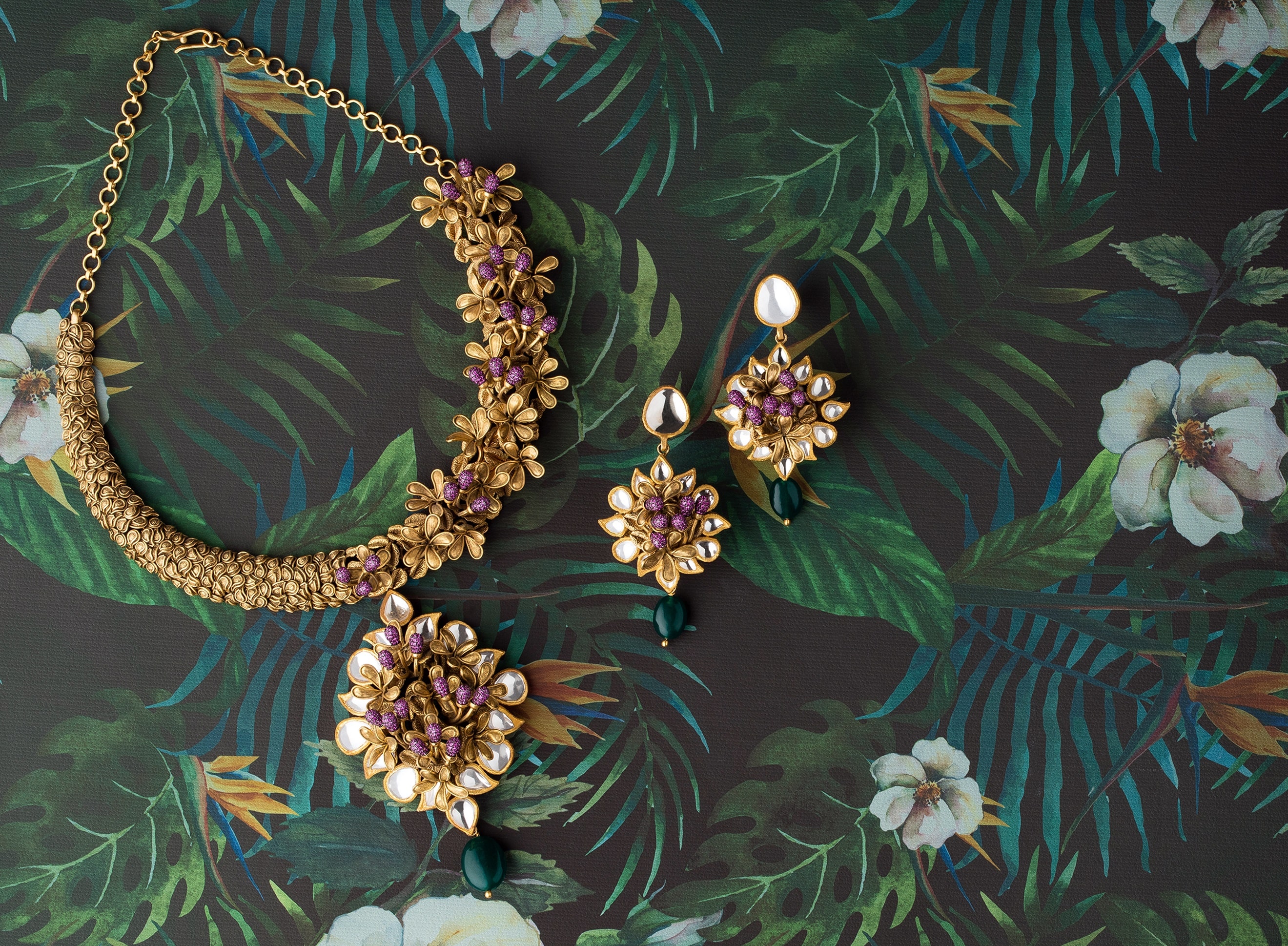 In this blog, let's discuss about the contemporary gold bridal jewellery designs that are in vogue:
The Only 'Gold' Bling
Shine with the purest of emotions on your D-day with pure gold jewellery. Just the yellow metal with beautiful and elaborated designs makes the bride look resplendent and different. Along with the conventional artwork, the only gold jewellery now boasts of contemporary designs that add to your bridal radiance.
Kundan and Gold Magic
Take your bridal look to another level with the bridal gold jewellery made with the precious stones- Kundan. Kundan mathapatti is a big trend this wedding season along with kundan & gold choker necklace. Also, the chandbali maang tika that beautifully adorns the forehead has caught the attention of a lot of brides.
Gold Temple Jewellery
From idols of Gods and Goddesses, dancers of the temple to their presence in the Indian women's bridal jewellery trousseau, gold temple jewellery has indeed evolved and travelled a lot. With their delicate filigree and with the images of Goddess Lakshmi and God Ganesha, the temple jewellery is believed to bring luck and prosperity in a bride's life.
Gold Coin Necklace
The bridal coin necklace trend has gained enough popularity among today's brides. With their solemn yet grand look, they match up with almost any kind of bridal outfit and yet give it a rich and elegant look. If you wish a minimalist royal look, then definitely opt for the gold coin necklace.
Gold based polki choker

With their beautiful designs and colours, they have taken the bridal jewellery market by storm. If just yellow gold is not your type and you like something colourful, lively and vibrant, then gold based polki choker with striking meenakari work along with a pastel bridal lehenga is the best choice.
From bridal engagement jewellery to bridal wedding jewellery, there are a lot many versatile options available just in gold jewellery to suit the aspirations of every kind of bride. Go ahead, scout the online and offline market and choose the best one that just not suit your bridal attire, but speaks out loud your emotions on your special day.
Also Read