Biography of Indian Freedom Fighter
Chandra Shekhar Azad
Chandra Shekhar Azad Biography | There are many of freedom fighters whom we don't even know. We can't recognize all of them but a few are leaders who did something extremely important to reach and achieve our independence. I do understand people will say what freedom, which liberation but still freedom is better than the severity of the British. I won't question but I want all of Indians to identify those who lost their lives for the country. I would also refer to heroes of our protected forces and so on. Read one hero a day.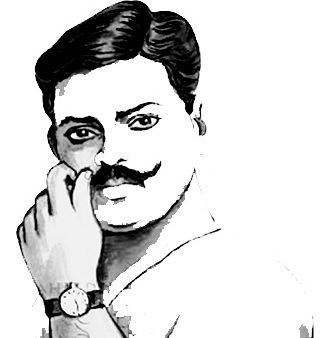 Chandra Shekhar Azad was a brave rebellious and one of the famous freedom fighter of India. He will forever live immortal in the annals of Indian history as a man who devoted his life to the chantry of freedom.
C.S Azad ( Chandra Shekhar Azad ) was born on 23-July-1906, in Badarka of Unnao district in UP. Azad parents were Pandit Sitaram Tiwari and Jagarani Devi. Chandra Shekhar's mother desired to make her son a famous Sanskrit student and so she convinced his father to send him to Kashi Vidyapeeth in Varanasi to study Sanskrit. He received his early schooling in Bhavra. For higher studies, he went to the Sanskrit Pathshala at Varanasi. Chandra shekhar Azad was a great Indian freedom fighter. Honoured for his daring accomplishments and intense nationality, he was the coach of Bhagat Singh, the famous Indian martyr. Chandra shekhar Azad is recognised as one of the greatest Indian freedom fighters along with Bhagat Singh, Rajguru and Ram Prasad Bismil.
Chandra Shekhar Azad's Revolutionary Life
Non-cooperation campaign was postponed by Gandhi ji in 1922. Chandra shekhar Azad was very hurt by this He decided to make the country independently. A young revolutionary introduced him to the founder of the Hindustan Republican Association Revolutionary Party, Ram Prasad Bismil. Azad was very impressed with Bismil After identifying Chandra shekhar Azad's commitment and sincerity, Bismil made Chandra shekhar Azad an effective member of his organization. Chandra shekhar Azad used to collect funds for his foundation with his teammates. Mostly this money was collected from the British administration by looting.
Revolutionary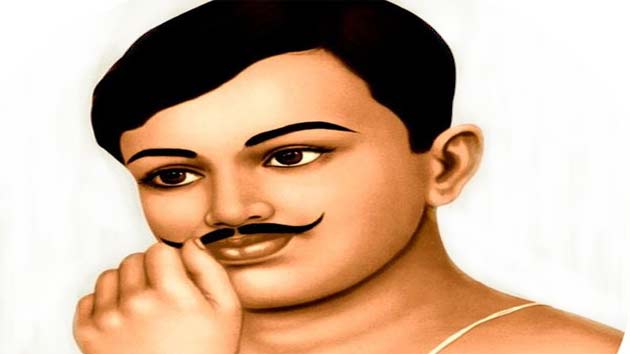 Chandra Shekhar Azad was one of the young generations of Indians when Mahatma Gandhi started the Non-Cooperation event. But many were disappointed with the suspension of the struggle in 1922 owing to the Chauri Chaura massacre of 22 policemen. Gandhi was shocked by the harsh violence, Azad did not feel that intensity was unacceptable in the fight, especially in view of the Amritsar Massacre of 1919, where Army units killed numbers of defenceless civilians and injured thousands in Amritsar. Young Azad and peers like Bhagat Singh were deeply and emotionally affected by that disaster. As a rebellious, he adopted the last name Azad, which means "Free" in Urdu. There is an exciting story that while he chose the name "Azad" he made a commitment that the Police will never catch him alive. Azad and others had acted themselves to complete sovereignty by any means. Azad was well-known for The Kakori Rail Dacoity in 1925 and the shooting of the deputy superintendent of Police John Poyntz Saunders in 1928. Azad and his landsmen would target British officials known for their tyrannical actions against common people, or for punishing and torturing jailed freedom fighters. Chandra Shekhar Azad declared that he would never be arrested by the British police and would die as the free man. Azad was also a devotee of socialism as the basis for a projected India, free of social and economic force and affliction.
Chandra Shekhar Azad and Bhagat Singh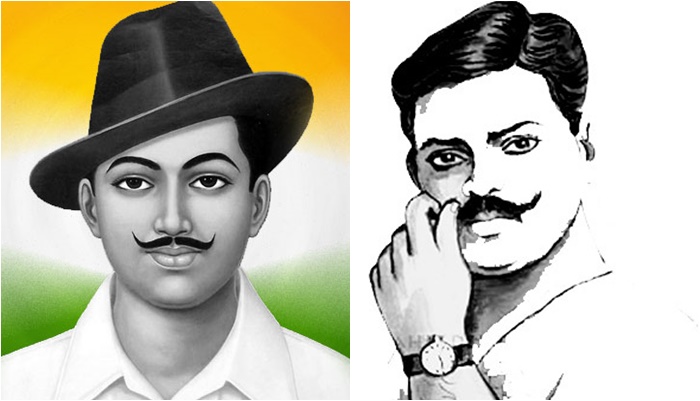 In 1925, the Hindustan Republican Association was established. In 1925, several other influential revolutionaries, including Ashfaq Ulla Khan, Ram Prasad Bismil, were given the death penalty as a result of Kakori Kand. After this, Chandra shekhar revamped this foundation. After coming in association with Bhagwati Charan Vohra, Chandrasekhar came near to Azad Bhagat Singh, Sukhdev, Rajguru too. Together with Bhagat Singh Chandra shekhar Azad made every effort to threaten the British rule and to scatter it from India.
Shaheed Chandra Shekhar Azad made Jhansi his organization's centre for a substantial term. He selects the forest of Orchha situated at about fifteen kilometres from Jhansi for shooting practice. He was a proficient marksman and used to teach other members of his group in Orchha. Near the forest, he built a hut aside a Hanuman Temple on the banks of the Satar River. He lived there under the alias of Pandit Harishankar Brahmachari for a long period and started teaching kids of the nearby village Dhimrapur. In this way, he succeeded to build a good rapport with the local citizens. The village Dhimarpura was renamed as Azadpur by the Madhya Pradesh administration.
While prevailing in Jhansi, Azad learnt to drive a car at Bundelkhand Motor Garage in Sadar Bazar of the cantonment region. Sadashivrao Malkapurkar , Vishwanath Vaishampayan and Bhagwan Das Mahaur came in close connection with him and became an indispensable part of his rebellious society. The Congress managers from Jhansi Pandit Raghunath Vinayak Dhulekar and Pandit Sitaram Bhaskar Bhagwat were also close to Azad. He also stayed for some time in the house of Master Rudra Narayan Singh situated at Nai Basti and Pandit Sitaram Bhaskar Bhagwat's house in Nagra.
Lala Lajpat Rai's demise and Azad's change
It was after the death of Lala Lajpat Rai in 1928, that Azad had a transformation of heart and advocated communism. He revamped HRA into HSRA with help from like Bhagat Singh, Sukhdev and Rajguru, and urged his fellow rebels to undertake construction work to enhance the hardships faced by Indians. He was of the belief that the cult of bomb and violence were useless ways to show oneself and thus advocated Gandhian ways to win freedom and suspend the British out of India. Azad's socialist views developed the face of India's National Movement and encouraged the juvenility to focus their forces on peaceful and endless ways to put forth their point. This conversion of Azad from being a revolutionary terrorist to a socialist was indicative of his mental strength and enlightenment that motivated millions of Indians and served them channelizes their energy in productive ways to win liberation.
Supporter Cult of Explosive
After the sudden suspension of Non-cooperation movement, Indian youth were left disenchanted and leaderless as extremists and moderates had reunited in 1916. Azad along with his associates resorted to revolutionary and armed ways to physically expel the British from India. Azad was an ardent proponent of the cult of the bomb. As per his revolutionary ways, he inspired the Indian youth to use pistols and bombs as British had been disregarding peaceful petitions of Congress and were found to react to only loud noises. In order to fund their revolutionary actions, the British treasury was looted. In 1925, Azad and his companions happily robbed the train at Kakori. As the news of this robbery spread to various sections of India, Indian youth was prompted to take up arms against British colonialism. Azad's leadership was inspirational for the Indian revolutionaries who were provided with a guiding light in times when Congress authority was rendered worthless.
Chandrashekhar Azad's Free-giving
In February 1931, when Chandra shekhar Azad went to Sitapur jail to meet Ganesh Shankar Vidyarthi, the student asked him to go to Allahabad to meet Jawaharlal Nehru. When Chandra shekhar Azad went to meet Anand at Nehru, he declined to hear to Chandrasekhar. After being out of anger Chandra shekhar Azad along with his partner Sukhdev Raj went to Alfred Park. He was talking with Sukhdev about the forthcoming plans that the police surrounded him. Azad started pelting guns from his pocket and started firing bullets. Azad defeated Sukhdev but kept himself confronted by the British alone. There was a firing from both sides but when Chandra Shekhar had only one bullet left, he found it hard to face the police. Chandra shekhar Azad had said that he would never come to the live police. Playing this verse, on 27 February 1931 in Elfred Park, he devoted himself-stain on the remaining bullet himself.
The concern of Chandra shekhar Azad inside the police was so much that nobody had the audacity to go near his dead body. Chandrasekhar's death was confirmed only after he was fully persuaded by running pills on his dead body.
Later, after receiving freedom, the name of the park in which he had passed was changed to Chandra shekhar Azad Park and in the village of Madhya Pradesh, Dhimarpura name was changed to Azadpura.
Extant-Contemporary View
Azad is a hero to countless Indians today. Alfred Park was renamed Chandra shekhar Azad Park, as have been scores of schoolhouses, halls, highways and other public institutions across India. Ever since Manoj Kumar Shaheed Bhagat Singh film made in 1964, Azad's character has converted central to any film or recognition of the life and deeds of Bhagat Singh and his friends. The nationality of Azad, Sukhdev, Bismil and Ashfaqulla Khan was represented in Rang De Basanti, a contemporary Bollywood film starring Aamir Khan that released in February 2006. The documentary, which traces similarities between the lives of freedom fighters such as Azad and Bhagat Singh and today's youth, dwells upon the lack of appreciation among Indian youth today for the sacrifices made by these freedom fighters.
Source : Youtube
Also Read :
Qutub Minar : अनसुलझा इतिहास | आश्चर्यजनक रहस्य | रोंचक तथ्य