The inspiring story of Meera Bai
There are very few Hindus who will not have heard about Meera Bai. She is the Rajput princess whose devotional compositions have provided a voice to the spiritual of millions and have a distinct,  emphasis to them. Many stories exist about Meera Bai, and it is difficult to produce a factual account of her life, although she lives perpetually through her songs, famous throughout India. The following is the complete biography (Life History) about Meera Bai
Introduction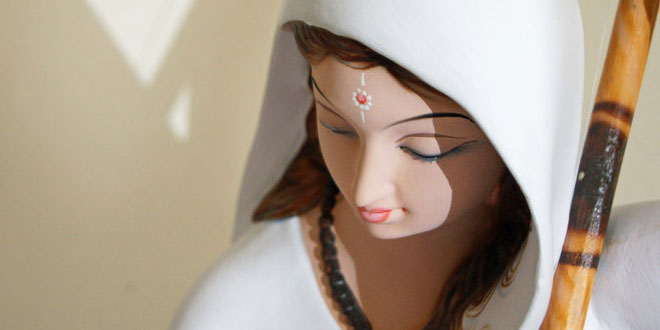 Mirabai (also known as Meera Bai)  was a Hindu mystical poetess, philosopher and sage. She referred to the Lord, whom she saw as her husband, with different names like Satguru, Prabhu Ji, Girdhar Nagar, Krishna. She even called him the husband of her soul.  Due to their jealousy, Meera Bai in-laws don't allow of her public singing and dancing because  she belonged to the Royal Family of Mewarh and was a princess. But she had too much love for her God and sacrificed everything, even her family, for God.
Meera Bai is a Lord Krishna devotee. She was born in Rajasthan. She worships Krishna as her husband from her childhood. Meera Bai get married against her will to the crown prince of Mewar, Bhoj Raj. She was the personality who sacrifices her life to her Krishna love.
Her compositions are popular throughout India. She is held to have been a disciple of Ravidas. Meera Bai created between approx 1300 prayers songs which is called as "bhajans". These bhajans are in the bhakti tradition, and most passionately praised Lord Krishna. The extend version of her poems are in a Rajasthani edition of Hindi and in Gujarati language.
Meera bai's Birth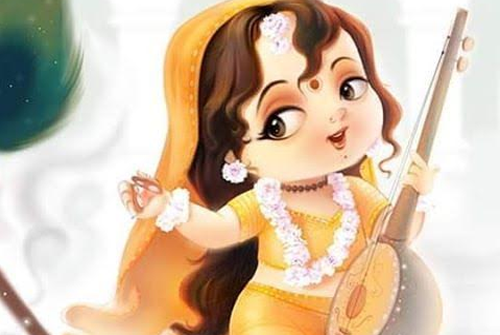 Meera Bai was born in 1498 at Kudki, a little village near Merta, Rajasthan, which is presently in Pali district.  Meera Bai was born in to a Rajput royal rather family of merta, Rajasthan, India.
Meera Bai's Childhood
Meera Bai was brought up strong vaishnava culture that paved her path to the devotion of Lord Krishna. When she was four years old, then she express a deep religious, and learn  to worship Sri Krishna.
Biography of Meera Bai

Meera Bai was a famous saint and a great devotee of Lord Shree Krishna. There are different stories available in her life history as no authentic records are available supporting the exact facts. It is said that, when she was 3 years old, a Sadhu visited his family and gifted a Lord Shree Krishna's idol to her father. He father gave it to Mira and then she made him her lifelong lover, friend, and husband. She developed religious tendencies within her. Mirabai mother was in support of her. She was not willing to marry, but her father arranged her marriage with the eldest son of Rana Sanga of Chittor, Prince Bhoj Raj. This changed her social status significantly. But she was not fascinated by the luxuries. She used to sing and devote her time to Shree Krishna in evening, literally losing awareness of the existence of the physical world.
Mirabai family didn't like her devotion towards Krishna and things became worse when she denied worshiping the family's deity Durga, as she was already committed to Shree Krishna. People in the region started knowing her. She even used to discuss spiritual issues with those joining her in bhajans. This made the family go furious. Her sister-in-law Udabai spread defamatory remarks and false gossip about her. Udabai also spread that Mira allowed men in her room. Hearing that her husband did check it, but found no one.
It is mentioned in few of the literature that, many attempts such as a sending basket of snakes replacing flowers, a glass of poison to execute her. Even she was asked to drown herself. But every time she was saved, the snakes became the idol of Shree Krishna and literally floated on water. She stood still in both good and bad time. Mirabai poetry is what we all know about her. Meera Bai poetry expresses her soul's eagerness to union with Shree Krishna. Few poems also expressed her pain of being separated from him. The poems were actually written to be sung like bhajans. Her poems are still sung. She even spent some period of her life in Brindavan. Arguably, she was the perfect incarnation of what love actually is.
How Mira Became Attached to Lord Krishna
Once seeing a ceremony dressed bridegroom in a marriage motorcade, Mirabai who was only a child, innocently asked to  her mother, "Mother, who is my bridegroom?" Mira's mother pointed towards the image of Sri Krishna , "My dear, Lord Krishna is your bridegroom". Since then child Meera Bai  began to love the idol of Krishna very much and spending time in bathing  and  dressing and worshipping the image. She also slept with the ideal or talked to it or  sang and danced about the image in emotions.
Marriage and Scandals
Meera Bai's father arranged her marriage with the Rana Kumbha of Chitor, in Mewar. She was a dutyfull wife, but she would go to temple of Lord Krishna everyday for the worship, sing and also dance daily. They create the secrete planning against her and tried to involve her in the scandal. She was persecuted in various ways by the Rana and his relatives. But the Lord Krishna always stand in the side of Mira.
Journey to Brindavan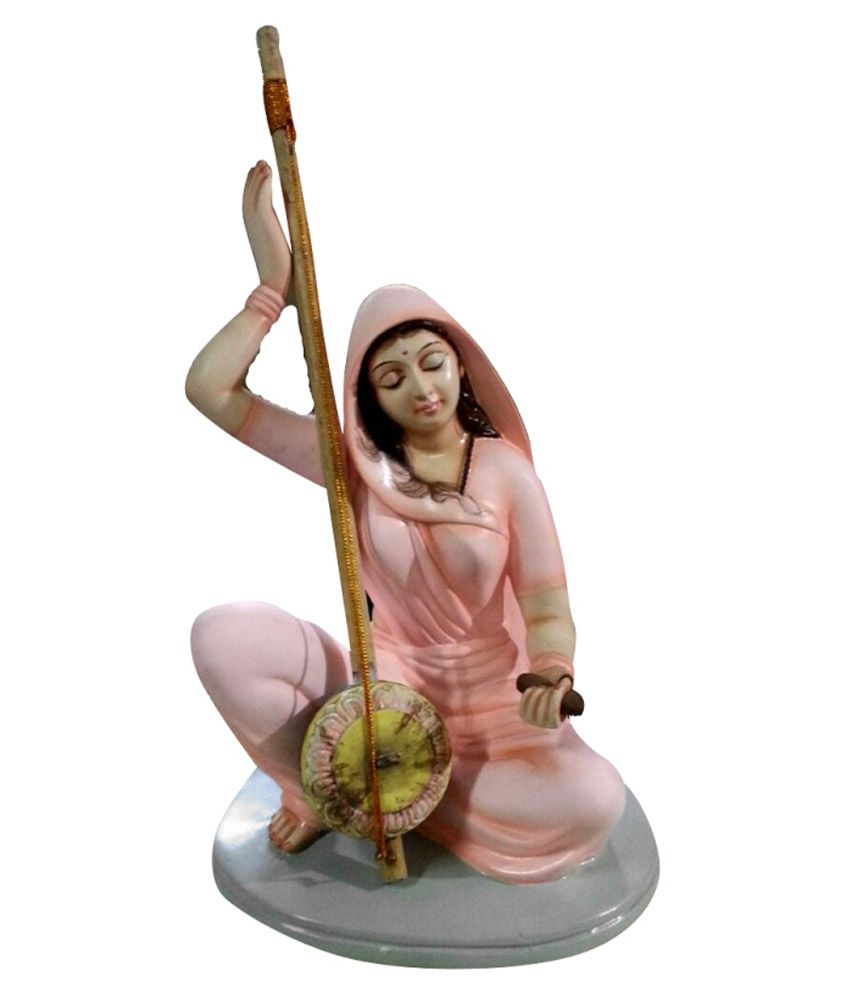 Finally, Mirabai wrote a letter to the renowned saint and poet tulsidas and asked his advice. Tulsidas replied: "Abandon them even though they are your dearest relatives.  Relationship with the God and love of God alone is true and  all the other relationships are not real and temporary". Meera Bai walked without wear the shoes through the hot deserts of Rajasthan  and reached the Brindavan. Meera Bai fame spread the far and wide.
A Life of Love amidst Trouble
Mirabai  life was full of troubles and she kept up an fearless spirit by the strength of her devotion and the grace of her beloved Krishna. In her divine love of Loard Krishna, Meera Bai danced in public with blindness of her surrounding. An embodiment of love and innocence, her heart was the temple of devotion for Krishna. Meera Bai was kindness in her look, love in her speech, joy in her discourses, and  passionate  in her songs.
Mira's Teachings and Music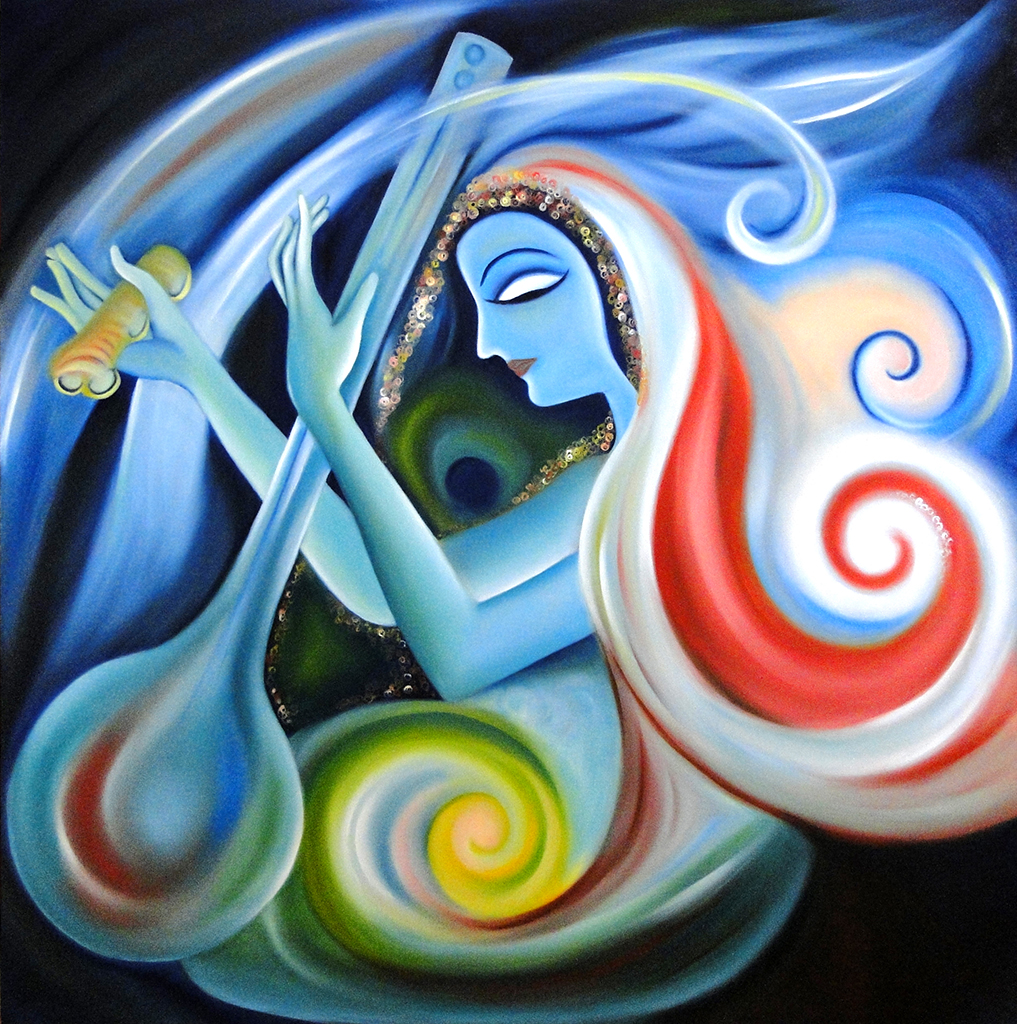 Mirabai  taught the world the way to love God. She rowed her boat handy in a stormy sea of family troubles and difficulties and reached the shore of supreme peace. Meera Bai lyrics infuse faith, courage, devotion and love of God. Mirabai Bhajan's still act as a smoothing balm to the wounded hearts and tired nerves.
Mirabai's is a Poetess
Much of what we know about Mirabai comes from her poetry. Her poetry expresses the longing and seeking of her soul for union with Sri Krishna. At times, she expresses the pain of separation and at other times the ecstasy of divine union. Meera Bai devotional poems were designed to be sung as bhajans, and many are still sung today.
Mirabai songs are in a simple form called a pada (verse), a term used for a small spiritual song,. It is  usually composed in simple rhythms with a repeating refrain, collected in her Padavali. The extend version of the poets  are in the  Rajasthani and Braj, a speech of Hindi spoken in and around Vrindavan (the childhood home of Krishna) sometimes mixed with Rajasthani.
" That dark dweller in Braj
Is my only refuge.
O my companion, worldly comfort is an illusion,
As soon you get it, it goes.
I have picked the indestructible for my shelter,
Him whom the snake of death won't eat up.
My beloved dwells in my heart all day,
I have actually seen that abode of joy.
Meera's lord is Hari, the indestructible.
My lord, I have taken refuge with you, your maidservant "
Although Meera Bai is often classed with the northern Sant bhakti's who are spoke of a formless divinity and there is no doubt that Mirabai  presents Krishna as the historical master of the Bhagavat Gita. Meera Bai  speaks of a personal relationship between Krishna as her lover or the lord and master. The characteristic of her poetry is to  complete surrender.
Some of her best knows bhajans are
Payoji Meine Ram Ratan Dhan Paayo
Mero to Giridhar Gopal
Pag Ghunghroo Bandh Meera Nachi Re
Saanwara Mari Preet Nibhajo Jee
Ayri Mey To Prem Diwani Meera
Jago Bansi wale
Karna Fakiri Phir Kya Dilgiri
Karuna Suno Shyam More
Jago Bansiwale
Baso Mere Naino Mein Nandlal
Chalo Man Ganga Jamuna Teer
Source : Youtube
The Last Days of Meera Bai

From Brindavan, Mira proceeded to Dwaraka, where she was absorbed in the image of Lord Krishna. She ended her earthly existence at the temple of Ranchod in 1546 A.D. Mirabai will always be remembered to her love for God and her soulful songs.
Death Info
Meera Bai died in 1557 in Dwarka, Gujarat, India.
Like all other saints, Meera Bai also gives importance to only human birth which she narrates as a rare chance to  achieve self-determination from the infinite cycle of birth and death. She (Mirabai) believes that one cannot realize the lord  without any one's guidance who has himself absorbed into the lord.
Source : Youtube
Also Read :
The Untold Story on Rani Lakshmi Bai : The Rani of Jhansi
15 August (Independence Day) : Quotes | Images | Speech | Patriotic Songs