Kalpana Chawla
Love Story | Career | Missions | Death
Kalpana Chawla was an Indian-born American astronaut and space shuttle mission specialist. A girl who had always dreamt of the moon and the stars had herself become a star. Not only did she achieve her dreams but she also led her life with the highest sense of values and purpose in every respect. The space shuttle Columbia, while returning to Earth, disintegrated in air on 1st Feb, 03 about 16 minutes before it was scheduled to touch down, killing all seven crew members."Kalpana, or K.C. to her friends, was admired personally for her extraordinary kindness and technically for her strive for perfection,"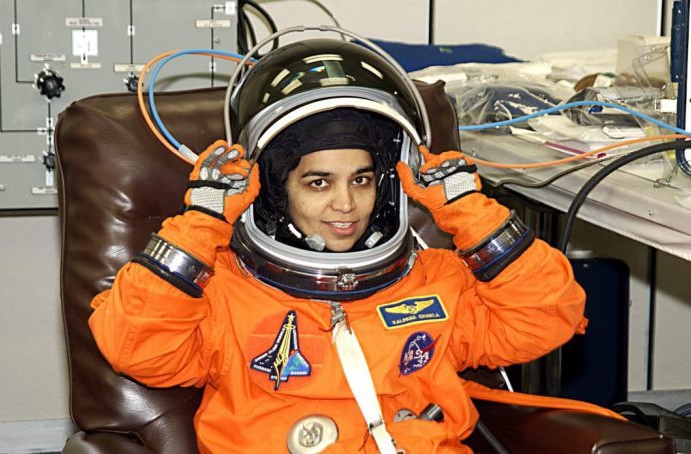 Birth
Kalpana Chawla is a great daughter of not only Haryana but of whole of India. She is alive even after her death. Kalpna Chawla has  registered her name in the history of the country in golden  words. She was born on 17th of March 1962 at Karnal in India. But officially the birth date is July 1, 1961. It was the middle class amily. Her father is Mr Banarsi Lal. He is the owner of a tire factory. Her mother Sunyogita is a house wife. Kalpna Chawla has one brother whose name is Sunjay. It is a pure vegetarian Hindu family.
childhood
Kalpana Chawla was tomboyish in her childhood. Like other boys, she loved to play cricket and had learnt karate. Kalpna Chawla would rarely do any household chores like other girls. She was quite extrovert.  Kalpana Chawla remained always in the first three positions in the class. She loved  aeroplanes, sky, stars and also flight. Kalpna Chawla was fond of flying.
Education
Kalpana Chawla completed her graduation from Tagore School at Karnal in 1976. After that she did her B.Sc in Aeronautical Engineering from Punjab Engineering College in 1982. For higher studies, she went to the USA. Kalpana Chawla completed M.Sc in Aerospace Engineering from University of Texas in 1984.Then finished her PhD in Aerospace Engineering from University of Colorado in 1988. After that she got the pportunity to work  at NASA Ames Research Centre as a space scientist in 1988.
Love Story of Kalpana Chawla
Kalpna Chawla, the first and only woman of Indian origin in space, is someone we all know and are proud of. She was known for being a brave and daring woman, who loved what she did. Her personal life is something not many of us know of, except for the fact that she loved her job. This is her story of how she met her prince charming and they fell in love. Kalpana Chawla had a love marriage.
From the very young age, Kalpana loved to draw pictures of aero planes. After getting her Bachelor of Engineering degree in Aeronautical Engineering from Punjab Engineering College in Chandigarh. she moved to the United States to obtain her Master from the University of Texas in Arlington. This is where it all began.
Kalpna Chawla met Jean Pierre Harrison, a young, tall and handsome man, the love of her life. He was working on obtaining professional pilot qualification at that time. They both hit off really well and become close friends. They were a couple who shared a lot of common interests and likings that they complemented each other, even on the simplest of things. Right from their hobbies to the thoughts that they shared made their bond even stronger. This bond climax to their marriage, which was held on December 2,1983.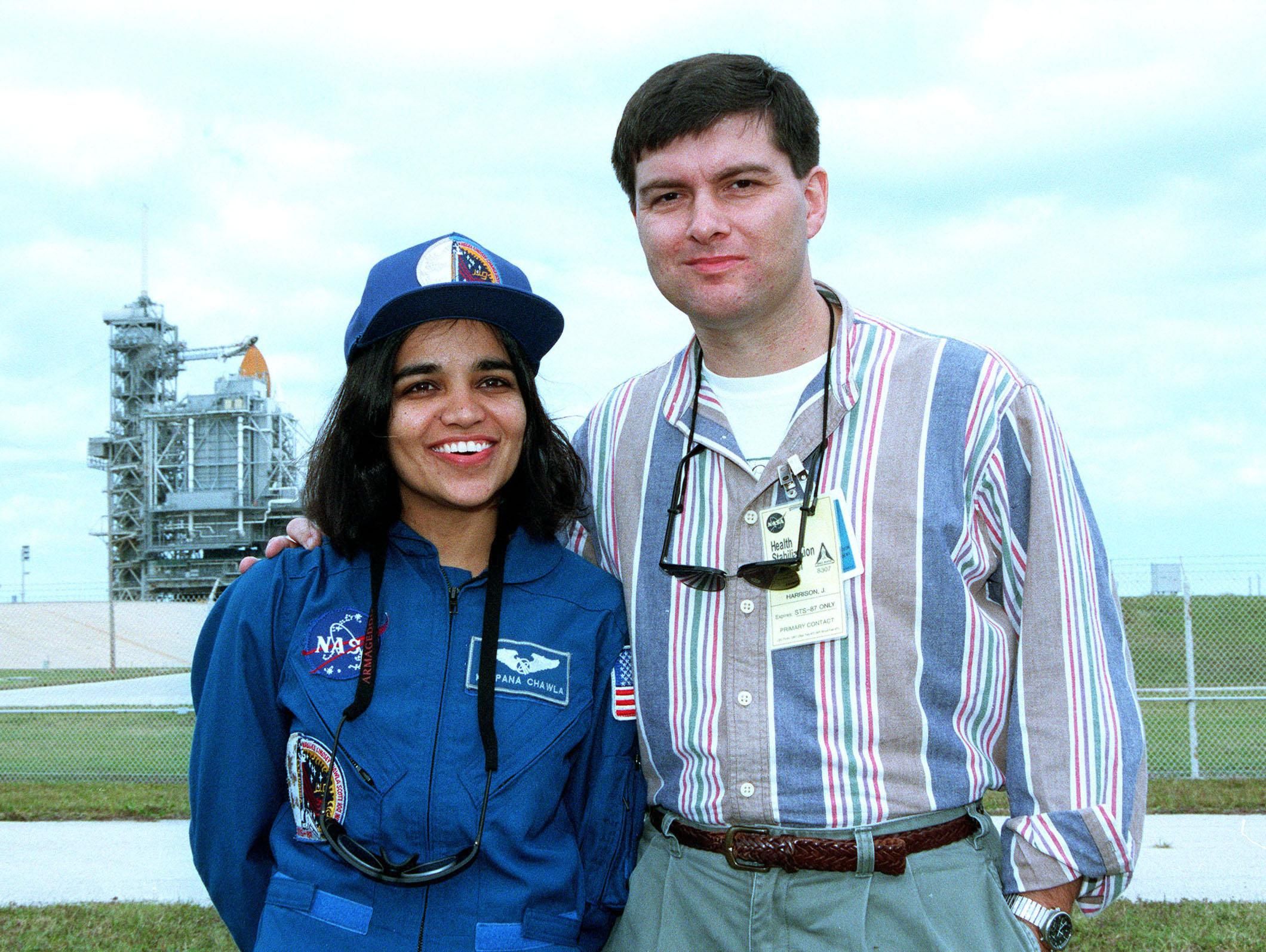 Harrison was  support towards Kalpana work and dream is something which will leave all of us amazed. Post marriage, the couple shifted to Boulder, where Kalpana Chawla enrolled for her doctors  program. She earned her Private Pilot License during that time. She got selected at NASA in 1997, after a 16-days successful assignment. They were living a happy and peaceful life, until the Columbia disaster took place in February, 1st, 2003. She was doing what she loved to do, with some of the best friends she ever had in her life, they were all smiling and having the best time of their lives until the very end.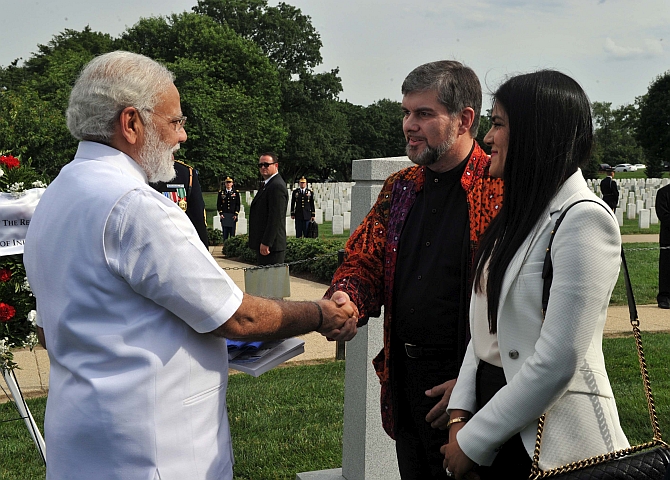 Life had to bring this tragic incident in this couple's life, but their love never died. Harrison visited PEC University of Technology to release Kalpana Chawla's biography written by Harrison himself titled 'Edge of Time'. We all will remember this woman as passionate astronaut, but to Harrison the few years that he spent with her will remain forever, because Love Never Dies. She might have reached the moon, but their love has travelled even farther, to hell.
Career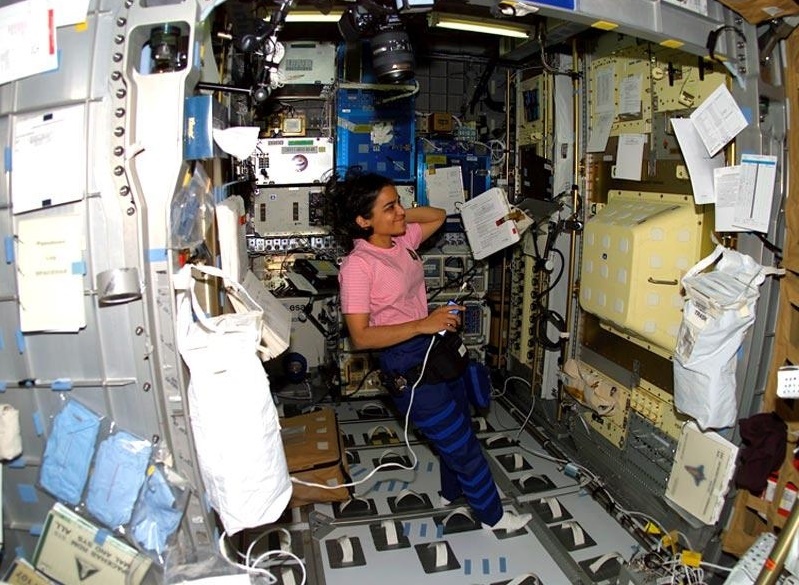 Kalpana Chawla came from a very humble background and did her schooling from Karnal. Kalpana obtained her graduation degree in Aeronautical Engineering from the Punjab Engineering College in Chandigarh. Thereafter, she moved to the US and obtained her Master's degree Aeronautical Engineering from the University of Texas, U.S. She completed her second Masters and also did PhD in aerospace engineering in Boulder from the University of Colorado. Since then she was employed at NASA. Kalpana Chawla joined NASA Astronaut Corp and selected for her maiden flight in the year 1998. In her first flight, she travelled a distance of around 10.4 million Kilometres. Thereby, she created history by becoming the first ever Indian women to travel space. She was only the second Indian since Rakesh Sharma to travel in a spacecraft. She stationed the malfunctioned Satellite, Spartan.
After her first successful mission, Kalpana Chawla was again picked for her second mission in 2000. Unfortunately, due to some technical faults, the mission got delayed. In 2003, Kalpana aboard the space shuttle for the STS-107 mission. She along with six other crew members were a part of the ill-fated mission. While their entry  into the Earth, their spacecraft got disintegrated and Kalpana along with crew members was lost. Kalpana Chawla got several recognition and awards for her contributions. Both Indian and American governments honoured her on numerous occasions.
First mission of Kalpana Chawla
Kalpana Chawla first space mission began on November 19, 1997. She was part of the six-astronaut crew that flew the Space Shuttle Columbia flight STS-87. Not only was Chawla the first Indian-born woman to fly in space, but also the second Indian do so. During her first mission, She travelled over 10.4 million miles in 252 orbits of the earth, logging more than372 hours in space.
Second mission of Kalpana Chawla
In the Year 2000, She was selected for her second flight as part of the crew of STS-107. However, the mission was repeatedly delayed due to scheduling conflicts and technical problems, such as the July 2002 discovery of cracks in the  shuttle engine flow liners.
On January 16, 2003, Kalpana finally returned to space aboard Space Shuttle Columbia on the ill- fated STS-107 mission. Her responsibilities included the microgravity experiments, for which the crew conducted nearly  80 experiments studying earth and space science, advanced technology development, and astronaut health and safety.
Awards and Honors of Kalpana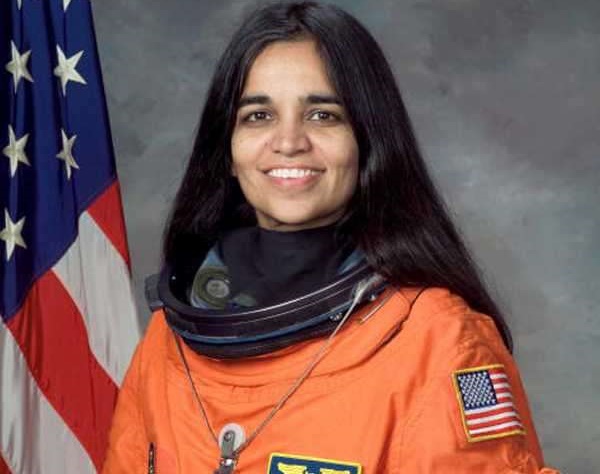 The pride of India 'Kalpana Chawla' was awarded by the awards namely as follows –
1.) Congressional Space Medal of Honor.
2.) NASA Space Flight Medal.
3.) NASA Distinguished Service Medal.
Achievements of Kalpana

Kalpana Chawla Government Medical College (KCGMC) is located in Karnal, Haryana which has been named after the astronaut "Kalpana Chawla".
In The Delhi Technology University, Pondicherry University and Vellore Institute of Technology (VIT), a girls' hostel block is named after her.
The Planetarium established by the Govt. of Haryana is also named after her.
A Dormitory in the University of Texas is also named as Kalpana Chawla
Interesting Facts About Kalpana Chawla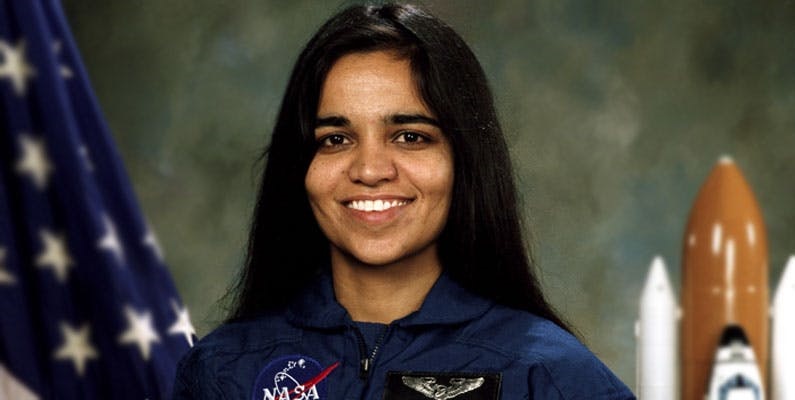 Here are some interesting facts about Kalpana Chawla:
Love in The Air
Kalpana Chawla got married to Jean-Pierre Harrison in 1983, who was a flying instructor and an aviation author.
Jack of All Traits
Kalpana Chawla liked poetry, dancing, cycling, and running. She also used to take part at sports events and was invariably first in all the races. Kalpana Chawla often played badminton and dodgeball with boys.
First Flight
Kalpana Chawla first flight was STS-87, the fourth U.S Microgravity Payload flight, on Space Shuttle Columbia from Nov. 19 to Dec. 5, 1997.
A US Citizen
Kalpna Chawla became the citizen of the United States in the year 1991.
Always The First-Five
Kalpna Chawla did her schoolings from Tagore Baal Niketan Senior Secondary School, Karnal, Haryana, India and completed her B.Tech in Aeronautical Engineering from Punjab Engineering College, Chandigarh, India in 1982. Although she never scored the highest marks in her class, she was always among the first five.
Quotes By Kalpana Chawla
Here is some some Quotes by Kalpna Chawla :
"The path from dreams to success does exist. May you have the vision to find it, the courage to get on to it, and the perseverance to follow it. Wishing you a great journey."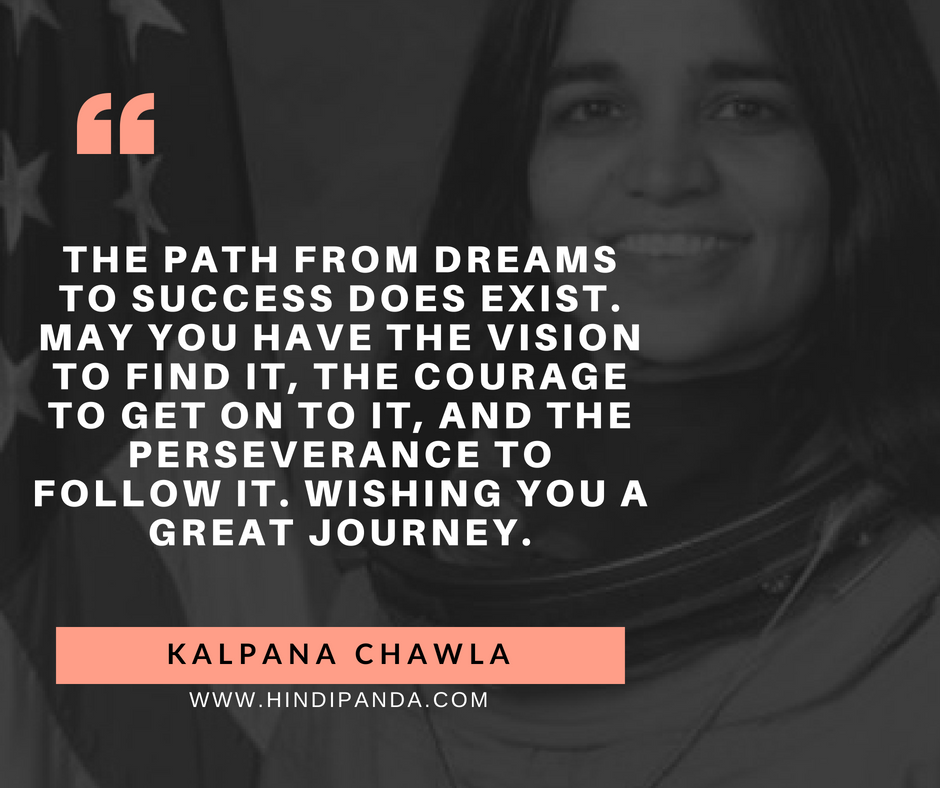 "When you look at the stars and the galaxy, you feel that you are not just from any particular piece of land, but from the solar system."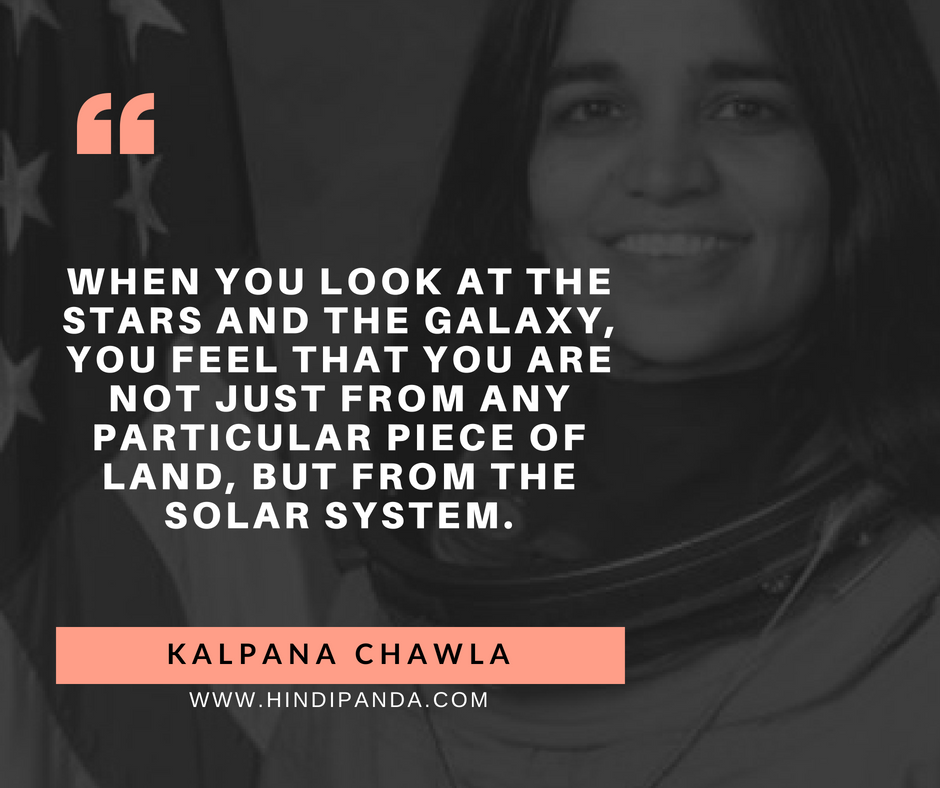 "This planet below you is our campsite, and you know of no other campground."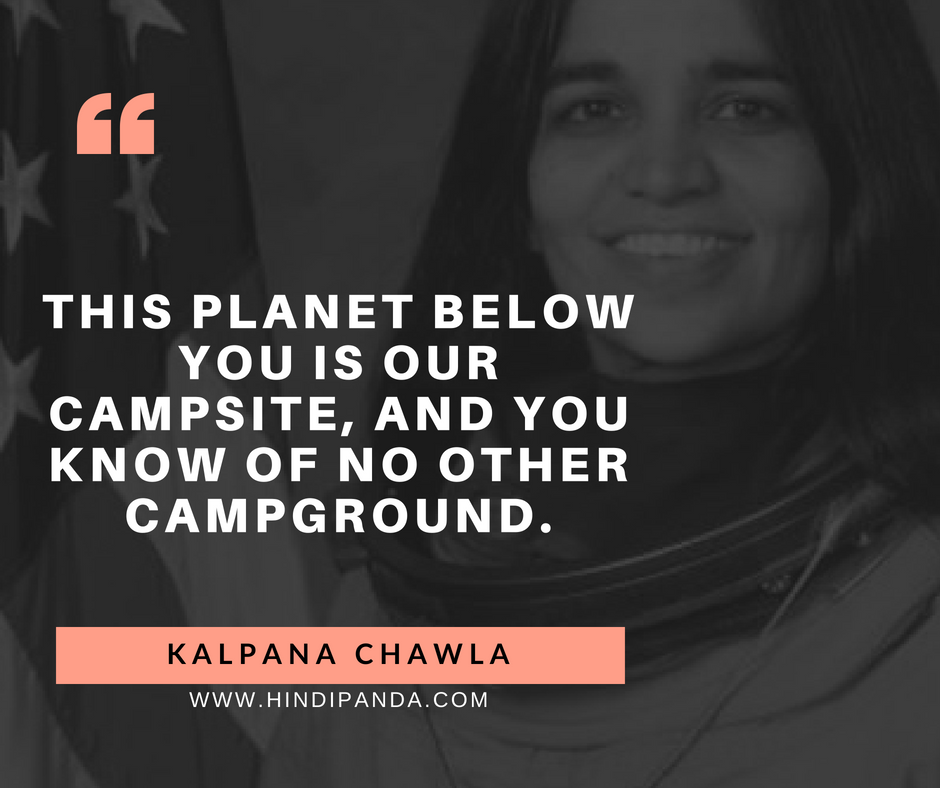 "I don't know why I always liked aerospace engineering. I was in the 10th grade when I figured that's what I wanted to do."
"I was interested in aerospace and flying, and the U.S. is really the best place in the world for flying."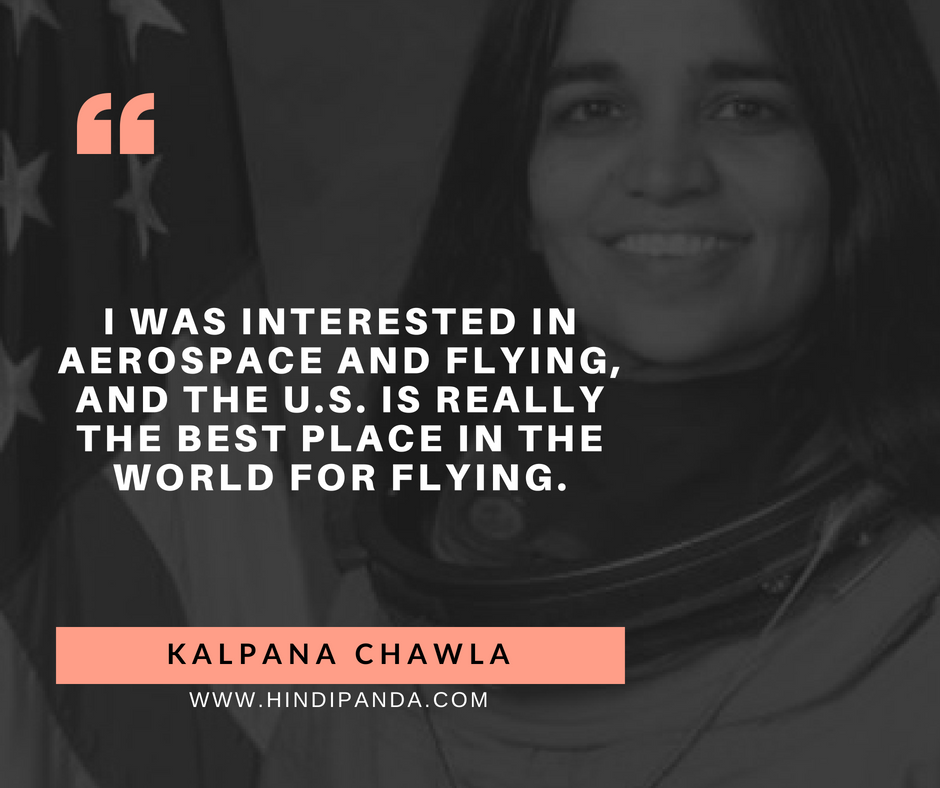 "The coolest thing for me is the experience of floating and not feeling my weight. And hanging by a window just after sunset and watching the stars in the big black dome of the sky as the earth moves underneath."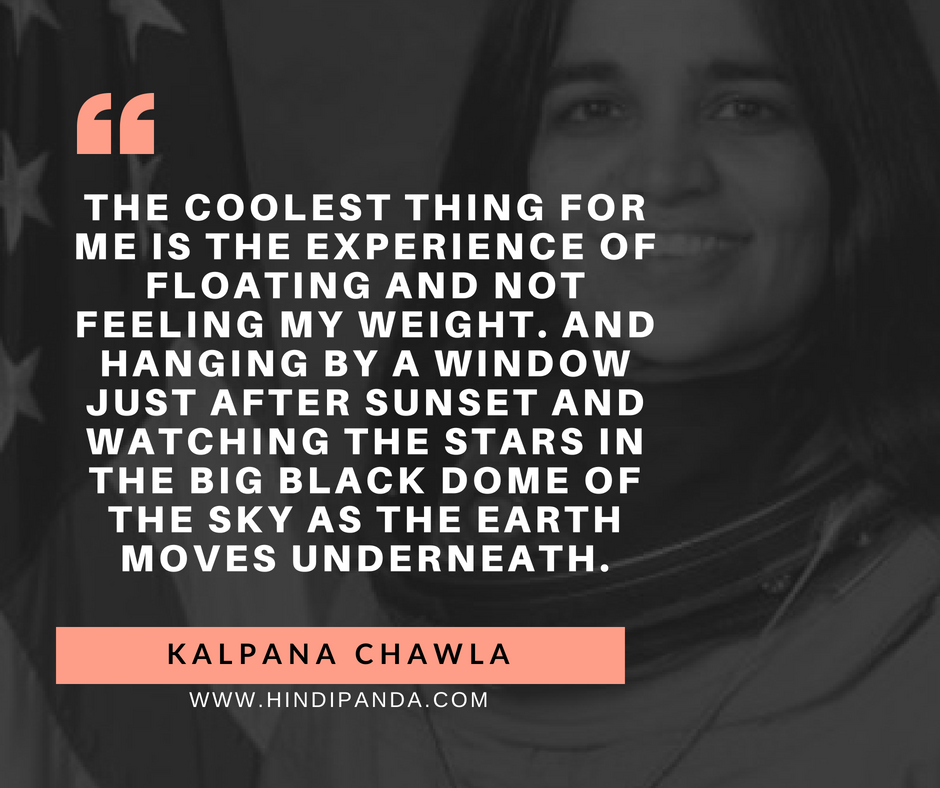 Last Words By Kalpana Chawla
Last words by Kalpana Chawla from the Columbia space shuttle to a student via email –
"The path from dreams to success does exist. May you have the vision to find it, the courage to get on with it, and perseverance to follow it. Wishing you great journey"
Source : Youtube
Kalpana Chawla Death Info
Kalpana Chawla was died on 01-02-2003 in Texes, United States. The space shuttle disintegrated while re-entry into the atmosphere of Earth and she died (due to the rocket crash ) along with seven crew members in the Space Shuttle Columbia disaster just landing before 16 minutes .
Conclusion
Kalpana Chawla was motivated person who made an impression on others.  Despite her fame, she was truly a down to earth person.  She had a great bonding with her class from the Tagore School and was highly respectful of her teachers.  Even after kept in touch with some of her closest friends to the end of her death.  She died as a hero and a role model for many young woman.
Source : Youtube
Also Read
Qutub Minar : अनसुलझा इतिहास | आश्चर्यजनक रहस्य | रोंचक तथ्य
Sandeep Maheshwari : Biography | Career | Love Story | Quotes