Samsung Galaxy Watch Active Review
Samsung has been creating some visionary products for quite a long time now. When it comes to smartwatches, the company has left every competitor far behind. Starting from scratch, the company never brought some best devices but the latest Samsung Galaxy Watch is something great. The smaller version Galaxy Watch Active is premium and come with little fewer features and is really great looking at the specs.
But, is it a worthy option in the market? Let's check it out in the Samsung Galaxy Watch Active review below and you can easily buy this watch using Paytm Mall Cashback with great deal.
Design and display
Samsung Galaxy Watch Active gets the circular dial with not rotating bezels. The watch weighs less, comfortable on the wrist, and fits on the wrist with its premium design. The only thing you will miss is the rotating bezel- so no more easy navigation around the smart watch. So, if you are looking for a smaller smart watch, then it might be a considerable option for you.
The watch gets a metallic body which is premium stuff- no doubt in it. With the great glass in the middle, you can see two buttons on the right edge of the watch. The buttons are not that good as they are not easy to get at times- especially when you are unlocking the watch.
Samsung's Galaxy Watch Active comes in four color variants: black, silver, blue, and pink. The watch gets the silicone bands which are really comfortable around wrists and not get sweaty when you are. This is the same strap which you can find on Apple's Watch. So, wearing this watch for the whole day won't give you much a tad bit of trouble either.
Samsung Galaxy Watch Active has 20mm straps which you can swap and get new straps from the Samsung or any other third-party company which is really great for customers- you get diversity.
Coming to the display, the Samsung Galaxy Watch Active packs a 1.1-inch 360 x 360-pixel resolution display. So, if you are using the larger dial smartwatches, then it might look little tiny to you around your wrists- even smaller than the Apple Watch 4 or the 1.3-inch Galaxy Watch. The watch is water-resistant to depths of 5 meters and is IP68 rated too.
Performance
Under the hood, the Galaxy Watch Active gets an Exynos 9110 chipset clocked at 1.15GHz coupled with 750MB of RAM. Looking at these specs, you won't feel any lag and the watch navigation plus working on it is a pretty smooth experience. Comparing it to other Wear OS smartwatches having Qualcomm Snapdragon Wear 2100 chipset, this watch is pretty fast. The apps load quickly and the interface is pretty smooth too. The device gets 4GB of internal storage but it gets bulked up very easily. Even after installing basic apps and software, you are only left with 1GB. So, bulking your device with multiple apps or games will make your device difficult to work. You can load music in your watch and you will not need to take your phone to the gym and can still listen to music.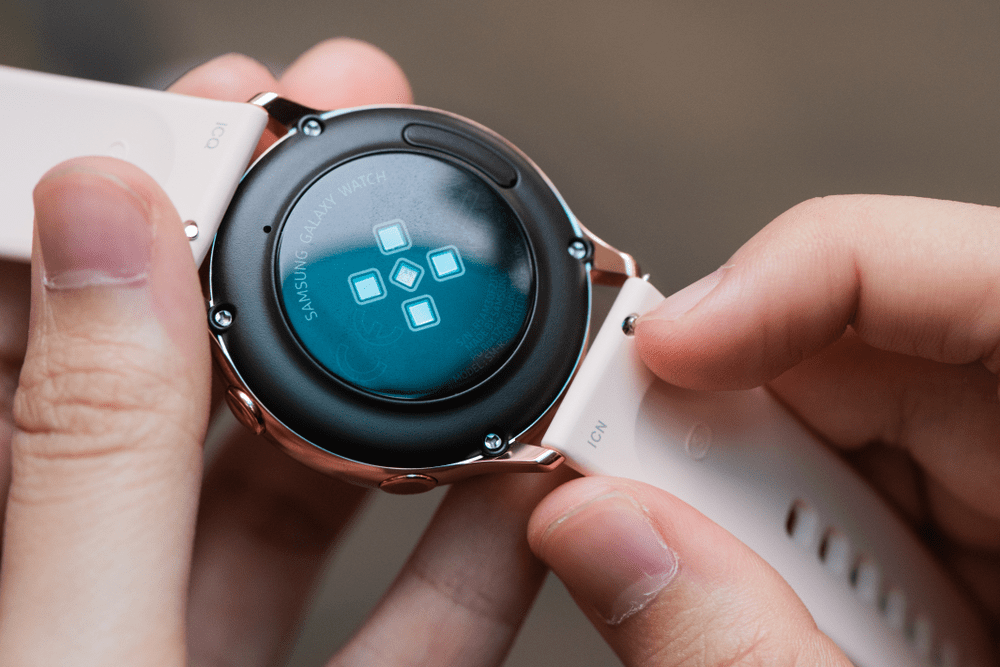 Software
The Samsung Galaxy Watch Active has the latest version of Tizen which is not the best OS in the market unlike watchOS or Wear OS. But, it is still really good. Using the smartwatch is easy and fun. Talking about how enjoyable it is to use this smartwatch, tapping the screen on the top right button will bring the face of the watch and you can easily navigate through the watch- from scrolling notifications to checking the features. You can easily connect your phone to the watch and all your notifications can pop up on your smartwatch.
Fitness
The Galaxy Watch Active packs a heart rate monitor and a blood pressure monitor. Also, the device can measure stress levels. Also, it can recommend you some breathing exercises when your stress level is high but these recommendations are not as good as Headspace. There are also 39 different activities tracker- from running to cycling. After the workout, you can get all your stats on the watch display. Not only this, but you can also track your sleep on this watch- from duration to REM.
Battery Life
As per Samsung, the watch can give you over 45 hours of battery life just on a single charge. And, it is clearly shown in the device performance in the real-time scenario too. Yes, you might get a bit less but still, it is a great experience. At the minimal usage, you can use it for over 3 days too without needing a charge. The device supports wireless charging and it took only two hours to take the device from zero to hundred percent. In terms of battery life various options available in the market and one can avail those using Shopclues Coupon with exciting deals.
Final Verdict
Samsung Galaxy Watch Active comes with pretty great features which are little less than the Samsung Galaxy Watch. But, still the device a really great piece. The company has come up with a premium looking device in a small package with some pretty great features. So, if you are looking for an affordable smartwatch which can be an alternative to the top-end watches, then the Galaxy Watch Active is a great option.
Also Read