The Nokia 8 :
Finally, the much awaited Nokia 8 is here. It was released this August in India and this marked the official come back of the company that once ruled the cellular device market in India, Nokia. So without any further a due let's get down to business and talk about the flagship carrier Android smartphone by Nokia, that is the Nokia 8. The USP of any Nokia device is the gigantic camera the company has to offer to its customers, and it's no different for the Nokia 8, the device offers two 13–megapixel cameras, that is of course one on the rear & one on the front. It has a huge display of 5.3 inch along with a resolution of 1440×2560 pixels and 554 pixel-density. And it runs on the Nougat version of the Android Operating System.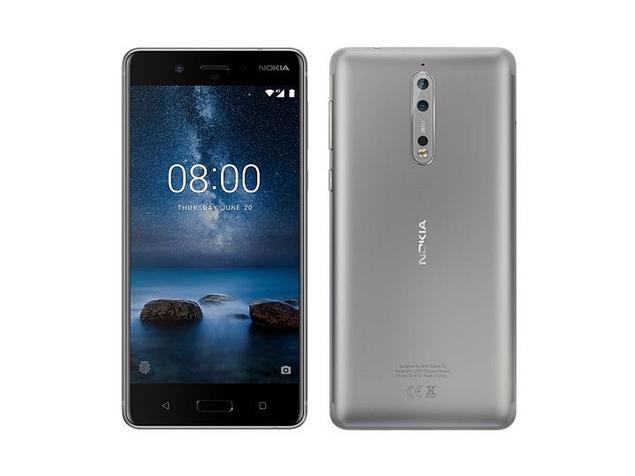 The device offers 64GB of internal storage which can be expanded up to 256GB via external microSD card and has 4GB of RAM. It runs on Qualcomm's Snapdragon 835 1.8GHz octa-core processor. In terms of connectivity, The Nokia offers Wi-Fi, NFC, GPS, Bluetooth 5.0, USB On-The-Go and a dual SIM setup (Nano SIMs) with 4g/LTE.
It also has a wide range of sensors that are built onto the device, which include compass/magnetometer, proximity sensor, accelerometer, ambient light sensor, gyroscope and a barometer.
The phone is pretty decent when it comes to functionality and stuff and doesn't lets you down when you need it the most. It also comes a trust that Nokia has built over the years. Nokia devices have a reputation, if it is a Nokia it has to be good (and pretty strong & durable too). There's a reason behind Nokia being a top brand in India and that is the trust and quality that Nokia brings to the table and it is parallel to none. Also over the years Nokia has established a bond with it's customer base and people trust Nokia, as a manufacturer as well as a brand. Nokia has always offered the best and it seems that it is in np mood to discontinue this tradition.
And you can get all of this Nokia goodness at a price of Rs. 36,999 which doesn't seem to be a bad deal if you have that much money to spend and if you are a Nokia fan-boy then you must go ahead and give this bad-boy a try, it's worth it. Else you might consider some other device since Rs. 36,999 is a huge amount and most people cannot afford such luxuries.
Also Read :